Outside of one late-afternoon game, Wednesday includes another loaded night of baseball. The headliner of the day – outside of fantasy baseball purposes – is Jake Arrieta, returning to the mound after pitching his second career no-hitter. Following closely behind Arrieta's encore is the first career start of Minnesota's Jose Berrios, one of the best pitching prospects in baseball.
Currently, we are using xFIP and wOBA simply to compare one pitcher's performance against another – especially against opposite-handed hitters. We aren't using these numbers for calculation. To help with some calculations, we have assumed that each hitter and pitcher has played at least one game. Each pitcher was assigned an innings total relative to his average projection.
Check the starting lineups and weather reports prior to making any plays, as these change without notice.
Jake Arrieta pitches on Wednesday. Jake Arrieta should be used in all daily fantasy baseball lineups. There is little need to list the accolades of Arrieta over the past calendar year, as poems are being written in his honor every time he takes the mound. Specifically, the mound of his home ballpark, where he is completely unhittable – he has not allowed an earned run in his last six home starts. The only hesitation with using Arrieta is the unknown after-effects of throwing 119 pitches – the last few dozen with added stress. Outside of the one wild card, Arrieta against the strikeout-prone Brewers is as great a setup as it gets.
While Arrieta is the single-best pitcher of the day, the best matchup might belong to Gio Gonzalez. Indeed, the Phillies are no longer an 'automatic out' where starting a pitcher against their lineup is always recommended. Instead, they are pesky, and have played the role of 'spoiler' for a number of stud pitchers. Fortunately for Gio Gonzalez, southpaws have had success against Philadelphia, and he is in an ideal position to thrive.
Sonny Gray makes his second consecutive appearance on our list, as he will follow up his seven-inning, seven-strikeout, three-run performance in Toronto with a trip to Detroit. An equal mix of risk and reward, Gray has decent strikeout upside – especially against the right-handed-heavy Tigers' lineup – but Detroit's offense is not necessarily weak. Thankfully, the ballpark leans slightly towards pitchers, giving Gray another edge.
Another day, another opportunity for Matt Harvey to return to form. While there might actually be physical issues – some have suggested that Harvey's mechanics are off with runners on base – Harvey is still significantly better than his 2016 numbers. With that, he should begin trending towards his averages and, while the Reds actually tout a decent offense, Harvey's full-season expectations remain the stronger force. Simply put, he will soon be back on track.
Patrick Corbin was quietly putting together a nice April before his last start. To his credit, Corbin did fight through and complete six innings, but he also allowed five runs – four earned – three home runs, and only struck out three Pirates hitters. When he next takes the mound, his opponent won't be any easier – St. Louis is among the highest-scoring teams in the league – but it will play more into his favor. Corbin dominates left-handed hitters, and the Cardinals have an abundance. Furthermore, if Adam Wainwright continues to struggle on the other side of the game, Corbin's chances for a win increase dramatically.
Possibly the sneakiest play of the day comes in the form of Chris Tillman in Tampa Bay. Tillman is not among the top strikeout pitchers of the day, but he is currently performing above his career pace, and has had moments of excellence in the young season. In fact, outside of one bad outing in Texas – even that game started off well before falling apart later – Tillman has put together a fine month of April. In a pitcher's ballpark, after three consecutive team losses with a total of three runs scored, both Tillman and the Orioles are poised to rebound.
Finally, as mentioned in the introduction, Jose Berrios will make his first career start for the Twins. Berrios is a massive risk-reward play for the obvious question marks that surround a debut, but his talent level is off the charts. For his price, he could absolutely over-deliver.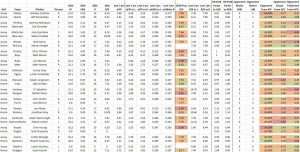 Left-handed Mets Hitters – After being stymied for the better part of Tuesday's game by the left-handed Brandon Finnegan, the Mets finally broke through. Wednesday, they draw a much more favorable matchup, as Jon Moscot – with poor peripherals against left-handed hitters – takes the mound for Cincinnati. After a hot streak, the Mets' bats needed Tuesday's half-game breather in order to reset and continue on their path. All left-handed Mets' hitters are on radar, with Lucas Duda leading the charge among first baseman for the day.
Giancarlo Stanton – Giancarlo Stanton is heating up. With a home run off Clayton Kershaw – impressive in its own right – Stanton now has three home runs in three consecutive days, and is teetering on the edge of a hot streak and an expected regression. His high price makes him a risk, but the matchup with left-handed Scott Kazmir – who left his last start with an injury – gives Stanton one more appearance on our list before considering an alternative.
Nolan Arenado/Trevor Story – Like Stanton, Nolan Arenado sits towards the top of the chart one day after hitting a home run. Expecting another is somewhat dangerous, but he faces left-handed Jon Niese in Colorado. As does Trevor Story. It is worth noting that Story has, as expected, gone cold after his insane start, but he was given the day off on Tuesday, which could have a positive effect on the rookie. If money is no object, either Arenado or Story should be in a lineup.
Los Angeles Dodgers Hitters – The storyline of Tuesday's loss to the Marlins was clearly the defeat of Clayton Kershaw, but the Dodgers, as a whole, should receive criticism. The team has now lost back-to-back home games against Miami, and has scored a combined five runs in the two contests, neither of which Jose Fernandez started. The entire offense needs an outburst, and right-handed Dodgers should have a big day against Justin Nicolino. Amazingly enough, Justin Turner – not Yasiel Puig – sees the biggest boost against southpaws, and is the only third baseman that rivals Arenado on Wednesday.
Edwin Encarnacion – Encarnacion sits surprisingly low on the salary list, despite taking Chris Sale deep the night before. The right-handed slugger is still off to a slow start in the power department, but is under-priced for Wednesday's tilt with left-handed Jose Quintana – especially after a one-run performance by Toronto's offense.
Bargains
Be sure to check the above chart for more of the expensive hitters – and the statistics of their matchups. Below, we focus on some of the best upside plays for their price.
Howie Kendrick – Late to the Los Angeles party, Howie Kendrick is still seeking his first home run, and has only amassed seven hits in 46 plate appearances, so far. One of the better plays due to his right-handed bat against Nicolino, his salary makes him a steal.
Matt Wieters – The best catching option of the day fortunately sits in the bargain bin, as switch-hitting Matt Wieters squares off against Matt Moore. As noted in Chris Tillman's write-up, the Orioles' offense needs a jolt, and Wieters, after an off-day, should benefit from the potential surge.
Asdrubal Cabrera – Like one of our favorite targets – Ezequiel Carrera – Asdrubal Cabrera gains most of his fantasy value from batting near the top of the order. With the Mets expected to have a high offensive output on Wednesday, Cabrera would be a fantastic alternative for the high-priced Story if he continues to bat second in the lineup.
Featured Image Credit: By Keith Allison on Flickr (Originally posted to Flickr as "Matt Wieters") [CC BY-SA 2.0], via Wikimedia Commons