Another set of only night games is on Tuesday's schedule, with all thirty teams in action. There will also be no shortage of pitching options, as many teams will be throwing their 'ace' against offenses that should be contained.
Currently, we are using xFIP and wOBA simply to compare one pitcher's performance against another – especially against opposite-handed hitters. We aren't using these numbers for calculation. To help with some calculations, we have assumed that each hitter and pitcher has played at least one game. Each pitcher was assigned an innings total relative to his average projection.
Check the starting lineups and weather reports prior to making any plays, as these change without notice.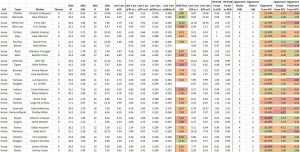 We are beginning to see a recurring theme for Max Scherzer. He continues to perform below his expectations, tallies enough strikeouts to make him relevant, has a favorable matchup on tap, and gains our attention. To date, it has not materialized in enough fantasy points to justify his salary. Fortunately, it can only go on for so long. Max Scherzer will not have a better opportunity to right his ship than facing the Phillies at home – after this series, Washington heads to St. Louis, Kansas City, and Chicago. Scherzer, already with one solid outing against Philadelphia under his belt, takes advantage of a weak offense on Tuesday night.
Toronto's offense has finally come alive, and it is beginning to look dangerous for an opposing pitcher. Few can be trusted at face value, but Chris Sale is an exception. Despite the Blue Jays' recent outbursts, they still strike out at a high rate – conveniently, Sale is one of the best strikeout pitchers in the game, although his current rate is below his career average. In addition, the Blue Jays' aforementioned success came against Chris Bassitt, Eric Surkamp, and Miguel Gonzalez. Chris Sale is in a different stratosphere. He will put an end to Toronto's quick surge.
David Price has not been given easy tasks in the early part of 2016. After beating Cleveland, Price faced Baltimore and Toronto, then was destroyed by what-should-have-been a more forgiving matchup against the Rays. Somehow 2-0 despite a 7.06 ERA, Price still needs a statement performance. Enter the left-handed-heavy, low-scoring Braves. Actually, enter David Price into the Braves' pitcher-friendly ballpark. The only cap on Price's ceiling is Atlanta's surprisingly decent strikeout rate, otherwise, he is in position to dominate.
Is it even worth mentioning Clayton Kershaw? The man is a wizard on the mound and, even when he appears to be off his game, he delivers a performance that keeps fantasy lineups alive. Kershaw and the Dodgers will host the light-hitting Marlins on Tuesday night, and, as usual, the basement projections are as high as anyone. Unfortunately for Kershaw, the Marlins don't necessarily strike out enough to warrant a high ceiling, but the southpaw's talent level is so high that it might not matter what Miami has done, to date.
After capturing the attention of the baseball world in his first two starts – including a near-no-hitter – Brandon Finnegan has experienced some natural regression. His strikeout totals and innings pitched dipped in the latter two games, and now Finnegan needs a rebound opportunity to get back on track. Thankfully, like the Blue Jays, the hot-hitting Mets are ready to cool down, even if it is a temporary setback. New York still strikes out a high rate, and, with Yoenis Cespedes possibly out of the lineup again, many of the Mets' hottest hitters are left-handed. Finnegan now has sneaky, high upside.
Prior to the season, Kyle Hendricks was largely regarded as a potential 'breakout candidate' – with one of the league's best lineups behind him, it's easy to see why. To date, Hendricks has been consistent with both career averages and expectations of a mediocre pitcher, but he has yet to take the step that many anticipated. Then again, he has faced Arizona, Colorado, and St. Louis, so far. Tuesday, Hendricks will take on the strikeout-happy Brewers. With the amount of big names at high salaries, Hendricks is one of the best plays of the night at his salary.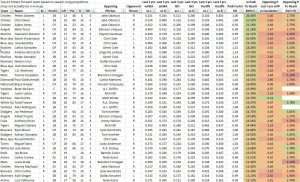 Left-handed Red Sox Hitters – Left-handed Red Sox hitters top the chart for the second consecutive night – although David Ortiz was surprisingly absent from Boston's lineup on Monday. The one-run showing for the Red Sox – it was, indeed, left-handed Jackie Bradley Jr. that provided game's only run – enhances the probabilities that an outburst is on the horizon. Matt Wisler's short career has been kind to left-handed bats, and David Ortiz, Travis Shaw, Jackie Bradley Jr., Brock Holt, and the like should be the next beneficiaries.
Left-handed Yankees Hitters – The Yankees enter Tuesday in the same position as their aforementioned rivals – mainly, left-handed bats should thrive. One day after tallying only three runs against Rangers southpaw Cesar Ramos, New York will welcome the transition to A.J. Griffin. Griffin actually allows more hard hit contact to right-handed bats than lefties, but the rest of his peripherals favor left-handed hitters. With a combined two extra-base hits in their last twenty-one games – ten and eleven, respectively – Brian McCann and Mark Teixeira are ready to pop.
Andrew McCutchen – One of Monday's top targets was inexplicably given the night off, despite playing in the hitter's gift that is Denver. Thankfully, the setup for Andrew McCutchen is even more favorable on Tuesday, as he faces left-handed Jorge De La Rosa. Monday's write-up noted McCutchen's need to explode. Playing in Colorado against a southpaw makes McCutchen a must-start.
Carlos Correa/Carlos Gomez – Carlos Correa continues to be targeted for his lack of power production since the first week of the season, and he conveniently tops the list of shortstops for Tuesday. The ballpark won't do him any favors, but his matchup with Nate Kans will. One day after Taijuan Walker – one of our top picks from Monday – shut down Houston, the Astros' offense should rebound in a big way. Carlos Gomez, still seeking his first home run of the year, has five hits in his last four games. His hot streak should continue on Tuesday.
Ben Zobrist/Jed Lowrie/Jonathan Schoop – The constant shuffling of the Cubs' lineup makes it relatively difficult to project the output of an individual player, but Ben Zobrist – especially if he is near the top of the batting order – is a top target at second base on Tuesday. Jed Lowrie and Jonathan Schoop offer their typical discounts at a premier position.
Todd Frazier – Don't look now, but Todd Frazier is heating up. A .375 batting average, one double, and three home runs in his last seven games, Frazier is erasing his slow start day-after-day. He may see his power limited on Tuesday when facing knuckleballer R.A. Dickey, but Frazier is one of the better plays at third base.
Bargains
Be sure to check the above chart for more of the expensive hitters – and the statistics of their matchups. Below, we focus on some of the best upside plays for their price.
Adam Jones – Adam Jones has a long way to go before his counting stats recover from his absence in the first half of April, and he will likely remain a target until he heats up. Odorizzi has shown moments of brilliance, but not over a prolonged stretch. Jones is a ticking time bomb and can be owned for a great price on Tuesday.
Brandon Moss – Brandon Moss fits the typical mold for a bargain buy thanks to his high risk-reward status and power potential. Assuming he gets the start, Moss will be batting in hitter-friendly Arizona against a struggling Shelby Miller.
Corey Dickerson – An everyday cleanup hitter is rare to find in the bargain bin, but Corey Dickerson is frequently discounted. After a two-run performance by the Tampa Bay offense on Monday, more is expected in the encore. Dickerson, at the center of the lineup, stands to benefit.
Featured Image Credit: By Keith Allison on Flickr [CC BY-SA 2.0], via Wikimedia Commons