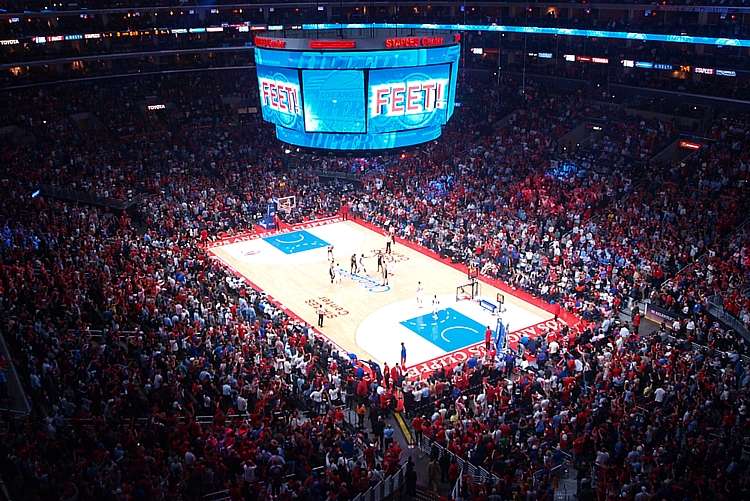 Latest posts by Chris Fedail
(see all)

Point Guard
Shaun Livingston (DK $4700, $4400, 14.2 USG)
I would think this maybe the last time you're going to be able to roster Livingston under 5K over the next couple of weeks while Curry recovers from his strained MCL, so jump on it while you still can.  Livingston has been playing great this series.  With his USG% jumping up to 19.7, he's averaging about 28 DKPTS in only 26.75 minutes per game.  With Curry being ruled out for the next two weeks, GS is going to need him to continue doing what he's doing.  Hopefully, his minutes can jump into the 30's because in this offense and this matchup, a 40 DKPT game is within reach.  Besides, he's going to be popular as heck so if you choose to fade him and he goes off, you're pretty much dead in the water.
Shooting Guard
Jamal Crawford (DK $5100, FD $4800, 24.9 USG)
This is as no brainer as it gets.  With Chris Paul and Blake Griffin ruled out for the remainder of the playoffs, the 6th man of the year is going to have the freedom to do whatever the hell he wants for as long as the Clippers survive.  His USG% jumps up to 29.9 without them and one can make an argument for rostering Austin Rivers, but I'll always side with Crawford even with the price difference.  By the way, Rivers makes for a great punt at his price.  I have no problem with stacking both of them together.
Small Forward
Andre Iguodala (DK $4600, FD $4300, 12.1 USG)
Another guy that should benefit with Curry being out of the lineup, Iggy's had 2 games already in this series of over 33 DKPTS.  He's also had two games under 20 DKPTS so it's not a slam dunk but I believe Steve Kerr is going to be relying on his veterans more than ever now with the uncertainty surrounding Curry's return.  The key to Iguodala's fantasy production will be tied to his FGA's.  In the 2 games he had over 33 DKPTS, he shot double-digit FGA's.  In the other two, he only attempted 5 and 6 shots.  I'm hoping with Curry being out, he feels the need to contribute and gets those shots up.  I also don't mind Maurice Harkless tonight.  We've seen the lineups the Clippers throw out with Blake gone.  They'll be playing a lot of small ball which fits right into Harkless' game and what the Blazers prefer to do.
Power Forward
Ed Davis (DK $3900, FD $3700, 12.7 USG)
I know what you're thinking.  Ed Davis has been brutal and not getting the minutes this series.  You're right but things have changed a bit obviously and now the Clippers have no Chris Paul or Blake Griffin.  Looking back to the regular season, Ed Davis dominated this Clippers team, averaging 31.32 DKPTS in only 25 minutes a game.  2 of those were against a Blake-less Clippers team.  With Blake re-injuring himself on Monday, he played less than 30 minutes.  It's no surprise that Ed Davis finally had himself a decent game with 24.5 DKPTS in only 18 minutes.  So yeah, I like the trend here.  Davis should feast on this undersized Clippers team.  I wouldn't recommend it for cash but I think you can certainly take a long look at him for GPP's, as he should be severely under-owned.
Center
Frank Kaminsky (DK $3600, FD $3600, 17.2 USG)
I really hope you guys have been riding this Plumlee wave as long as I have cause it's just easy money but his price has finally caught up to his production and although he still makes for a great play, I finally wouldn't mind the idea of fading him for someone like Al Jefferson or Frank Kaminsky.  I'll talk about Frank here only because of the discount but people are going to be off him after that 13.0 DKPTS performance on Monday.  He still played 25 minutes but the shots were down (5 FGA's).  For obvious reason, Jefferson is the safer play but I still think Kaminsky can offer decent upside with that price as long as he's a bit more assertive.  The most concerning thing with Kaminsky is that he hasn't made a three point shot since April 13th.  I don't know why or if it's a confidence thing but that was always a fun part of rostering him in the past.