A lighter slate of games begins with an early afternoon contest and continues through a somewhat staggered schedule. Most notably, prices for pitchers are down across the board after Wednesday's gluttony of 'aces.'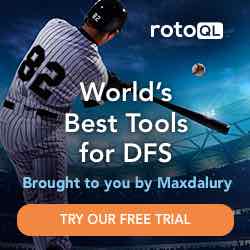 Currently, we are using xFIP and wOBA simply to compare one pitcher's performance against another – especially against opposite-handed hitters. We aren't using these numbers for calculation. To help with some calculations, we have assumed that each hitter and pitcher has played at least one game. Each pitcher was assigned an innings total relative to his average projection.
Check the starting lineups and weather reports prior to making any plays, as these change without notice.

Projected Low-Scoring Games
Toronto Blue Jays at Philadelphia Phillies – Not surprisingly, the Phillies have fallen mightily after a hot start to the season – 4-15 in their last 19 games. Aaron Nola continues to shine as the team's bright spot, however, and enters Thursday with a 2.98 ERA and an absurdly high strikeout rate. Toronto's potential offensively usually brings some level of concern for opposing pitchers, but Nola is proving that he can deal with the best – he has allowed more than two earned runs in a game only twice in his last ten starts. J.A. Happ has the better matchup, as he draws the strikeout-happy, low-scoring Phillies, which just-so-happens to be the organization that drafted and developed the southpaw – adding a storyline element to the game.
Targets: J.A. Happ and Aaron Nola
Pittsburgh Pirates at New York Mets – After a Spring Training that caught the attention of the baseball world, Juan Nicasio has failed to carry it into the regular season. He has, however, delivered the high strikeout rate that he teased in March, which is more than enough to warrant his use against the strikeout-prone Mets. Bartolo Colon is in the opposite position, facing a Pirates team with a relatively-low strikeout rate, but delivering a 3.08 ERA in another impressive season.
Targets: Juan Nicasio and Bartolo Colon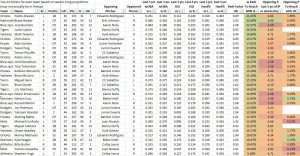 Projected High-Scoring Games
Baltimore Orioles at Boston Red Sox – Even when the Red Sox slow down offensively, they don't actually stop producing. Easily the highest-scoring team in the league, Boston will host Tyler Wilson – and his non-existent strikeout prowess – on Thursday night in a game that should develop into yet another slugfest. Eduardo Rodriguez already has a dangerously high ERA in his short 2016 campaign, but his 3.85 ERA of 2015 suggests that he is still getting acclimated to a new season. Like Wilson, Rodriguez is currently failing to strike batters out – which puts Baltimore's hitters on radar – but the edge goes to Boston's bats.
Targets: Boston Red Sox Hitters, then Baltimore Orioles Hitters
New York Yankees at Minnesota Twins – Entering Thursday from completely different directions, CC Sabathia and Kyle Gibson will go toe-to-toe in Minnesota. Sabathia's incredible 2.28 ERA is completely unsustainable – it would be his best season total by 0.42 – and Minnesota has slowly shown signs of life at the plate – 5.5 runs-per-game over their last four contests. Kyle Gibson is scuffling with a high ERA and low strikeout rate, and New York is poised to rebound after losing four consecutive games by a combined 14 runs. The only hesitation with loading up on Yankees' bats is the shift from a three-game set in Colorado – in which New York scored three runs or fewer twice – to Minnesota.
Targets: Minnesota Twins Hitters, then New York Yankees Hitters
Undervalued Plays
Oakland Athletics Hitters – A first glance at the matchup between the Rangers and Athletics will tilt the scales in favor of Texas, but Oakland's offense has already produced 25 runs in the series, despite the pitcher-friendly nature of the ballpark. Colby Lewis – outperforming his career and peripheral numbers – appears likely to allow the Athletics' hit party to continue.
Blake Snell – For purposes of bargains in daily fantasy baseball, we tend to love rookie pitchers. Blake Snell's brief stint with the Major League club yielded six strikeouts and one earned run in five innings of work, and he gets his next opportunity in a home game against Seattle. As far as matchups go, the Mariners are less-than-ideal for starting pitchers – they have both a low strikeout rate and score at a high pace – but the lack of familiarity and the left-handed-heavy lineup of Seattle gives Snell a high upside projection.
Featured Image Credit: Parkerjh at the English language Wikipedia [CC BY 3.0], via Wikimedia Commons