The usual lone Friday afternoon game precedes a full night slate. Conveniently enough, Jake Arrieta is listed as the starting pitcher for said afternoon game, and can be used in all-day slates or avoided by sticking to only the games played at night.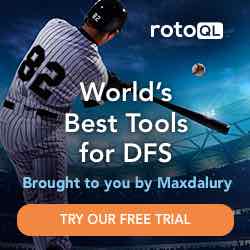 Currently, we are using xFIP and wOBA simply to compare one pitcher's performance against another – especially against opposite-handed hitters. We aren't using these numbers for calculation. To help with some calculations, we have assumed that each hitter and pitcher has played at least one game. Each pitcher was assigned an innings total relative to his average projection.
Check the starting lineups and weather reports prior to making any plays, as these change without notice.
Projected Low-Scoring Games
Colorado Rockies at Miami Marlins – Whenever the Rockies leave their hitter-haven of a ballpark, there is a threat that the offense will fail to come with them. This is especially true when traveling to the pitcher's park of Miami. Adam Conley continues to teeter between the 3.50 and 4.50 on the ERA scale, but he had allowed a total of three earned runs while striking out seventeen batters over his previous two starts before a relative dud in Arizona. Unlike his team's offense, Jon Gray sees a boost in production away from Colorado, where his home run totals are down and strikeout rate elevated. Both Conley and Gray have high strikeout potentials in a game that should remain lower-scoring throughout.
Targets: Adam Conley and Jon Gray
Los Angeles Angels at Oakland Athletics – Matt Shoemaker has been downright untouchable, of late. The Angels' starting pitcher has a 1.88 ERA with 48 strikeouts over his last five games. His success should only continue in the pitcher's park of Oakland. Kendall Graveman has been far less impressive over the same stretch, but has allowed more than two earned runs only once his last five starts. The two, however, should deliver a pitcher's duel on Friday night, where both offenses are, at best, average at scoring runs.
Targets: Matt Shoemaker and Kendall Graveman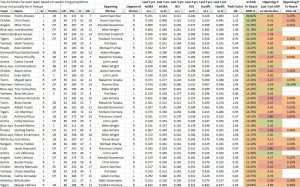 Projected High-Scoring Games
Cincinnati Reds at Houston Astros – Despite the team's horrible record, the Reds are not only decent on offense, but have a tendency to pop in hitter-friendly ballparks. In Houston, against Lance McCullers' 4.54 ERA, Cincinnati's bats should thrive. Ironically, McCullers has reverse splits that work against left-handed batters, making right-handed Reds the better target. The opposite side of the game presents a buying opportunity for all Astros' bats, as John Lamb sports a 5.50 ERA throughout his short career.
Targets: Right-handed Cincinnati Reds and Houston Astros Hitters
Undervalued Plays
Julio Urias – It will likely take a series of implosions for us to stop targeting Julio Urias, especially when his price remains low. Once again, pitching at home – and coming off back-to-back seven-strikeout performances – Urias has a fantastic matchup against the most strikeout-prone offense in baseball. His ceiling is as limited as his innings, but he is arguably the best point-per-dollar pitcher of the day.
Aaron Sanchez – Aaron Sanchez finds himself in nearly the exact same position as his last start – that is, facing the Baltimore Orioles. Unfortunately, the first attempt at stopping Baltimore was a failure – six earned runs in five innings – but it is one of the few blemishes on an otherwise impressive season. The Orioles may score at a high pace, but they also strike out more than enough to warrant the use of an opposing pitcher.
Tampa Bay Rays Hitters – Quietly, the Rays have become somewhat of an offensive threat, scoring at least five runs in six of their last eleven games. Between their under-the-radar nature and the matchup with Jeff Samardzija, prices for Tampa Bay's hitters are depressed, and they can be bought for a bargain. Samardzija, himself, is in the middle of a rough patch – a 7.36 ERA with only nine strikeouts in his last three games – and Tampa Bay is more than capable of pouncing.
Featured Image Credit: By Keith Allison (001H0783) [CC BY-SA 2.0], via Wikimedia Commons