Pitchers highlight a full day of baseball, as many 'top aces' take the mound on Wednesday. Clayton Kershaw, Noah Syndergaard, Chris Sale, Corey Kluber, and Stephen Strasburg are all scheduled to start, and deserve consideration even if one is not included in a write-up below.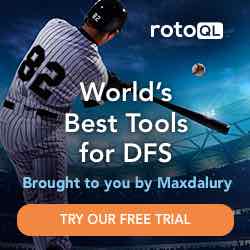 Currently, we are using xFIP and wOBA simply to compare one pitcher's performance against another – especially against opposite-handed hitters. We aren't using these numbers for calculation. To help with some calculations, we have assumed that each hitter and pitcher has played at least one game. Each pitcher was assigned an innings total relative to his average projection.
Check the starting lineups and weather reports prior to making any plays, as these change without notice.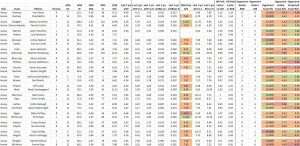 Projected Low-Scoring Games
Detroit Tigers at Chicago White Sox – After back-to-back days in which the Tigers and White Sox combined for a whopping nineteen runs, Wednesday will serve as a breathing period. Both offenses reset as Mike Pelfrey and Chris Sale take the mound. Sale is the obvious stud pitcher with a great ERA and strikeout rate, but he gains an additional boost by the expected regression of Detroit's offense. Pelfrey thrives on a similar force, where Chicago slows down, but he also sports a 2.45 ERA over his last three starts.
Targets: Chris Sale and Mike Pelfrey
Milwaukee Brewers at San Francisco Giants – Johnny Cueto is now scorching hot – a 2.16 ERA on the season and a 1.01 ERA over his last seven starts. His matchup with the strikeout-happy Brewers in a pitcher-friendly ballpark puts him in an ideal position, but he is not alone in the potential pitcher's duel. Jimmy Nelson hit a recent speedbump against the Phillies – two starts ago – but it is a rare blemish on an otherwise decent stretch. Removing the six-run, four inning performance in Philadelphia, Nelson has only allowed seven earned runs in 34 innings over the remaining five of his last six starts. His strikeout totals are a bit down, of late, but San Francisco is nearly impossible to strike out, regardless. Instead, Nelson and Cueto should be targeted for the likelihood of a low-scoring battle.
Targets: Johnny Cueto and Jimmy Nelson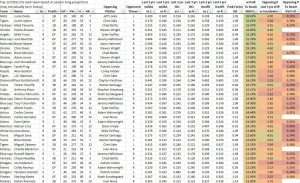 Projected High-Scoring Games
New York Yankees at Colorado Rockies – With the amount of pitching options for Wednesday, hitters are bound to be more scarce. Thankfully, a game in Colorado allows for a high-scoring affair. Ivan Nova and Chad Bettis have a combined 10.24 ERA, both with relatively low strikeout rates. With a limited selection of hitters throughout the night, don't bypass hitters from the Yankees and Rockies if playing an all-day slate.
Targets: New York Yankees and Colorado Rockies Hitters
Undervalued Plays
Right-handed Dodgers Hitters – When anyone opposes Clayton Kershaw or Madison Bumgarner, we tend to suggest that the heightened level of competition will also elevate the game of the opponent. This is not the case on Wednesday. While Kershaw delivers another fantastic gem, his hitters should thrive on Patrick Corbin. Specifically, Corbin is deadly against left-handed bats, making right-handed Dodgers hitters the best option.
Atlanta Braves Hitters – After an eight-run outing on Monday, Atlanta reverted right back to form with a one-run showing the following day. The matchup with Anthony DeSclafani, however, brings another opportunity for runs. DeSclafani was one of the top preseason 'breakout' candidates, but missed two months with an injury. Making only his second start of the year, relying on DeSclafani to step right back into form is dangerous. In addition, Atlanta is comparatively difficult to strike out, making the Braves' offense a sneaky play if they can knock DeSclafani out of the game and attack Cincinnati's horrific bullpen.
Cleveland Indians Hitters – While Ian Kennedy has been excellent at home – we have suggested using him on numerous occasions – he has seen his overall ERA rise more than one full run over his last two starts. With Cleveland starting Corey Kluber – and the over/under run total already rising since its open – the side that is projected to bring the offense hails from Cleveland.
Photo Credit: By dbking (IMG_6927) [CC BY 2.0], via Wikimedia Commons