A lone early afternoon contests prevents a completely full night slate, but the rest of the league will be in action on Tuesday evening. Thankfully, there are a few top pitching options scattered throughout a busy set of games.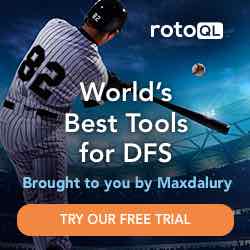 Currently, we are using xFIP and wOBA simply to compare one pitcher's performance against another – especially against opposite-handed hitters. We aren't using these numbers for calculation. To help with some calculations, we have assumed that each hitter and pitcher has played at least one game. Each pitcher was assigned an innings total relative to his average projection.
Check the starting lineups and weather reports prior to making any plays, as these change without notice.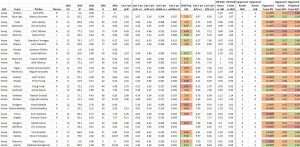 Projected Low-Scoring Games
Pittsburgh Pirates at New York Mets – By the end of Tuesday, Jameson Taillon's short career will only include games against the Mets. Due to a shift in the rotation, Taillon will face the same lineup in back-to-back weeks when he toes the rubber in New York. Like his last start, he draws a short straw by opposing an excellent pitcher in Jacob deGrom, but the matchup – both head-to-head with deGrom and against the strikeout-happy Mets – remains decent for Taillon. deGrom's 2.80 ERA is a hair higher than his career average, but his low baseline should be more indicative of his talent than anything else. In addition, he is now averaging 8.25 strikeouts-per-game over his last four starts, compared to an average of 3.83 over his first six starts.
Targets: Jacob deGrom and Jameson Taillon
Milwaukee Brewers at San Francisco Giants – Madison Bumgarner continues to dazzle one game after another while clinging beautifully to his projections and career pace. As expected, his start against the Red Sox yielded his lowest strikeout total since May 11th, yet he still produced enough fantasy points to deserve a start. On Tuesday, Bumgarner's basement should be equal to the ceiling of his last game, as he faces the incredibly strikeout-prone Brewers in his own pitcher's ballpark. The other side of the game features Matt Garza in his season debut. Garza has the unfortunate disadvantage of matching up with Bumgarner – thus lowering his win potential dramatically – but the heightened level of competition will help deliver a respectable output. His strikeout upside is capped by San Francisco's impressive ability to make contact, but his overall performance should be solid.
Targets: Madison Bumgarner and Matt Garza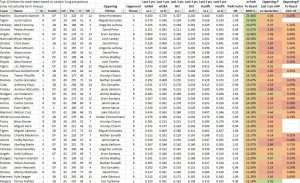 Projected High-Scoring Games
Los Angeles Dodgers at Arizona Diamondbacks – After each team scored a run in the first inning of Monday's game in Arizona, bats went relatively quiet across the board. Tuesday presents the next opportunity for a potential outburst, as Kenta Maeda and Archie Bradley square off in the Diamondback's hitter-friendly ballpark. Maeda already dominated Arizona earlier in the year, but the scouting report on the Dodgers' pitcher always included some risk when he would face a team for a second time – his arrival to Major League Baseball gave him an edge before hitters saw what he had to offer. Archie Bradley enters Tuesday with a 5.22 ERA on the season, with four earned runs or more in three of his five starts. In addition, three of the four home runs he has allowed have come at home.
Targets: Los Angeles Dodgers and Arizona Diamondbacks Hitters
Detroit Tigers at Chicago White Sox – After Monday's offensive duel between the Tigers and White Sox, it is somewhat dangerous to go back to the well the following day. Still, the matchup between Jordan Zimmerman and Miguel Gonzalez should produce enough runs to warrant the use of hitters from either team. Since starting the season with an insane 0.55 ERA through April, Zimmerman has now allowed a combined 18 runs over his last four starts. With that, some level of regression is to be expected, and there should be a limitation on exposure to Chicago's hitters. Miguel Gonzalez approaches Tuesday from a different angle, as the right-handed pitcher has allowed three runs or fewer in every start since his first of the season. Excluding his five-run performance to start the year, Gonzalez's ERA drops from 3.57 to an impressive 2.83. Again, exercise some level of caution before diving in, but use Detroit's bats on Tuesday night.
Targets: Carefully, Detroit Tigers and Chicago White Sox Hitters
Undervalued Plays
Gio Gonzalez and Washington Nationals Hitters – John Lackey has officially entered the realm of sustainability. The veteran pitcher has not allowed an earned run through two June starts, and has 23 strikeouts with a 0.44 ERA over his last three games. His opponents in said games? Philadelphia twice and Arizona once. Washington – especially with a left-handed-heavy lineup – is poised to put an end to Lackey's dominance. Gio Gonzalez has managed to keep his strikeout totals high despite a slip in performance of late, and is in position to outperform his price by a significant margin.
Cincinnati Reds and Atlanta Braves Hitters – While not necessarily a projected high-scoring game, the matchup between the Reds and Braves should produce enough runs to find some bargain values. Both Brandon Finnegan and Julio Teheran have been targets of this column of numerous occasions, but both are coming off performances in which they allowed two earned runs in at least seven innings. With the over/under run total a bit higher than a decent pitching matchup would suggest, there will be some level of offense to be found in Atlanta.