Three afternoon and one early evening game precede an otherwise full night slate, highlighted by two top 'aces' pitching to strikeout-happy offenses. With a game in Colorado and the Cubs coming off a home shutout, runs should be plentiful on Wednesday night.
Currently, we are using xFIP and wOBA simply to compare one pitcher's performance against another – especially against opposite-handed hitters. We aren't using these numbers for calculation. To help with some calculations, we have assumed that each hitter and pitcher has played at least one game. Each pitcher was assigned an innings total relative to his average projection.

Check the starting lineups and weather reports prior to making any plays, as these change without notice.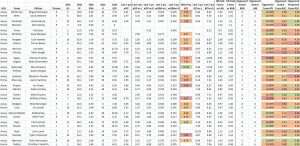 Projected Low-Scoring Games
Chicago White Sox at New York Mets – After the Steven Matz's great start was squandered, Jacob deGrom steps in as the next Mets pitcher attempting to shut down Chicago. Like Harvey on Monday, deGrom enters the game below his projected output, although by a much slimmer margin than that of his teammate. deGrom still has the ability to dominate on a given day, and he must be considered against an offense that has recently shown signs of going cold at a moment's notice. Miguel Gonzalez projects as a nice contrarian play against a strikeout-prone Mets team in a game that should not see many runs.
Targets: Jacob deGrom, with Miguel Gonzalez as an early-slate contrarian play
Washington Nationals at Philadelphia Phillies – Although it is arguably the most one-sided game of the day, on paper, the Nationals and Phillies yield another low-scoring projection. Max Scherzer stands out as the obvious choice – he is arguably the best pitcher of the day and faces a low-scoring Phillies team with a high strikeout rate – but left-handed Adam Morgan should be able to keep the game close – especially if Bryce Harper is out of the lineup.
Target: Max Scherzer, then Adam Morgan
Seattle Mariners at San Diego Padres – Like Scherzer, Felix Hernandez is in the dangerous position of being a top pitcher in an obviously great matchup. The Mariners' 'ace' should thrive against the Padres' horrible offense, especially after struggling in his last outing against Minnesota.
Target: Felix Hernandez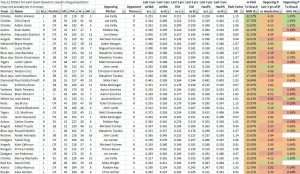 Projected High-Scoring Games
New York Yankees at Toronto Blue Jays – Aaron Sanchez and Masahiro Tanaka have been more than capable of limiting runs – perhaps to a more extreme level, so has New York's bullpen. Why, then, is the over/under for the run total so high? Most solid pitching matchups shift between seven and seven-and-a-half, with a few dipping into the range of six-and-a-half. A solid eight – at the time of this writing, and it has not moved – suggests that runs won't be so hard to accumulate as expected. Hitters from both teams draw the target, but the scale should tilt slightly towards the Yankees, as Toronto's bullpen is far worse than New York's.
Targets: New York Yankees Hitters, then Toronto Blue Jays Hitters
Cincinnati Reds at Colorado Rockies – Of course, it would be dangerous to leave a game in Colorado off the list of potential offensive hotbeds, but it is equally as risky to take the Rockies at face value and run with them. The reality is that Colorado should continue to score runs against a Reds team that features a truly disastrous bullpen. It just won't be to the tune of a football-game-like score.
Targets: Carefully, Colorado Rockies Hitters
Los Angeles Dodgers at Chicago Cubs – As noted in the introduction, the Chicago Cubs getting shut out on Tuesday raised the expectations for the team's offense on Wednesday. In fact, Chicago averages a whopping 5.7 runs-per-game following a shutout. Buy now, while the production is low. Los Angeles' hitters should be considered, as well, since facing almost any pitcher after Arrieta is a welcomed change.
Targets: Chicago Cubs Hitters, then Los Angeles Dodgers Hitters
Undervalued Plays
Tyler Chatwood – It is going to take a lot to convince anyone to use a pitcher from Colorado – especially in Colorado – but Tyler Chatwood appears to be the exception. The Rockies' de facto 'ace' is not only the sole starting pitcher with an ERA under 4.00, but actually sits under 3.00. Cincinnati has shown the ability to score in bunches, but Chatwood might secretly be an emerging stud pitcher, masked by his uniform.
Milwaukee Brewers Hitters – Whenever a team fails to join the fun of an offensive explosion, it remains a target in the following matchup. Such is the case for Milwaukee, as the team has seen its home ballpark act as a launching pad for the Cardinals' bats. It changes on Wednesday, as the Brewers break out.