A trio of oddly-scheduled afternoon games prevents a full slate at night, but all thirty teams will be in action again on Tuesday. Unfortunately for the sake of matchups, some of the best pitchers of the day are not necessarily in ideal situations, but there are, at least, enough options to find a path to success.

Currently, we are using xFIP and wOBA simply to compare one pitcher's performance against another – especially against opposite-handed hitters. We aren't using these numbers for calculation. To help with some calculations, we have assumed that each hitter and pitcher has played at least one game. Each pitcher was assigned an innings total relative to his average projection.
Check the starting lineups and weather reports prior to making any plays, as these change without notice.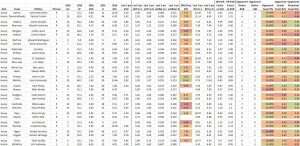 Projected Low-Scoring Games
San Diego Padres at Seattle Mariners – If playing an early or all-day slate, the matchup between James Shields and Hisashi Iwakuma should result in the perfect combination of high strikeout totals mixed with a low run-scoring environment. Not only is Seattle a slight pitcher's park, but James Shields is pitching to an impressive 3.06 ERA with a strikeout rate a little below his projected pace. Hisashi Iwakuma is currently trending below his projected averages, and should see his numbers improve by facing the Padres' poor offense.
Targets: James Shields and Hisashi Iwakuma
Washington Nationals at Philadelphia Phillies – The battle between the two young National League East arms of Joe Ross and Aaron Nola is likely a glimpse into the future. Both pitchers have enjoyed success in 2016 – each with an ERA under 3.00 – and the trend is expected to continue on Tuesday. Ross has the advantage of facing a Philadelphia offense with a high strikeout rate and low run output, but Nola's personal strikeout rate is so impressive that he is arguably one of the best pitchers of the day.
Targets: Joe Ross and Aaron Nola
Pittsburgh Pirates at Miami Marlins – Gerrit Cole and Jose Fernandez meet after both experiencing relative slow starts to the season. Now, each sporting an ERA under 3.00, Cole and Fernandez have hit their stride and enter Tuesday with a combined four earned runs allowed over their last three starts, each – Cole has only allowed one, himself. With both pitchers scorching hot, the risk of a regression is present, however, the ten-run output by Pittsburgh on Monday is just as likely to revert to normal. In fact, Fernandez – with the highest strikeout rate among Tuesday's starting pitchers – is more than capable of limiting the Pirates in his own pitcher-friendly ballpark.
Targets: Gerrit Cole and Jose Fernandez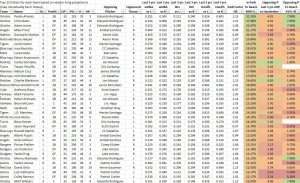 Projected High-Scoring Games
St. Louis Cardinals at Milwaukee Brewers – Milwaukee's hitter-friendly ballpark is always a risk to yield runs, and the Brewers and Cardinals are poised to take advantage. Specifically, the Brewers draw Mike Leake and his pitifully low strikeout rate, while the Cardinals face Wily Peralta and his 6.62 ERA. The biggest flaw of Milwaukee's offense is its high strikeout potential, but without Leake being able to capitalize, it is a somewhat insignificant weakness. Instead, Brewers hitters get the edge.
Targets: Milwaukee Brewers Hitters, then St. Louis Cardinals Hitters
Cincinnati Reds at Colorado Rockies – For the second consecutive day, the Reds and Rockies are targeted for the opportunity to buy hitters. After Monday's 11-8 slugfest, some level of care must be taken before diving fully into either team, and exposure should be somewhat limited. The scale is tipped, however, when Cincinnati's horrific bullpen is added to the mix, where Colorado is almost certain to score some late runs.
Targets: Sparingly, Colorado Rockies hitters, then Cincinnati Reds Hitters
Undervalued Plays
Chicago White Sox Hitters – While Steven Matz is slowly climbing up the pitching ranks, he is in the unfortunate position of following up Matt Harvey's masterful performance from Monday where the White Sox were shut out. Chicago sits near the average for both team strikeout rates and run totals, and the depressed statistics from Monday suggest a quick recovery on Tuesday.
Atlanta Braves Hitters – Don't look now, but the Atlanta Braves are actually capable of scoring some runs – at least, compared to their own low standards. After a five-game stretch in which Atlanta failed to score more than two runs in a game, the Braves have tallied a combined 19 runs over their last four contests. Jake Peavy's 7.26 ERA is ripe for the picking, and the bats of Atlanta will keep producing on Tuesday.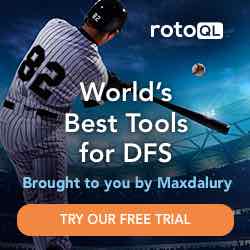 Featured Image Credit: By Steve Paluch on Flickr (Originally posted to Flickr as "ryan-braun") [CC BY 2.0], via Wikimedia Commons