With only half of the league's teams in action, Thursday features one of the lightest slates of the week. There are still a few afternoon matchups – making multiple daily fantasy slates a possibility – but there is a noticeable split where pitchers should dominate the day games and hitters thrive at night.

Currently, we are using xFIP and wOBA simply to compare one pitcher's performance against another – especially against opposite-handed hitters. We aren't using these numbers for calculation. To help with some calculations, we have assumed that each hitter and pitcher has played at least one game. Each pitcher was assigned an innings total relative to his average projection.
Check the starting lineups and weather reports prior to making any plays, as these change without notice.

Projected Lower-Scoring Games
Miami Marlins at Tampa Bay Rays – Two of the top-four strikeout pitchers of the day – determined by rate – go head-to-head on Thursday afternoon in what is projected to be a pitcher's duel. Jose Fernandez appears to have regained his momentum, and is now performing exactly as expected. Drew Smyly has consistently delivered high strikeout totals with a decent ERA. Both pitchers should thrive on Thursday, and at least one must be used in any all-day or early slate.
Targets: Jose Fernandez and Drew Smyly
Baltimore Orioles at Houston Astros – Despite the potential of a high-scoring game, the series between the Orioles and Astros continues to produce low-scoring contests. Unlike the previous days where we recommended the use of hitters, Thursday presents an opportunity to buy pitching. Kevin Gausman sports a 2.70 ERA, and his decent strikeout rate should work wonders against Houston's strikeout-prone offense. Conversely, Lance McCullers is working his way back from an injury, but already touts a high strikeout rate. His ERA is too high, but the small sample size suggests that it is about to plummet.
Targets: Kevin Gausman and Lance McCullers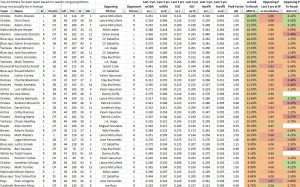 Projected Higher-Scoring Games
Chicago White Sox at Kansas City Royals – We recommended Danny Duffy as a pitching option in one of his starts, but it remains clear that the Royals' pitcher is slowly getting stretched out for longer outings. As of now, he has yet to complete five innings of work, and his impressive statistics are mainly carried from his time in the bullpen. Chicago's offense should have a big day on Thursday, however, the high run-scoring environment will likely spill over to Kansas City's lineup, as well.
Targets: White Sox hitters, followed by Royals hitters
Toronto Blue Jays at New York Yankees – After getting shut out on Tuesday, the Blue Jays predictably responded with an eight-run outing the following day. Thursday brings another opportunity for runs – from both teams – but it should be approached with some trepidation. Specifically, southpaws J.A. Happ and CC Sabathia perform significantly worse against right-handed bats than left-handed hitters, so the risk can be mitigated by focusing on hitters from one side of the plate.
Targets: Right-handed Blue Jays and Yankees hitters
Undervalued Plays
Matt Wisler – One of the few bright spots on an otherwise dreadful team, Matt Wisler has pitched to an ERA under 3.00 through eight starts. While his own team is nowhere near an offensive powerhouse, he has the good fortune of facing the strikeout-happy Brewers in a ballpark that tilts slightly in favor of pitching. Wisler's personal strikeout rate is rather low, but Thursday affords the perfect opportunity for it to rise.
Joe Ross – Joe Ross sports nearly identical numbers to the aforementioned Kevin Gausman, but his matchup with the Cardinals makes him a less-attractive play. Ross is slowly developing a track record of success – he has allowed more than three earned runs in only one start, this season – and stands as a high risk-reward option for Thursday, especially if playing a slate without the afternoon games.
Jonathan Gray – The true 'contrarian play,' Jonathan Gray faces the seemingly-unstoppable Boston offense – the Red Sox average the most runs-per-game and strike out at the lowest pace among teams playing on Thursday. Gray is an extremely risky options for the obvious reasons of facing a powerful offense, but his personal strikeout rate ranks second among Thursday's starting pitchers. In addition, his ERA is extremely high, but is likely carried by two games in the hitter-friendly ballpark of Colorado and one implosion against St. Louis. In his other three starts, Gray touts a ridiculous 1.80 ERA, striking out 24 batters in 20 innings.
Play FanDuel Today For A Chance At A Trip To The Playboy Mansion
Featured Image Credit: By Arturo Pardavila III [CC BY 2.0], via Wikimedia Commons