A full slate of games fills Wednesday with a nearly perfect split between the afternoon and night contests. The scale tends to lean towards pitchers in the day games, with hitters potentially owning the night.

Currently, we are using xFIP and wOBA simply to compare one pitcher's performance against another – especially against opposite-handed hitters. We aren't using these numbers for calculation. To help with some calculations, we have assumed that each hitter and pitcher has played at least one game. Each pitcher was assigned an innings total relative to his average projection.
Check the starting lineups and weather reports prior to making any plays, as these change without notice.
Projected Lower-Scoring Games
Cleveland Indians at Chicago White Sox – Another day with Corey Kluber on the mound brings another opportunity to use him. This time, the Indians' 'ace' is opposed by an equally attractive pitching option in Jose Quintana. One day after a relative clunker by Chris Shell, Quintana will attempt to get the White Sox back on track. Chicago's starting pitcher is working on a breakout campaign – 1.98 ERA – and should contribute into Wednesday's pitcher's duel. Kluber provides the typical upside of a long outing with a high strikeout total.
Targets: Corey Kluber and Jose Quintana
New York Mets at Washington Nationals -Ultimately, the Mets were able to push a few runs across the plate in Tuesday's showdown with Washington, but it was still overshadowed by the continued struggles of Matt Harvey. Where Tuesday eventually develop a higher run-scoring environment, Wednesday stands to provide the opposite. Steven Matz is more than capable of besting Washington's offense – especially the left-handed hitting bats of Bryce Harper and Daniel Murphy – and Tanner Roark should thrive in the strikeout department.
Targets: Steven Matz and Tanner Roark
Chicago Cubs at St. Louis Cardinals – Jake Arrieta's appearance on the list of Wednesday's starters also places him on the list of recommended starters for daily fantasy baseball. As always, Arrieta's floor is high – with the probability of an implosion incredibly low – but his ceiling is somewhat capped on Wednesday, as St. Louis strikes out at relatively low pace. Carlos Martinez is actually the pitcher with the most to gain, as his head-to-head matchup with Arrieta should proved a boost in a low-scoring affair.
Targets: Jake Arrieta and Carlos Martinez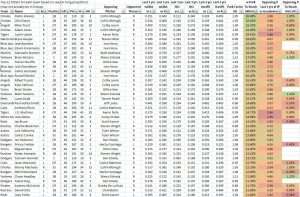 Projected Higher-Scoring Games
Los Angeles Angels at Texas Rangers – It feels like we are continually waiting for the offense of explosion by either the Rangers or Angels. Sunday provided a glimpse into the potential, as the Angels scored ten runs, but it has not materialized in Texas. Indeed, the Angels' offense is comparatively week, but the hitter-friendly ballpark should eventually yield runs. It happens on Wednesday, as both teams finally break out.
Targets: Los Angeles Angels and Texas Rangers Hitters
Toronto Blue Jays at New York Yankees -Tuesday's series opener between the Blue Jays and Yankees was cumulatively lower scoring, but featured a shutout of Toronto. The hitter-friendly ballpark of New York is not likely to continue producing low-scoring affairs, and Toronto's bats should rebound mightily against Ivan Nova – he is currently walking a fine line of allowing only one earned run in each of his last three starts.
Targets: Toronto Blue Jays Hitters, followed by New York Yankees Hitters
Baltimore Orioles at Houston Astros – It took 13 innings and intentionally-walking the bases loaded for the Astros and Orioles to produce a combined five runs on Tuesday night. Despite the carryover effect of a long outing threatening the high-scoring potential, both Baltimore and Houston should find much quicker route to runs on Wednesday. The sneaky play would include using any players that sat out from Tuesday's contest, but hitters from either team should enjoy a nice day.
Targets: Baltimore Orioles and Houston Astros Hitters
Undervalued Plays
Dan Straily – It is time to take Dan Straily seriously. Cincinnati's starting pitcher is limiting runs – 2.85 ERA – despite rarely producing long outings. With that, his upside is capped, but his offense – with a combined two runs over its last two games – should provide enough run support to make him a 'sleeper' for his quiet potential.
Minnesota Twins Hitters – Like the Angels, the Twins have been a frequent mainstay on this list for the past few days. Until now, it appears as if Minnesota has failed to receive the memo that it can score runs, but that changes on Wednesday. After Ian Kennedy and Edinson Volquez, the shift to Dillon Gee – currently pitching to a 2.90 ERA, despite a career average of 3.98 – should provide a much better opportunity for offense.
Photo Credit: Keith Allison/Flickr C.C.2.0