Friday's full slate begins with a single afternoon game and the remaining 28 teams following at night. There will certainly be enough pitching options to consider, but the must-watch player of the day – regardless of fantasy implications – is Julio Urias in his first career Major League Baseball start.

Currently, we are using xFIP and wOBA simply to compare one pitcher's performance against another – especially against opposite-handed hitters. We aren't using these numbers for calculation. To help with some calculations, we have assumed that each hitter and pitcher has played at least one game. Each pitcher was assigned an innings total relative to his average projection.
Check the starting lineups and weather reports prior to making any plays, as these change without notice.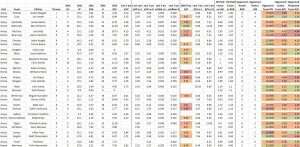 Projected Lower-Scoring Games
Minnesota Twins at Seattle Mariners – At the risk of venturing into dangerous territory, Felix Hernandez has an absolutely perfect setup on Friday night. In a relatively pitcher-friendly ballpark against a team that rarely scores and strikes out a high rate, Hernandez must be considered universally. The ideal nature of the matchup does warrant inherent concern, but the hesitation should be placed more on Seattle's hitters than Hernandez, himself.
Target: Felix Hernandez
St. Louis Cardinals at Washington Nationals – As Max Scherzer continues to work his ERA down towards a more respectable level, he will typically dominate the attention for a given game. Friday brings the next opportunity to use the Nationals' 'ace,' but he faces a high-scoring Cardinals offense with a decent strikeout rate. Southpaw Jaime Garcia is arguably the better target, as he sports a high strikeout rate and can neutralize the left-handed bats of Bryce Harper and Daniel Murphy.
Targets: Jaime Garcia, then Max Scherzer
Detroit Tigers at Oakland Athletics – With a combined ERA over 12.00, Michael Fulmer and Sean Manaea would appear poised for a poor outing. In reality, Manaea is still attempting to erase the poor start to his Major League career, but Michael Fulmer is already developing nicely. Both are worth considering in a contest that should actually remain lower-scoring, where Manaea has the strikeout edge, but Fulmer limits runs.
Targets: Michael Fulmer and Sean Manaea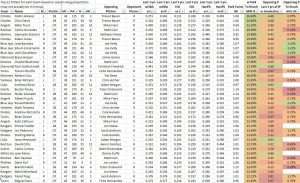 Projected Higher-Scoring Games
San Diego Padres at Arizona Diamondbacks – The Padres and Diamondbacks both have the good fortune of shifting from pitcher-friendly ballparks – in their last series – to the hitter's park of Arizona. Christian Friedrich and Robbie Ray – both left-handed pitchers with significantly worse peripherals against right-handed bats – are in a position of failure. Specifically, Freidrich has survived for too long with an outstanding 2.89 ERA, despite a low strikeout rate.
Targets: Arizona Diamondbacks and San Diego Padres Hitters
San Francisco Giants at Colorado Rockies – With a game being played in Colorado, the immediate perception is that it should yield a large amount of runs. Take caution now. It won't. By nature of the ballpark, enough runs will go around to warrant the use of a few players from either team, but exposure must be limited. Tyler Chatwood has been excellent, so far, where Matt Cain has struggled mightily. Colorado's hitters gain the slight edge.
Targets: Cautiously, Colorado Rockies Hitters, then San Francisco Giants hitters
Undervalued Plays
Julio Urias – Buckle up. Largely considered a 'cant-miss' pitching prospect, Julio Urias will be making his Major League Baseball debut on Friday. Urias has everything we would want in a matchup, from a high strikeout potential – his personal Minor League numbers are absurd – to a perfect fit against the left-handed-heavy, strikeout-prone Mets. Making him more enticing, Urias brings a massive discount in price. Unfortunately, he will almost certainly be highly-owned, and there is the chance that his first start is limited in terms of length. Regardless, Urias must be used in two-pitcher lineups, and he deserves consideration in all formats.
Los Angeles Dodgers Hitters – Continuing down the road of Los Angeles' potentially big night, the Dodgers' hitters gain a slight recommendation. Rarely will we suggest using any bats against New York's Jacob deGrom, but the Mets' starting pitcher has allowed an average of three earned-runs-per-game over his last four starts, failing to reach the sixth inning twice in that span. Because of deGrom's ability to dominate on a given night, limit too much exposure to Los Angeles' lineup, but do not avoid it completely.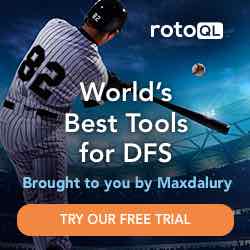 Featured Image Credit: Dustin Nosler/Flickr C.C 2.0