Monday's article included some changes to how we present our picks for the day. Please read Monday's introduction for a full understanding.

Currently, we are using xFIP and wOBA simply to compare one pitcher's performance against another – especially against opposite-handed hitters. We aren't using these numbers for calculation. To help with some calculations, we have assumed that each hitter and pitcher has played at least one game. Each pitcher was assigned an innings total relative to his average projection.
Check the starting lineups and weather reports prior to making any plays, as these change without notice.
Get the latest MLB Odds on XN Sports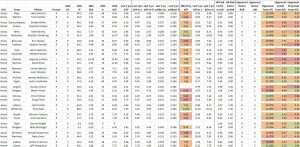 Projected Lower-Scoring Games
Toronto Blue Jays at New York Yankees – After a successful road trip that concluded with a five-game winning streak, the Yankees will host R.A. Dickey and the Blue Jays on Tuesday night. Despite the Yankees' recent hot streak, the team still averages fewer than four runs-per-game, suggesting that it is not particularly an offensive powerhouse. While Dickey likely won't tally too many strikeouts, he is in line for a solid output. Nathan Eovaldi is on the other side of the coin, poised to strike out enough batters to warrant use in daily fantasy lineups, but with the risk of a higher scoring game from Toronto's offense.
Targets: R.A. Dickey and Nathan Eovaldi
Colorado Rockies at Boston Red Sox – Boston's high-flying offense continues to push the final score of games beyond a sustainable number, and Tuesday brings the next opportunity for a regression. David Price must be considered for use against a Rockies team with a decent strikeout rate and two left-handed-hitting threats, but the Boston offense will not necessarily take off. After averaging 10.4 runs-per-game over a seven-game stretch, the Red Sox are now down to a more reasonable 4.5 runs-per-game pace over their last six contests.
Target: David Price (with caution), but avoiding hitters in this game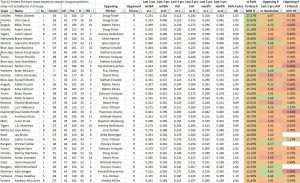 Projected Higher-Scoring Games
Washington Nationals at New York Mets – While the game should not get out of hand, the matchup between the Nationals and Mets should yield enough runs to warrant the use of some hitters. Specifically, Stephen Strasburg's last game was a ten-strikeout gem against New York, and he cannot be expected to perform at the same level on Tuesday. Washington's hitters cannot be avoided, either, as Matt Harvey has done nothing to prove that his struggles won't continue.
Targets: Washington Nationals hitters and New York Mets hitters, but limit exposure to both
Los Angeles Angels at Texas Rangers – At the risk of walking into a trap of a game that appears 'too obvious' at first glance, the left-handed bats of Texas need to be considered for Tuesday's matchup with Jhoulys Chacin. Chacin is historically terrible against left-handed hitters, and the Rangers are loaded in that area – in fact, they even called up prospect Joey Gallo to join in the fun. Don't miss the memo, but exercise caution if going too heavy on all hitters across the game – the over/under for the run total has crept lower since its open.
Targets: Left-handed Texas Rangers hitters
Undervalued Plays
Julio Teheran – As noted prior to his last start, Julio Teheran has been dominating opponents. Now with a 1.15 ERA over his last six starts, Teheran is facing a low-scoring, strikeout-prone team from Milwaukee. The tipping point is the Brewers' shift from their hitter-friendly ballpark to the pitcher's park of Atlanta.
Michael Wacha – Like the aforementioned Red Sox, the Cubs are finally returning to earth. Losers of three consecutive games – and scoring an average of two runs-per-game in that short span – the Cubs remain dangerous, but suddenly vulnerable. Michael Wacha is currently working through a rough patch, but has the opportunity to be one of the sneakiest plays of the day. His strikeout rate is a bit below his projections and his ERA is still a respectable 4.03 after allowing six earned runs in his last start.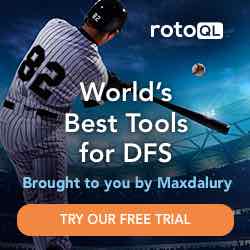 Featured Image Credit: Keith Allison/Flickr C.C. 2.0