With one-quarter of the 2016 Major League Baseball season – and, with it, the daily fantasy baseball season – behind us, we will be revising the structure of this column. The general path taken to identify some of the top players of the day began with identifying the games that are projected to be higher or lower scoring. Players were selected from the game based on these expectations, and received write-ups accordingly.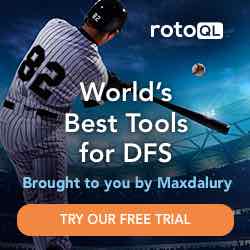 Instead of providing the result – that is, the players – we will be focusing more on the process – the game. With 'stacking' – using multiple players from the same team in one daily fantasy lineup – being so important, the game flow should stem from these projections. The charts of the day's top pitchers and hitters will still be provided.
Currently, we are using xFIP and wOBA simply to compare one pitcher's performance against another – especially against opposite-handed hitters. We aren't using these numbers for calculation. To help with some calculations, we have assumed that each hitter and pitcher has played at least one game. Each pitcher was assigned an innings total relative to his average projection.
Check the starting lineups and weather reports prior to making any plays, as these change without notice.

Projected Lower-Scoring Games
Cincinnati Reds at Los Angeles Dodgers – One of the best pitchers of a generation takes the mound again on Monday night as Clayton Kershaw faces the Cincinnati Reds. Brandon Finnegan has the unfortunate fate of opposing Kershaw, although both pitchers are projected to thrive. Kershaw gains his obvious recommendation simply by being listed as the day's starter, but Finnegan is facing a left-handed-heavy lineup with a decent strikeout rate. Most importantly, Finnegan should deliver one of his better games in attempt to match Kershaw to the best of his ability.
Targets: Clayton Kershaw and Brandon Finnegan
Philadelphia Phillies at Detroit Tigers – Vincent Velasquez finds himself in the same position as Chris Archer one day earlier. Unlike Archer, however, Velasquez appears to be on the rise – and, at worst, staying level. The Tigers are one of the most strikeout-prone teams of the day, and, while they have a powerful enough offense to score runs in bunches, Velasquez will severely limit Detroit's potential.
Target: Vincent Velasquez
Tampa Bay Rays at Miami Marlins – Tampa Bay's offense has been scorching, of late, but Monday will likely provide a cooldown period. The left-handed Wei-Yin Chen will host the Rays in his own pitcher-friendly ballpark, and stands to benefit from one of the lower-scoring matchups of the day. With Tampa Bay continuing to strike out at an incredibly high pace, Chen is one of Monday's best pitching options.
Target: Wei-Yin Chen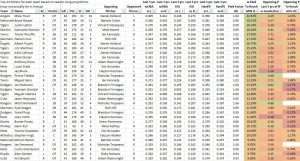 Projected Higher-Scoring Games
Kansas City Royals at Minnesota Twins – We recommended the use of Ian Kennedy in his last start, mainly because he had shown signs of dependency on the ballpark. Shifting from Kansas City to Minnesota is an extreme tilt towards the hitters, and Kennedy – blasted in his start at hitter-friendly Yankee Stadium – becomes the focal point for Minnesota's hitters. Kansas City should have no issues putting runs on the scoreboard against Ricky Nolasco – making hitters from either team viable options – but Minnesota's bats get the edge.
Los Angeles Angels at Texas Rangers – The Angels finally exploded for some runs when they reached double digits on Sunday, and the success should carry over into Monday's series opener in Texas. The ballpark is prime for runs, especially right-handed bats as Rangers starting pitcher Derek Holland sees an incredible dip in his peripherals when compared to facing left-handed hitters. At the time of this writing, the status of Mike Trout is relatively unknown – if he is out of the lineup, it removes much of the high-scoring potential – but the game should remain on radar, regardless. Nicholas Tropeano has been excellent in 2016, with only one start in which he allowed more than three earned runs. Rangers hitters can be considered, but use sparingly.
Undervalued Plays
Rich Hill – Taijuan Walker will likely dominate the attention of the matchup between the Mariners and Athletics, but Rich Hill is the quiet play poised to deliver. Oakland is one of the most difficult teams to strike out – depressing Walker's value – while Seattle sits in the middle-of-the-pack. Hill has an outstanding personal strikeout rate, and is currently sporting a 2.54 ERA. He will also neutralize the left-handed bats of Robinson Cano and Kyle Seager, making Hill one of the best pitching plays of the day.
New York Mets, San Francisco Giants, and San Diego Padres Hitters – In an odd twist of coincidence, Gio Gonzalez, Drew Pomeranz, and Johnny Cueto will all be making their next start against the same team they just faced. Conveniently, all three pitched well, and the low likelihood of an immediate repeat puts the hitters from New York, San Francisco, and San Diego on radar. Each team is expected to produce offense, with San Diego being the most contrarian – and highest-upside – play.

feature image credit: By Arturo Pardavila III on Flickr [CC BY 2.0], via Wikimedia Commons