Another week draws to a close with all thirty teams in action. In addition to the series conclusions, Sunday also brings a few 'top' aces with both lopsided and head-to-head matchups.

Currently, we are using xFIP and wOBA simply to compare one pitcher's performance against another – especially against opposite-handed hitters. We aren't using these numbers for calculation. To help with some calculations, we have assumed that each hitter and pitcher has played at least one game. Each pitcher was assigned an innings total relative to his average projection.
Check the starting lineups and weather reports prior to making any plays, as these change without notice.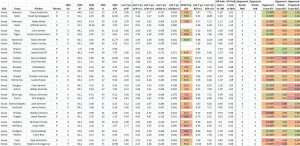 Noah Syndergaard – The no-doubt 'ace' of the day is, once again, a pitcher from the Mets. Noah Syndergaard has developed into arguably one of the best arms in the league, and has an ideal matchup against the strikeout-happy Brewers outside of their own extremely hitter-friendly ballpark. Like deGrom on Saturday, the matchup is so one-sided that caution should be exercised slightly. Unlike deGrom, Syndergaard has shown absolutely no reasons to warrant hesitation based on his own season-long output.
Madison Bumgarner/Kyle Hendricks – There has probably not been a day where Madison Bumgarner pitched, but did not make our list. Sunday is no exception, as the Giants' 'ace' will toe the rubber in the nationally televised final game of the week. Bumgarner has a high risk-reward matchup with the Cubs – although their offense is powerful, it does strike out at a reasonable enough pace – but the game, in general, should yield a pitcher's duel. With that, Kyle Hendricks also draws the recommendation, although his upside is severely limited by the lack of win potential and low probability of a high strikeout night.
Zack Greinke/Jaime Garcia – At first glance, the matchup between Zack Greinke and Jaime Garcia would appear to be tilted heavily in the favor of St. Louis, as Greinke's 5.08 ERA jumps off the page. In reality, Greinke is still in the process of lowering his ERA after a horrendous start to his Diamondbacks career. He now touts a much more respectable 3.81 ERA over his last four starts, including three games of at least seven strikeouts. Garcia is, indeed, a top play of the day for his own impressive numbers in 2016, and the two opposing pitchers can be mixed and matched in any capacity on Sunday.
Chris Archer – We finally took a step back from recommending Chris Archer on an every-start basis, but the time apart may have given the Rays' 'ace' an opportunity to reset. Now with a 2.43 ERA over his last five starts, Archer is creeping towards last season's high level of success. He still features an absurd strikeout rate – second-highest among Sunday's starting pitchers – and he will pitch to a Tigers offense that strikes out at an above-average pace.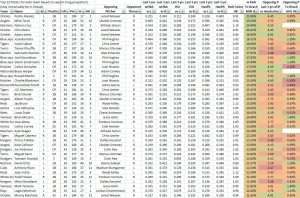 Minnesota Twins Hitters – The Twins are constantly overlooked as a source for runs, but the offense has been far more respectable lately. Granted, the team still isn't winning many games, but it is not the embarrassment that appeared for the first few weeks of the season. Combining the inaccurate perception that Minnesota cannot hit with the recent struggles of Marcus Stroman – a 5.30 ERA over his last three starts – the Twins offer a list of hitters to use on Sunday.
Cincinnati Reds Hitters – The Reds and Mariners have been projected to play high scoring games throughout the weekend, but Cincinnati has yet to join the party. That changes on Sunday, when the Reds meet left-handed Wade Miley one day after getting shut out. Cincinnati is poised to bounce back in a big way and finally contribute some offense to the series.
Seattle Mariners Hitters – While the Reds have failed to get the memo regarding an offensive series in Cincinnati, the Mariners have, at least, appeared on the scoreboard. Their success at the plate should only continue on Sunday when the team faces Alfredo Simon. The Reds' starting pitcher simply can't get out of his own way, this year, and already has two starts in which he allowed at least eight earned runs.
John Jaso/Gregory Polanco – While the Pirates were not shut out, they have certainly seen their offense shut down in the first two games of the series. The trend will not carry over into Sunday and, specifically, the left-handed hitters of Pittsburgh should thrive against Chad Bettis. Gregory Polanco has recently been batting third in the order, and he becomes a top target along with leadoff man John Jaso.
Mike Trout/Kole Calhoun – Mike Trout receives his typical recommendation for his matchup with Ubaldo Jimenez, but Kole Calhoun is added to the list for the combination play. Calhoun had earned his way into the second spot of the batting order – conveniently protected by Trout – and the two should be paired together in any game that suggests the Angels will put up runs. Sunday is the perfect opportunity to buy both, as Jimenez has shown little in 2016.
Bargains
Be sure to check the above chart for more of the expensive hitters – and the statistics of their matchups. Below, we focus on some of the best upside plays for their price.
Carlos Gonzalez – Whenever Carlos Gonzalez experiences a dip in price, we are poised to pounce. Against Juan Nicasio – whose peripherals against left-handed hitters are significantly worse than against right-handed bats – Gonzalez is a great value play on Sunday.
Pedro Alvarez – It has been a relatively long time since we last mentioned Pedro Alvarez, but the Orioles' slugger is almost always on watch for his undeniable power potential. While the ballpark won't do him any favors, Alvarez has a great matchup against the right-handed Jered Weaver and his 5.76 ERA.
Daniel Murphy – Daniel Murphy is on an absolute tear in 2016. Currently holding a .390 batting average, Murphy has only gone hitless five times out of the 40 games he started. Sunday's laughable price is likely due to Murphy's matchup with the left-handed Adam Conley, but Murphy is currently playing at too high of a level for the handedness of his opponent to matter.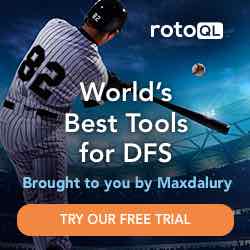 Featured Image Credit: By Arturo Pardavila III from Hoboken, NJ, USA (Noah Syndergaard throws live BPon #WSMediaDay) [CC BY 2.0], via Wikimedia Commons