Saturday features the typical full slate of games, but rain is threatening a few contests. For those that will play without a hitch, some of the perceived better pitching matchups carry a slightly elevated level of risk.
Currently, we are using xFIP and wOBA simply to compare one pitcher's performance against another – especially against opposite-handed hitters. We aren't using these numbers for calculation. To help with some calculations, we have assumed that each hitter and pitcher has played at least one game. Each pitcher was assigned an innings total relative to his average projection.

Check the starting lineups and weather reports prior to making any plays, as these change without notice.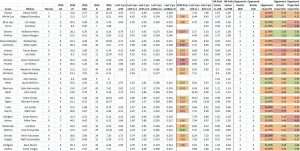 Jacob deGrom – The young, power arms of the New York Mets will likely remain top targets throughout their weekend series with Milwaukee, however, there are still enough question marks surrounding the pitching staff to require hesitation. For deGrom, the issue is the surprisingly low strikeout percentage, despite an impressive ERA. Thankfully, the free-swinging Brewers are ripe for the picking for any pitcher that needs a boost in his numbers.
Jose Fernandez/Joe Ross – For the second consecutive start, Jose Fernandez and Joe Ross will be squaring off against one another. The familiarity in such a short time actually carries some risk – as the opposing lineups will not necessarily be fooled by either pitcher's arsenal – but the two allowed a combined four earned runs in their last meeting and should produce another pitcher's duel. This time, Joe Ross gets the slight edge thanks to Miami's slightly weaker offense, and the unlikely scenario in which Fernandez reaches double digit strikeouts against the same team twice in a six-day span.
Masahiro Tanaka/Sean Manaea – Both Masahiro Tanaka and Sean Manaea have performed exactly as expected during the early portion of 2016, but via different roads. Tanaka is off to another solid start, with a 3.51 ERA and averaging 8.1 strikeouts-per-nine-innings. Manaea is going through the typical ebb-and-flow of a rookie campaign, and recently turned in a six-and-two-third-innings, one-earned run outing immediately following a disastrous implosion. When the two meet on Saturday, both should contribute to a lower-scoring affair. Tanaka's strikeout potential may take a slight dip against an Oakland team that rarely strikes out, but the Athletics are now missing Josh Reddick in the middle of their lineup. The southpaw Manaea has the advantage of facing the left-handed-heavy Yankees lineup, averaging fewer than four runs-per-game.
Drew Smyly – It is becoming a running theme for this column to mention Drew Smyly virtually every day he toes the rubber, and Saturday presents the next buying opportunity for the Rays' southpaw. Simply put, Detroit is a threat to put up runs, but the offense also strikes out at an exceptionally high pace. Smyly has silenced a number of offenses, this year, and Detroit's should be next on his list to conquer.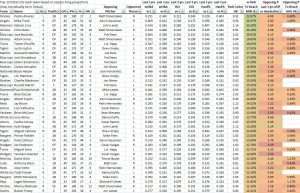 Toronto Blue Jays Hitters – While the risk of a regression is present after a nine-run outing on Friday, the Blue Jays must be salivating at the idea of facing an inexperienced southpaw. Toronto's hitters will draw Pat Dean on Saturday, a 27-year-old pitcher about to make his first career start – and third career appearance. The Blue Jays' offense is arguably one of the most dangerous in the league thanks to its crop of veteran hitters. The mismatch is obvious. Load up on Toronto's bats.
Jose Abreu – Batting second in a lineup that is projected to have a high run-scoring output, Jose Abreu will face Danny Duffy in his continued transition to Kansas City's rotation. The left-handed Duffy is clearly facing a slow return back into a starting pitcher, and his innings will likely be limited, again. Abreu stands to benefit the most from Saturday's matchup.
Seattle Mariners Hitters – One day after an eight-run outburst in Cincinnati, the Mariners' hitters are, again, top targets. Saturday provides the next opportunity for Seattle to explode, as they face the inexperienced John Lamb – and his 5.14 ERA – in the hitter-friendly ballpark of Cincinnati. Seattle's hitting targets are not limited to right-handed bats – especially with Kyle Seager slotted to bat second – but Chris Iannetta typically mashes southpaws.
Francisco Lindor/Jason Kipnis – The middle infield duo of Cleveland – conveniently batting in back-to-back positions in the lineup – are in prime position to take advantage of Joe Kelly on Saturday. Kelly's peripherals are consistently poor against hitters from either side of the plate, but Francisco Lindor and Jason Kipnis see a boost in hard hit potential when facing right-handed pitching.
Bargains
Be sure to check the above chart for more of the expensive hitters – and the statistics of their matchups. Below, we focus on some of the best upside plays for their price.
Minnesota Twins Hitters – More than simply a contrarian play, Twins hitters are on target for the projected high-scoring affair between Minnesota and Toronto on Saturday. For their prices, many of the Twins' hitters are ideal buys.
Jeff Francoeur – The southpaw-killer makes his return to the bargain bin thanks to his matchup against Adam Morgan on Saturday. Atlanta's offense has come alive, of late, and Francoeur will bat cleanup in what could develop into another high-scoring game.
Jerry Sands – Like Francoeur, Jerry Sands is listed as Saturday's cleanup hitter in a potentially high-scoring matchup. At a ridiculous price for his lineup slot – specifically, after Todd Frazier and before Melky Cabrera – Sands is a must-own if playing early or all-day slates.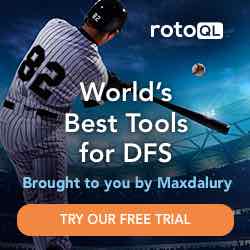 Featured Image Credit: By Arturo Pardavila III from Hoboken, NJ, USA (#WorldSeries Game 2: Jacob deGrom) [CC BY 2.0], via Wikimedia Commons