The overwhelming theme of Saturday's group of games is the familiar positions in which each pitcher finds himself. The same players that have been fighting to rebound remain on watch to finally break through, while some of the weaker pitchers are lucky to be placed in a favorable matchup, yet again. Unfortunately, this leads to uncertainty across the board, where extra attention was paid to pitchers, but salary might need to be dedicated to a few elite hitters.
Currently, we are using xFIP and wOBA simply to compare one pitcher's performance against another – especially against opposite-handed hitters. We aren't using these numbers for calculation. To help with some calculations, we have assumed that each hitter and pitcher has played at least one game. Each pitcher was assigned an innings total relative to his average projection.
Check the starting lineups and weather reports prior to making any plays, as these change without notice.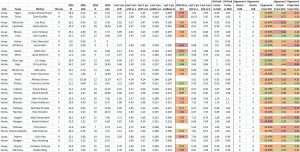 Chris Archer – Again, Chris Archer is the focal point on a day where he is pitching. He finally delivered an outstanding performance in his last start, when he struck out ten batters in six-and-two-thirds scoreless innings. We had been waiting for this type of recovery, and the output was encouraging. However, it also fits into the model of a potential spike before another downtrend. When a player is on a hot streak, then regresses for a brief time, we expect him to reset and continue his path of success. Unfortunately for Archer, the reverse needs to be considered, and he should be used with caution on Saturday. Thankfully, the Blue Jays do contribute strikeouts, but they also have high-scoring bursts.
J.A. Happ – The opposite side of the game between the Blue Jays and Rays gives J.A. Happ a chance to shine, yet again. Happ is nowhere near the same caliber pitcher as his aforementioned counterpart, but he continues to draw favorable matchups and has performed well, to date. Left-handed pitchers gain a distinct advantage against the Rays, as cleanup hitter Corey Dickerson has either been left off the lineup card or ineffective, in the past, leaving the offense lacking. Happ's personal strikeout rates are incredibly low, but the Rays, as a team, will help increase the southpaw's percentages.
Francisco Liriano – Francisco Liriano has been a relative disappointment after his Opening Day gem, yet is now long overdue for another stellar outing. Saturday presents the ideal setting for such a gem, as Liriano will have the left-handed-heavy Reds in a pitcher's ballpark. His strikeout rate has remained high – although it is mainly carried by his first start of the year – and neutralizing the threats of Joey Votto and Jay Bruce will help limit the potential damage Cincinnati can inflict. Even the likelihood of a win is high, as the Reds will counter with Alfredo Simon – statistically, one of the worst pitchers of the day.
Trevor Bauer – The Phillies continue to be a thorn in the side of opposing pitching, scoring just enough runs to limit the ceiling on starters, but striking out enough to warrant their use. Trevor Bauer is next in line to attempt to completely shut down Philadelphia – which, surprisingly, appears unlikely – with the fallback option of a high strikeout total looming large. The latter is the key, as Bauer sports a high strikeout rate and the Phillies continue to contribute in that category.
Wei-Yin Chen – It is rare to suggest a pitcher that throws with the same hand as the previous day's dominant starter – who also happened to throw more than seven innings of no-hit baseball – in a hitter's ballpark. Saturday is the exception. Thankfully, the Brewers did string together enough hits in the ninth inning to reduce the chance of an all-out explosion the following day, and Wei-Yin Chen is one of the more reasonable plays for the encore. Chen has performed incredibly close to his preseason projections, and little should change when facing the Brewers. Expect a decent strikeout total, while still allowing a few runs, and deploy Chen wherever a high floor, low ceiling play is required.
Jordan Zimmerman – Jordan Zimmerman must be considered on Saturday. The Twins continue to strike out at high rate and keep their run totals low, and Zimmerman slides into a nice position to keep his outstanding start to the 2016 season intact. Natural regression does make Zimmerman a risk – as he has allowed a total of one earned run in 26 innings – and he doesn't feature high strikeout totals, but the matchup is enough to use the right-handed pitcher in moderation.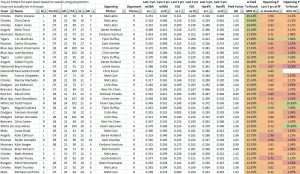 Paul Goldschmidt/Welington Castillo/Jean Segura – Like Nolan Arenado on Friday, Paul Goldschmidt is the player that requires an immediate add in all daily fantasy lineups. Facing the left-handed Chris Rusin in a hitter's ballpark the day after a shutout, all right-handed Arizona bats should be on radar. Goldschmidt is the must-use player of the day, with Welington Castillo and Jean Segura leading the group of catchers and second basemen, respectively.
Mike Trout – Surprising few, Mike Trout sits near the top of the chart again thanks to his matchup with left-handed Derek Holland. As noted time and again, Trout continues to deliver fantasy points even without home runs, and is safe a play as any on a given day. Playing in a hitter-friendly ballpark certainly helps, as well.
San Diego Padres Hitters – One day after coming alive at the end of tight game, the Padres' hitters are expected to perform again, on Saturday. Ross Stripling was obviously outstanding in his first start, but he has been much more hittable since. Specifically, his peripheral numbers against right-handed batters are poor – which is surprising since the no-hit performance is included in the statistics – and Wil Myers and Matt Kemp top the list.
Pittsburgh Pirates Hitters – As mentioned in the pitcher's write-up, the Pirates are projected for a big day. Against Alfredo Simon, some combination of Andrew McCutchen, Gregory Polanco, and Starling Marte must be used. McCutchen's hard hit percentage against right-handed pitching is high, but Simon's hard hit percentage against left-handed hitting gives Polanco an edge.
Giancarlo Stanton – After a day off on Friday, Stanton should return to the lineup on Saturday in a hitter-friendly ballpark. The shift from Miami to Milwaukee is extreme for a hitter, and Stanton should near the top of every list for Saturday.
Bargains
Be sure to check the above chart for more of the expensive hitters – and the statistics of their matchups. Below, we focus on some of the best upside plays for their price.
Derek Norris/John Jaso – Two of the top three bargain buys on Saturday gain their boost from the expected output of their team's lineup. Derek Norris and John Jaso are both inexpensive options for two of the best hitting lineups of the day, and their position in the batting order might make them must-plays over other options.
Pedro Alvarez – As always, Alvarez gets included in the list of bargain buys due to his continually decreasing salary, yet increasing stretch without a home run. Saturday is the next of many opportunities for the drought to end, as he faces Mat Latos and his own string of unsustainable baseball – although on the productive side.
Brandon Moss – Like Alvarez, Moss is a mainstay on the list of bargains. Unlike Alvarez, Moss actually delivers from time to time. Moss will be opposed by Joe Ross, who struggles mightily against left-handed bats, allowing an exceptionally high level of hard-hit contact.
Photo Credit: Keith Allison/Flickr C.C. 2.0