Friday begins with a single afternoon game loaded with fantasy impact, followed by the rest of the league at night. One of the most noteworthy storylines of the day is the continuation of the early trend for the 2016 season – that is, two more top pitching prospects will be making their Major League debuts.
Currently, we are using xFIP and wOBA simply to compare one pitcher's performance against another – especially against opposite-handed hitters. We aren't using these numbers for calculation. To help with some calculations, we have assumed that each hitter and pitcher has played at least one game. Each pitcher was assigned an innings total relative to his average projection.
Check the starting lineups and weather reports prior to making any plays, as these change without notice.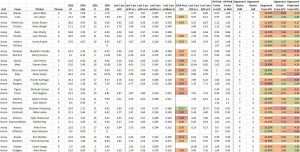 Corey Kluber – Corey Kluber is pitching against the Philadelphia Phillies. 2014 Cy Young Award winner Corey Kluber, fresh off an outstanding rebound performance, is about to face a Phillies team that just swept the Nationals, despite scoring no more than four runs in any game of the series. Even while tallying wins with a low run output, Philadelphia was still kind enough to continue striking out. Kluber is an ideal position, as the strikeouts should continue, with the run totals remaining on the lower end.
Juan Nicasio – If any one player was grateful for Thursday's rainout in Colorado, it has to be Juan Nicasio. Originally scheduled to pitch in the hitter's haven that is Denver, Nicasio's start was pushed back to Friday, where he will face the Reds in his own pitcher-friendly ballpark. Between the strikeout upside, lower-scoring offense of Cincinnati, and raised expectations for Nicasio, himself, the right-handed pitcher has shifted into a better position for Friday.
Alex Wood – With the Padres playing on Friday, their opposing pitcher becomes an immediate target. Granted, San Diego won't be hosting the game, but the team's offense fits the all-too-common combination of high strikeouts and low run totals. Alex Wood has under-performed, to date, but his numbers should begin recovering shortly, especially with a game against the Padres. Most importantly, Wood has only had one home start, this year – a seven-inning, one-run victory – and his overall numbers are inflated from his last game in Denver.
Jon Lester – It is hard to find a more perfect setup than a left-handed strikeout pitcher against the Braves. Atlanta finally put some runs on the scoreboard and beat the Red Sox on Thursday, ending an eight-game losing streak that included an average of 2.4 runs per game. Perfect. The Braves needed to reset before continuing their tailspin, and they are now ready to crumble further. Conveniently, Jon Lester is looking for his 'statement performance,' as he only has one game in which he struck out more than five batters, despite pitching seven innings in three of his four starts. Unfortunately, Lester's start is the first of the day and might not be included in all slates.
Drew Smyly – Considering how we often expect some sort of regression after a sustained period of success, Drew Smyly is entering dangerous territory to start the 2016 season. Despite a losing record, Smyly has been outstanding since Opening Day. Unfortunately, the lone blemish on his resume came against the Blue Jays in Tampa Bay. Smyly's chance for revenge allows him to be considered, but he must be approached with caution. The Blue Jays began heating up before running into the White Sox prior to an off-day, and they are in a state of flux. The key remains the team's high strikeout rate, which makes Smyly's ceiling as high as his floor is low.
Michael Fulmer/Sean Manaea – The pair of rookies making their Major League debuts on Friday round out the final options for pitchers. Michael Fulmer and Sean Manaea both draw nice matchups against strikeout-prone teams, but their obvious lack of experience raises their risk level. They each come at massive discounts compared to the field, and are two of the highest-touted prospects of the 2016 season. As long as the risk is mitigated, either pitcher can be used.
Cubs Left-handed Hitters – Aaron Blair's one career start will certainly skew the numbers, but the right-handed pitcher will follow-up his debut against the Braves with a much less favorable matchup – the Cubs in Chicago. Along the same lines as Lester, Cubs hitters may not be available in all slates, but the left-handed bats of Anthony Rizzo, Dexter Fowler, Ben Zobrist – the latter two are switch-hitters – and, especially, Jason Heyward are the key targets. In 21 games, Heyward has 19 hits, none of which have left the yard. It's only a matter of time before that changes.
Los Angeles Dodgers Hitters – The Dodgers hitters have everything in their favor on Friday night. They are facing a weaker pitcher – making his second career start – one day after an ace – Jose Fernandez struck out eight batters in six innings – and immediately following a four-game sweep. By all accounts, the Dodgers' bats are ready to explode. Statistically, the right-handed hitters get the edge, but, like Blair, Cesar Vargas' numbers should not be taken at face value due to their small sample size. Instead, all Dodgers' hitters are targeted. Yasiel Puig tops the group.
Chicago White Sox Hitters – Like the Dodgers, the White Sox have the perfect storm brewing. Chicago had been the hottest team in the league before getting dismantled by the Orioles on Thursday night. After a brief reset – and with Carlos Rodon on the mound – the White Sox should continue on their ascension. Most importantly, they will be opposed by Mike Wright – statistically, one of the worst pitchers of the day. Wright has been equally generous to both left-handed and right-handed hitting, although the lefties gain the slight edge. Jimmy Rollins and Adam Eaton are top plays due to their high lineup position and expectation that Chicago has a nice offensive day, but all White Sox hitters are on the list.
Nolan Arenado – Stop what you're doing and add Nolan Arenado to your daily fantasy lineup. Now. After six home games in which Arenado tallied eight hits, one double, and three home runs, he travels to Arizona. With the move comes a massive drop in price. It shouldn't. Not only is Arizona another hitter's ballpark, but Arenado's career statistics in road games indicate that there is hardly a drop-off in production – especially compared to league averages. Add in the fact that Arenado will face the left-handed Robbie Ray, and the third baseman becomes a must-play on Friday.
Mike Trout/Ryan Braun – With three potentially explosive stacks on the day – Cubs, Dodgers, and White Sox – there is a relatively limited amount of top-tier talent to fit into a lineup. If money is no issue, Mike Trout and Ryan Braun – more right-handed Brewers will be listed in the bargain section – are the top choices at premium salaries.
Bargain
Be sure to check the above chart for more of the expensive hitters – and the statistics of their matchups. Below, we focus on some of the best upside plays for their price.
Chris Carter – Chris Carter rarely surprises anyone. A home run threat with high strikeout rates, Carter has performed as expected in his early tenure with Milwaukee – five home runs in twenty games. Picking when to use Carter is difficult due to his typically low batting average, but he now has seven hits in his last eighteen at-bats and is facing a left-handed pitcher in his home, hitter-friendly ballpark.
Matt Wieters/Jonathan Lucroy – Wieters continues to be a favorite of the chart, but the catcher has been held out of the Orioles' lineup twice in the past three games. His matchup against Carlos Rodon isn't ideal – as the left-handed pitcher is enjoying a nice season – but it is among one of the best for Friday. Jonathan Lucroy – especially for his price – gets the same boost as his teammate, Chris Carter, and is the dollar-for-dollar best catching play of the day.
Carlos Gonzalez – It's simply too hard to ignore Carlos Gonzalez when his price plummets. Unlike Arenado, Gonzalez is largely carried by his home ballpark, and he does suffer from facing southpaws, but his talent is too good for his low price. Again, Arizona is a hitter's ballpark, and, after his teammate pitched a shutout on Thursday, it is unlikely that Robbie Ray survives the entire game. At one point, Gonzalez could potentially face a right-handed pitcher. Even if he doesn't, his cost is so low that the risk is worth taking.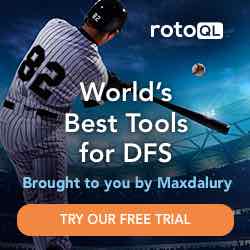 Featured Image Credit: By TonyTheTiger (Own work) [CC BY-SA 4.0], via Wikimedia Commons