A full day of games on Saturday fit nicely into two separate slates. The morning games include both excellent pitching options and a team worth stacking, while the nightcap features a few studs on the mound.
Currently, we are using xFIP and wOBA simply to compare one pitcher's performance against another – especially against opposite-handed hitters. We aren't using these numbers for calculation. To help with some calculations, we have assumed that each hitter and pitcher has played at least one game. Each pitcher was assigned an innings total relative to his average projection.
Check the starting lineups and weather reports prior to making any plays, as these change without notice.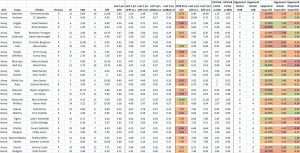 So far, Max Scherzer has looked human. His 4.13 ERA is quite high and, while he sports an even one strikeout-per-inning rate, he actually has fewer strikeouts than his opponent's starter, Aaron Nola. Every pitcher needs a freebie to get his numbers back where they belong, and Scherzer's comes in the form of the Phillies. They cannot always be used as a punching bag – and Aaron Nola should actually keep the game competitive from his side of the ball – but Scherzer has performed below average for too long. Saturday, he shines.
Aaron Nola is about to put fantasy owners into a tough position. His eye-opening start to 2016 puts him on the map as a potential star in the league, but he could just-as-well be experiencing a nice stretch of ball where growth – read, struggle – is needed. While his chances of winning the game are extremely low, his potential of going toe-to-toe with Max Scherzer should not be overlooked. More than a contrarian play, Nola is worth the risk on Saturday.
Like Greinke on Friday, Shelby Miller must be thrilled to pitch in San Diego after two starts in Arizona. Miller isn't necessarily a 'strikeout king,' but he is in prime position of exploiting the horrific San Diego offense. At worst, he delivers a decent total of strikeouts and innings pitched. At best, he does what most pitchers have already in 2016 – shut down the Padres. For his low cost, his upside is undeniable.
The lopsided matchup of the day comes in the form of Jake Arrieta and the Cubs against Christian Bergman and the Rockies. Colorado actually put up six runs on Friday away from their home ballpark – granted, Wrigley Field also favors hitters – but cannot maintain their high-scoring pace for too long outside of Denver. Arrieta, one of the most dominant pitchers in the game, will take advantage of the Rockies on Saturday afternoon as all Cubs – including hitters – should be targeted.
Rarely does a high risk-reward player come with a high salary, but David Price is the exception. With the deck stacked against him – pitching in Boston against his former team that also happens to be filled with right-handed power bats – Price's floor is extremely unstable. His ceiling, however, is astronomical, and the Blue Jays' offense actually strikes out more than any other team in the league. Price should only be used in tournaments on Saturday.
Based on every projection, Matt Harvey has actually been a complete disappointment, so far. With more earned runs allowed – six – than strikeouts – five – Harvey is either dealing with an ailment that has not been announced or is simply experiencing a rough patch. If it is the latter, his potential for a rebound is off the charts, especially against a Cleveland lineup with a high team strikeout rate. The added benefit for Harvey is that his price is so low – and his basement is still relatively high – that he is a must-play on Saturday.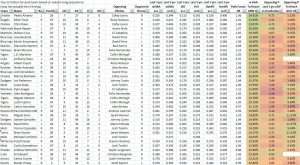 Kris Bryant/Jorge Soler/Addison Russell – As noted in the pitchers' write-up section, all Cubs should be on-call for Saturday. Kris Bryant leads the charge, although his splits between day and night games are concerning – Bryant loses value across the board during the day. After Bryant, Jorge Soler – already listed as Saturday's cleanup hitter – is a no-brainer, with the always-inexpensive Addison Russell thrown into the mix.
Chris Davis/Pedro Alvarez/Matt Wieters – Chris Davis and Pedro Alvarez stand as two of the best power hitting first base options of Saturday, with Alvarez bringing a deep discount and home run drought to the game. Facing the right-handed Colby Lewis – who is abused by left-handed hitters – either Davis or Alvarez – both, if salary allows as Davis can likely be used in the outfield – should be in Saturday's lineup. Switch-hitting Matt Wieters should be targeted behind the plate.
Nelson Cruz – He will likely cost too much, but Nelson Cruz has an ideal matchup against C.C. Sabathia in Yankee Stadium. The ballpark does play better for left-handed power than right-handed bats, but Sabathia typically struggles to keep balls in the yard. Cruz only has two home runs on the season, and is long-overdue for a third.
Jonathan Lucroy/Stephen Vogt/Buster Posey – With the matchups presented on Saturday, catchers actually are receiving a position-wide discount. The aforementioned Wieters, Jonathan Lucroy, and Stephen Vogt all have high upside, but Buster Posey is severely under-valued. Indeed, Posey will face Scott Kazmir, but his price is far too low for his talent level. In addition, Posey was shut down by Kershaw on Friday. As good as Kazmir has been, Posey will welcome the change, as he generally thrives against left-handed pitching.
Brian Dozier/Miguel Sano – In what should come as no surprise, Brian Dozier in on our radar, yet again. The slugging second baseman has still only one long ball on the year, and was given the day off on Friday – conveniently, as the Twins finally rallied for their first win. Minnesota cannot remain dormant forever, and Dozier gets the added benefit of facing Jered Weaver in a hitter-friendly ballpark. Of course, Miguel Sano remains an option as he is seeking his first home run.
Carlos Correa – If taking the discount for Addison Russell is not necessary, Carlos Correa is the obvious target at shortstop. His matchup against Verlander in a hitter's ballpark is fantastic, and he is riding a nine-game home run drought. Most importantly, the Astros, as an offense, have been relatively dormant of late, punctuated by a one-run outing on Friday. As the Astros rise, so does Correa.
Bargains
Be sure to check the above chart for more of the expensive hitters – and the statistics of their matchups. Below, we focus on some of the best upside plays for their price.
Domingo Santana – While the ballpark won't do him any favors, Domingo Santana will face the left-handed Jon Niese on Saturday. Santana is averaging one hit-per-game and sees a nice boost against southpaws. For his price, his upside is excellent.
Chris Carter – It is impossible to mention Santana's ceiling without including Chris Carter in the discussion. With so many first base options, Carter is likely not the key target, but his home run prowess for his low cost makes him a consideration on Saturday.
Franklin Gutierrez – Like Cruz, Franklin Gutierrez will bring right-handed power to his matchup against Sabathia, only at an incredibly-discounted rate. In addition, Gutierrez is slotted behind Cruz in Saturday's lineup, and is almost guaranteed to see better pitches to hit. With that, Gutierrez is a must-play for early slate tournaments.
Featured Image Credit: By UCinternational [CC BY 2.0], via Wikimedia Commons