Friday includes a full slate of games with only a single afternoon contest. Throughout the night, the common thread of each game is how strikingly even many of the matchups appear. From Bumgarner and Kershaw – again – to Zack Greinke and James Shields, balance is found everywhere. In addition, where the scale appears to be tilted, there are often too many factors at play to accept it without question.
Currently, we are using xFIP and wOBA simply to compare one pitcher's performance against another – especially against opposite-handed hitters. We aren't using these numbers for calculation. To help with some calculations, we have assumed that each hitter and pitcher has played at least one game. Each pitcher was assigned an innings total relative to his average projection.
Check the starting lineups and weather reports prior to making any plays, as these change without notice.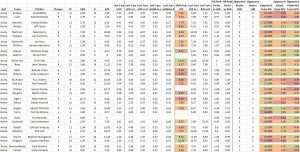 Sometimes we shy away from plays that appear to be 'too obvious.' Sometimes we can't ignore them. Chris Sale against the light-hitting Rays is the latter. Tampa Bay is anything but a powerhouse on offense, and Sale gets the benefit of pitching in Tropicana Field. In addition, cleanup hitter Corey Dickerson has either been benched or ineffective against left-handed pitching, so far. Even at his high cost, Chris Sale is the obvious choice for Friday.
The rematch between Clayton Kershaw and Madison Bumgarner puts fantasy owners in another conundrum. With two of the best pitchers in the game pinned against one another, it is not only impossible for both to get a win, but highly probable that neither will. It shouldn't matter, as the strikeouts and innings each pitcher logs will be enough to warrant a purchase. Last time, the recommendation was Bumgarner, but Kershaw gets the nod on Friday. San Francisco's offense has been on fire, of late, but it was also enjoying the thin altitude of Colorado. As the Giants return to earth, Kershaw ascends.
Like Kershaw and Bumgarner, the matchup of Zack Greinke and James Shields presents the absence of an additional win, but the opportunity for a well-pitched game. With that, both pitchers are targets on Friday, and could even be used against one another in the same lineup. Greinke has been far worse than his career numbers would suggest, and he should bounce back in a big way against an atrocious Padres lineup. Conversely, James Shields – with the somewhat raw end in this deal – gets to host a Diamondbacks offense that makes its home in a hitters' park.
The opposite of Kershaw, Williams Perez enters Friday with a better opportunity for a win than a high-strikeout performance. Perez will lead the now 0-9 Braves into the extremely pitcher-friendly ballpark in Miami. Atlanta was just abused by Washington, and should welcome the shift to Florida. As the Braves finally put it all together – especially with Bruce Chen on the other end – Perez presents a high risk-reward play for a cheap price.
It is amazing how the Mets continue to get the most out of Bartolo Colon, especially considering the other options in their rotation. Colon, once again, proved that he is no worse for wear in his first start of the year – striking out seven Phillies in six innings – and he will be opposed by another relatively weak, strikeout-prone offense in Cleveland. Like the aforementioned Braves, the Mets have also struggled offensively over the past few days, and should be ready for a change of scenery. There is the chance that the Indians' offense awakens, but Colon has earned the benefit of the doubt until he proves otherwise.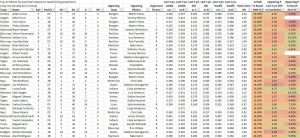 Adam Jones is note-worthy because of his position atop Friday's chart. This is mainly due to Jones' absence over the past week, and the statistics have yet to adjust for his actual projections going forward. He does face a left-handed pitcher in Martin Perez, but Perez is actually decent at limiting hard hit contact against right-handed batters.
Bryce Harper/Mike Trout – Surprise, surprise; Bryce Harper is among the top options for home run potential on Friday. Naturally, the left-handed slugger gets a boost whenever he faces a right-handed pitcher, and Jeremy Hellickson fits the mold as Harper's sacrificial lamb. Mike Trout is the obvious next option if money is no issue.
Lucas Duda – One of the quieter power threats without a home run, to date, is Lucas Duda. Until now, he has flown under-the-radar thanks to a decent output of fantasy points without the aid of a long ball – especially in a Mets lineup that hardly scores any runs. Duda has another solid opportunity to break his home run drought as he faces right-handed Cody Anderson in Cleveland – the ballpark actually plays well for left-handed power.
Brian McCann/Alex Rodriguez/Kyle Seager/Robinson Cano/Starlin Castro – Based on the projections of individual players, the matchup between the Mariners and Yankees is filled with power options for relatively reasonable prices. Brian McCann and Alex Rodriguez top the list for Yankees, while Kyle Seager and Robinson Cano are the targets from Seattle. McCann, Seager, and Cano get the obvious benefit of being left-handed batters facing right-handed pitchers in Yankee Stadium. Starlin Castro remains a consideration, although he has cooled off significantly.
Freddie Freeman – As the Braves continue to be a collective disaster, the likelihood that a win is on the horizon grows with each passing day. The matchup against left-handed Bruce Chen appears, at first, to be a disaster for the lefty-filled Atlanta lineup, but Chen is arguably better against right-handed hitters. With discounts across the board, Freddie Freeman is among some of the best buys of the day, especially after sitting out on Thursday.
Todd Frazier/Brett Lawrie – Perhaps it's the six hits in 39 plate appearances, but Todd Frazier's price continues to dip without a truly valid reason. Frazier boasts excellent power on any given night, but a meeting with Jake Odorizzi – historically, the right-handed pitcher does not dominate right-handed hitters – puts Frazier on the radar. With the ballpark not necessarily conducive to home runs and Odorizzi off to a solid start to the season, Frazier may not actually put a ball over the fence. But, with such a discount, he may need to be used on Friday. Brett Lawrie should be included in the conversation, as well.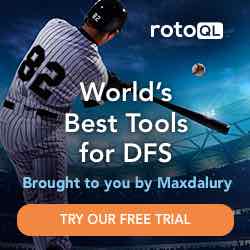 Bargains
Be sure to check the above chart for more of the expensive hitters – and the statistics of their matchups. Below, we focus on some of the best upside plays for their price.
Steven Vogt/Jed Lowrie/Josh Reddick – Although Edinson Volquez has been lights-out, so far, his numbers against left-handed hitters take a huge hit. Steven Vogt and Jed Lowrie are still without a home run, and Josh Reddick is always a threat against right-handed pitching.
Wilson Ramos/Danny Espinosa – In terms of pure balance of peripheral statistics against batters from either side of the plate, Jeremy Hellickson's fairly equal hard hit percentage put all Nationals hitters on the map. If bargains are needed, dip into the Washington lineup. Wilson Ramos and Danny Espinosa are great plays for their prices.
Eduardo Escobar/Marcus Semien – Between the matchups and salaries, middle infielders are incredibly thin on Friday. With that, if we can't pay up for Cano, our only targets are the aforementioned Castro, Lowrie, Lawrie – how convenient – and a few bargain buys. Eduardo Escobar and Marcus Semien offer the cheap options.
Featured Image Credit: Keith Allison/Flickr C.C. 2.0