UPDATE: The Texas/Baltimore game has been postponed
Sunday brings another full slate of games to end the week, with all but two teams playing in the afternoon. As proven last week, be sure to check the weather reports since most games happen to lock at the same time.
Currently, we are using xFIP and wOBA simply to compare one pitcher's performance against another – especially against opposite-handed hitters. We aren't using these numbers for calculation. To help with some calculations, we have assumed that each hitter and pitcher has played at least one game. Each pitcher was assigned an innings total relative to his average projection.
Check the starting lineups and weather reports prior to making any plays, as these change without notice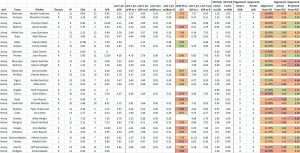 The no-doubt target of Sunday is Corey Kluber against the Mets. New York's offense has been non-existent and strikeout-prone. In addition, Kluber could have had the unfortunate draw of facing Harvey, Syndergaard, or deGrom. Instead, he will be opposed by Matz – Matz is no slouch, but has not yet reached the level of the other three. Kluber has the perfect setup for not only a dominant performance against a weak offense, but a win, as well.
Matt Moore has drawn the short straw for the opening month of the season. After facing the Blue Jays dangerous lineup – especially against left-handed pitchers – Moore was opposed by Corey Kluber. To Moore's credit, his 3.00ERA and 0-0 record are actually impressive, given the circumstances. On Sunday, Moore will get a slight break, and he is opposed by the White Sox and Jose Quintana – neither are as good as the Blue Jays and Kluber, respectively. Had Moore been granted more favorable matchups, his numbers would look much better than what they are, right now. It happens on Sunday, as Moore finally breaks out.
Like his opponent, Jose Quintana, himself, deserves to be targeted on Sunday. The Rays' offense is currently among some of the worst in the league, and they continually struggle against left-handed pitching. Most importantly, Tampa Bay strikes out at a staggering rate, and Quintana has been able to take advantage of similar teams.
Apparently, Juan Nicasio couldn't win every game he started. After an impressive season debut against the Cardinals, Nicasio was hit hard by the Tigers. Seeking a rebound, Nicasio has the good fortune of facing the light-hitting Brewers in his own park. The easy advantage comes in the strikeout department, as Milwaukee is one of the most strikeout-happy teams in the league. Nicasio opened eyes during Spring Training thanks to his improved strikeout rate, and it did carry over into his first start. Even if Nicasio is simply a product of his opponent, he could not ask for a better matchup. He must be used in a lineup on Sunday.
It has been quite a while since Patrick Corbin was truly relevant in fantasy baseball circles. Sunday presents another perfect buying opportunity, as he faces the Padres in their pitcher-friendly ballpark. Corbin's strikeout rate is currently lower than we would like, but throwing against the Padres has cured a few pitchers, already. In addition, while Corbin's overall strikeout rate is down, his historical success against left-handed hitters is fantastic.
It is the same story, every day, for pitchers against the Astros. Their ballpark and offensive prowess makes it risky to start a pitcher against them on a random day, but their strikeout rate and propensity to struggle is too powerful to ignore. Anibal Sanchez typically flies under the radar for top pitchers throughout the league, but he consistently sports a high strikeout total and is certainly capable of throwing a gem. There are enough options on Sunday to avoid the risk that Sanchez brings, but he is definitely worth a target.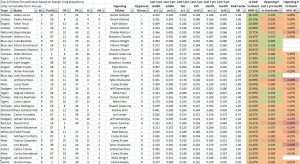 Edwin Encarnacion – It finally happened. Not only did Edwin Encarnacion break his home run drought, he did it in style, tallying two on Friday. If Encarnacion was a target prior to his home run, he is arguably a better buy now, as he has a tendency to go on hot streaks. With Sunday's matchup against Steven Wright – who gives up an extremely high percentage of hard hit contact to right-handed batters – Encarnacion is in prime position to keep piling up fantasy points.
Jose Bautista/Josh Donaldson/Troy Tulowitzki/Russell Martin – The top options for Sunday don't stop at Encarnacion, as Wright's numbers against right-handed batters basically put all of Toronto's lineup on the radar. Jose Bautista, Josh Donaldson, Troy Tulowitzki, and Russell Martin – especially the latter two due to their positions – are all desirable on Sunday.
Giancarlo Stanton – There is arguably no hitter in the league dripping with more power potential on a given day than Giancarlo Stanton. The matchup needs to be only slightly tilted in his favor to warrant consideration, but Sunday's showdown with Jhoulys Chacin – and his underwhelming numbers – offers a nice bounceback opportunity for Stanton. Over his last fourteen at-bats, Stanton has two hits and six strikeouts, four of which came on Saturday. His price is always high, but his performance is currently low enough to be buying.
Rougned Odor – Pitchers that share the last name of "Wright" are apparently in for a bad Sunday. Steven's numbers forces us to focus on Toronto hitters, while Mike makes Rangers' left-handed bats extremely desirable. Rougned Odor stands out as the play of the day at second base, with right-handed Adrian Beltre the leader at third base. Mitch Moreland is one of the best plays of the entire day for his given price.
Bargains
Be sure to check the above chart for more of the expensive hitters – and the statistics of their matchups. Below, we focus on some of the best upside plays for their price.
Devin Mesoraco/Wellington Castillo – Sundays are usually a struggle for catching options, as many teams choose to rest their starters at the end of a long week. With that, there are usually some bargains to be had, and Devin Mesoraco and Welington Castillo top the list.
Carlos Gonzalez – Compared to his typical price, Carlos Gonzalez is being discounted heavily due to his matchup with southpaw Jon Lester. Indeed, Gonzalez's numbers dip across the board when facing left-handed pitching, but he does maintain an impressive hard hit percentage against lefties, while Lester conveniently struggles in the same category.
Justin Bour/Derek Dietrich – As mentioned in Giancarlo Stanton's write-up, Jhoulys Chacin is in over his head on Sunday. The ballpark will help limit the home run potential, but Justin Bour and Derek Dietrich are excellent options for their respective salaries.
Featured Image Credit: By Arturo Pardavila III on Flickr [CC BY 2.0], via Wikimedia Commons