Two rainouts from Saturday will push a few pitchers into Sunday starts. As it turns out, there were targets from these games in Saturday's article, so be sure to check the write-ups of players like Bryce Harper and Justin Bour.
Currently, we are using xFIP and wOBA simply to compare one pitcher's performance against another – especially against opposite-handed hitters. We aren't using these numbers for calculation. We are also pulling some statistics – such as team strikeout rate – from last season's totals until a better foundation is built in 2016. To help with some calculations, we have assumed that each hitter and pitcher has played at least one game. Each pitcher was assigned an innings total relative to his average projection.
Check the starting lineups and weather reports prior to making any plays, as these change without notice.
The obvious choice to lead the list of pitchers for Sunday is Matt Harvey. Facing the Phillies after getting saddled with a loss to the Royals – with only two strikeouts – Harvey is in prime position for both a high strikeout total and a win. Even at his high price, Harvey is the top target for Sunday.
One of Sunday's highest risk-reward pitchers is Shelby Miller, coming off a terrible debut and facing one of the best pitchers in the game in Jake Arrieta. Miller is better than the six-run, eight-hit performance in his first start, and the Cubs should help aid Miller's strikeout total. Most importantly, he will have to put together a nearly flawless performance to outduel Arrieta, which makes Miller the perfect contrarian play for Sunday.
Along the safer scale, Felix Hernandez will make his 2016 home debut against the Athletics on Sunday. The change from Texas – where Hernandez opened the year with a one-hit outing – to Seattle should help Hernandez further, although the A's sit in the middle-of-the-pack for team strikeout rates. Expect a high floor, but not necessarily an extraordinary ceiling for Sunday.
Every time Masahiro Tanaka takes the mound, he becomes a target for his high strikeout potential. Unfortunately, he is also relatively limited by how deep into games he often pitches. Such was the case in Tanaka's first start, as he was pulled after only 87 pitches. He is as viable an option as any on Sunday, but don't expect a particularly long outing.
Johnny Cueto will see firsthand which factor matters more, the level of opponent or the ballpark in which he will pitch. After shutting down the Brewers in his season debut, Cueto will pitch at home for the first time, this year. The great pitcher's ballpark coupled with the reasonable strikeout potential of the Dodgers makes Cueto's matchup solid. The fact that he is opposed by Scott Kazmir coming off a one-hit gem against the hapless Padres bumps up Cueto's win potential even further – as Kazmir is likely to regress on Sunday.
The final all-or-nothing play for Sunday comes from Jake Odorizzi. After striking out ten Blue Jays while limiting them to one earned run – no easy feat – Odorizzi will take on the strikeout-prone Orioles. The ballpark and risk of regression makes Odorizzi's chance for failure higher than we would like, but, if he is truly developing as a pitcher, he should have no problems in Baltimore on Sunday.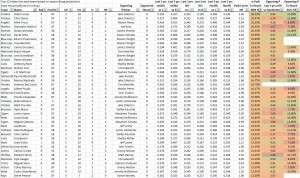 As noted in the introduction, Bryce Harper and Justin Bour make the list of hitters to target from Saturday's article. Below are the rest for Sunday.
Edwin Encarnacion – On Saturday, we split the vote of Blue Jays to use between Jose Bautista and Edwin Encarnacion, but gave the slight edge to Bautista. It worked. Now that Bautista has a non-zero home run total on the young season, the last power-hitting Blue Jay to join the party is Encarnacion. His price is exceptionally high, but so are the expectations for Sunday – especially as Toronto tries to avoid a sweep.
Albert Pujols – This is far from Pujols' first time on this list, but it remains undeniable that an outburst is coming. With the bevy of left-handed pitchers Pujols has faced in the first handful of games, it is rather surprising that he hasn't crushed one yet. It's coming, and he will remain a target each time he faces a southpaw until he hits a home run. Sunday presents another time to use Pujols with confidence.
Yoenis Cespedes – On the topic of somewhat obvious power hitters without a home run, Yoenis Cespedes is now four games and eighteen plate appearances into the season with only two hits. As the Mets were stymied by Vincent Velasquez on Saturday – one of our picks – Sunday should yield a more favorable matchup. Jeremy Hellickson is not particularly dominant against right-handed batters, and Cespedes' mini-slump has partially depressed his salary.
Lucas Duda/Neil Walker – Despite only having four hits on the season, Lucas Duda has been nowhere near the disappointment of his teammate mentioned earlier – in fact, we had targetting Duda previously and he delivered. He gets the nod again for many of the same reasons as Cespedes, but at an even better discount. Neil Walker fits as the second baseman to target on Sunday, as well.
Evan Longoria/Steve Pearce – Evan Longoria is constantly overlooked in daily fantasy circles, but the veteran draws another nice matchup on Sunday. Playing in a hitter-friendly park at a reasonable price – for his position – Longoria is, once again, a solid play. His teammate, Steve Pearce receives the same treatment, as long as he is in the starting lineup.
Eugenio Suarez/Xander Bogaerts – Eugenio Suarez and Xander Bogaerts make Sunday's list for their attractive price at a key position. Suarez already has three home runs on the season – and a slowdown is to be expected – but he has been hitting the cover off the ball and faces the left-handed Jeff Locke in a hitter's park. Bogaerts if facing Marco Estrada – who allows a fair amount of solid contact to right-handed hitters – but only has two extra-base hits on the year.
Miguel Montero/Derek Norris – Despite our target of Shelby Miller on Sunday, he is still prone to get hit hard by left-handed hitters. If Miguel Montero is in the lineup, his price and matchup are ideal for his position. Derek Norris – still hitting in Colorado for one more day – remains on the list, as well.
Jayson Werth – In addition to carrying over Harper's target from Saturday, Jayson Werth and his so-far-hitless 2016 jump off the chart as a potential buying opportunity. His price isn't great, but the Nationals should put up runs on Sunday, and Werth stands to benefit.
Bargains
Be sure to check the above chart for more of the expensive hitters – and the statistics of their matchups. Below, we focus on some of the best upside plays for their price.
Logan Forsythe – Logan Forsythe is always a favorite due to his low price and high expectancy to score a run. As the matchup is heavily tilted in Tampa Bay's favor, Forsythe is one of the obvious, inexpensive options to use.
Derek Dietrich/Christian Yelich – Derek Dietrich gets the same expectation as Justin Bour – again, a carryover – on Sunday. That is, a left-handed hitter in Miami at an outstanding price – as long as he is in the lineup. If there is more salary space, Christian Yelich can be used, instead.
Starlin Castro – How has Trevor Story's price skyrocketed but Starlin Castro's remained relatively low? Perhaps it's best to not ask questions and simply use the hot Castro at a middle infield position, if needed.
Featured Image Credit: Photo Credit: Flickr user slgckgc. C.C. 2.0