Saturday includes the first completely filled slate of the season, as all thirty teams will be in action throughout the course of the day. The full slate is highlighted by the always entertaining duel between Madison Bumgarner and Clayton Kershaw – although fantasy owners may be disappointed that only one could win.
Currently, we are using xFIP and wOBA simply to compare one pitcher's performance against another – especially against opposite-handed hitters. We aren't using these numbers for calculation. We are also pulling some statistics – such as team strikeout rate – from last season's totals until a better foundation is built in 2016. To help with some calculations, we have assumed that each hitter and pitcher has played at least one game. Each pitcher was assigned an innings total relative to his average projection.
Check the starting lineups and weather reports prior to making any plays, as these change without notice.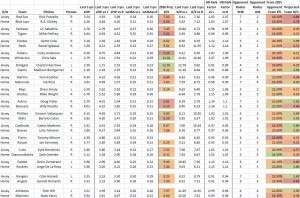 By his standards, Madison Bumgarner's first start of the year was a major disappointment – three earned runs and two home runs allowed in only five innings. Bumgarner did tally six strikeouts but, against the Brewers, Bumgarner was set up for a much better outing. Thankfully, he shifts from the hitter-friendly park of Milwaukee – which undoubtedly played a role in the first game – to his home stadium in San Francisco, and faces a lefty-heavy lineup from Los Angeles. Bumgarner cannot be penciled in for a win, as he is opposed by Clayton Kershaw, but the heightened level of competition should result in Bumgarner's best effort. Especially with the massive savings in price, Bumgarner edges Kershaw in the pitcher rankings for Saturday.
One of the higher risk-rewards pitchers of Saturday's slate is Cincinnati's Raisel Iglesias. His full repertoire was on full display during his first outing, as he struck out seven batters in six innings. More importantly, he was lifted after only ninety pitches, indicated a somewhat limited upside. His value on Saturday comes from his elevated strikeout rate against right-handed batters, and two of the Pirates' best hitters – Andrew McCutchen and Starling Marte – should be contained by Iglesias.
One of the absolute best all-around pitching matchups of the day comes from Drew Smyly in a bounceback attempt after getting smacked around by the Blue Jays. The Orioles – Smyly's opponent on Saturday – feature left-handed hitters Chris Davis and Pedro Alvarez, and the ballpark hurts right-handed hitters more than lefties. More importantly, the Orioles and Smyly are both on the higher scale for strikeout potential for the day. With Adam Jones potentially out again, Smyly is a great play on Saturday.
After a while, piling on the Phillies will come to an end. Like the Padres on Friday, the Phillies are due for a better performance. Arguably facing the weakest pitcher on the Mets' staff, Philadelphia will be in its best position possible to secure its first win of the season. This should extend past the batters and into the pitching matchup, as Vincent Velasquez is a relatively quiet sleeper for Saturday. His strikeout rate against right-handed hitters is fantastic, and the Mets, as a whole, do not sport the most prolific offense in the league. There is even the possibility of a high innings total, as the Phillies bullpen has been unable to hold a lead, so far.
Of all the Opening Week performances, none was more of a disaster – relative to expectations – than Zack Greinke's. Seven earned runs, three home runs, nine hits, and only two strikeouts in four innings, Greinke was absolutely abused in his debut with the Diamondbacks. His overall talent screams that a bounceback is already in the works, but facing the strikeout-happy Cubs slides him into a prime position. Of course, Chicago's offense has been excellent, overall, but the loss of Kyle Schwarber – a left-handed bat – knocks it down a bit. Greinke should be a go for Saturday slates.
To a much lesser extent than Bumgarner, Chris Sale's first game of the 2016 season was a hair below his standard – in fairness, he did record eight strikeouts in seven innings. Sale receives a somewhat favorable matchup on Saturday, not because of the Indians' strikeout potential, but that the left-handed Kipnis will be neutralized. Sale sits at the bottom of the list of options for Saturday, but is worth noting, regardless.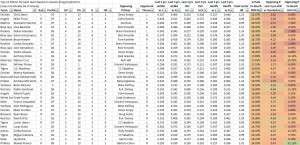 Jose Bautista/Edwin Encarnacion – Each day without a home run creeps Jose Bautista and Edwin Encarnacion up the list of hitters to target. Both are power hitters that are protected in a deep lineup, and the likelihood that each remains without a home run for much longer is extremely low. The issue with playing either is that they are both equally likely to go yard – with Bautista receiving the slight edge has his season-long home run projections are a tad higher. If a better first base option arises to replace Encarnacion, Bautista is the better play.
Bryce Harper – It's never a surprise when Bryce Harper makes the list, but Tom Koehler's ineffectiveness against left-handed batters pushes Harper into must-play territory. His price is naturally high, but so are the odds of a great day. In addition, with enough reasonably priced pitching options on Saturday, Harper can make it into a fair amount of lineups.
J.D. Martinez – When compared to other options on a daily basis, J.D. Martinez tends to go unnoticed until his power emerges. With three games and fourteen plate appearances without a home run, it's time to put Martinez in Saturday lineups in anticipation of his breakout. He faces the left-handed, home run prone C.C. Sabathia on Saturday, and only the large ballpark diminishes his ceiling a bit.
Maikel Franco – As noted in the pitcher's section, the Phillies will finally receive a relative break when facing Bartolo Colon on Saturday. Colon is surprisingly effective in terms of limiting damage, but he is nowhere near dominant. More importantly, Maikel Franco mashes right-handed pitchers, and is at the heart of a lineup ready to explode.
Alex Rodriguez – Alex Rodriguez may be on the verge of deteriorating in front of our eyes, but only two hits in three games and thirteen plate appearances suggests that he has yet to pop. Every piece of the matchup tilts in Rodriguez's favor except the ballpark – which probably prevents an A-Rod home run – but he is an inexpensive option in a solid position. If eligible, Rodriguez should be used at first base, given the play of Franco at third.
Buster Posey – When will Buster Posey ever receive a discount? When he faces Clayton Kershaw. Of course, Kershaw is the pitcher most capable of neutralizing any hitter, but Posey is a lefty-killer and comes at a price far too low to ignore. At a position that no longer includes Schwarber, Posey should be the play, even against the best pitcher in the game.
Brian Dozier – One of the few 'power hitting' middle infielders, Dozier has now gone four games and eighteen plate appearances without a long ball. Facing Ian Kennedy on Saturday provides an opportunity for Dozier to end his skid, as well as the 0-4 Twins to get into the win column.
Bargains
Be sure to check the above chart for more of the expensive hitters – and the statistics of their matchups. Below, we focus on some of the best upside plays for their price.
Colby Rasmus – Because of his undeniable power potential, Colby Rasmus is always favored by the projections. Unfortunately, he has a tendency to disappoint. He is being moved into the bargain section of Saturday's piece mainly due to the high likelihood that he will be a bust, again, but his price warrants consideration if trying to save some salary space.
Justin Bour – Justin Bour is such an ideal play that he should probably slide out of the bargain section and into the main targets. Joe Ross has been tattooed by left-handed batters in his brief Major League career, and Bour annihilates right-handed pitchers. In addition, the revised fences in Miami no longer make the park as pitcher-friendly as it once was.
Brandon Moss – For his power potential, Brandon Moss is almost always undervalued. His high probability of making an out on any given plate appearance obviously limits his overall projections, but it dips him into an area where an all-or-nothing play is well worth the cost.
Featured Image Credit: By Keith Allison on Flickr (Originally posted to Flickr as "Jose Bautista") [CC BY-SA 2.0], via Wikimedia Commons