With two games on Saturday, our breakdown of Sunday's action is slightly shorter than it has been in the past. Thankfully, teams that are trying to position themselves for the playoffs will provide enough fantasy upside for us to target.
Sporfolio's NFL Daily Fantasy Sports game-by-game analysis columns are driven by expected game flow. Based on a combination of our Week 15 NFL picks against the spread and our expectations for a given game, we project the actions necessary to make these picks come to fruition. We aim to pinpoint players integral to our predicted game flow for each game of the week.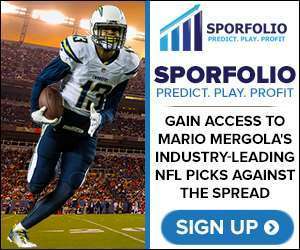 Luke May is Sporfolio's NFL DFS expert, and Mario Mergola operates Sporfolio as the expert for NFL Picks Against the Spread.
Dallas Cowboys at Indianapolis Colts
Luke's DFS Take: After starting the season 1-5, it would have been hard to imagine the Colts would be playing meaningful games here towards the end of the season. With MVP-caliber play from Andrew Luck though, the Colts now find themselves sitting at 7-6 and in a fight for a playoff spot. Their matchup against a very good Dallas defense is not great, but neither was their matchup last week against the Texans. Andrew Luck is capable of attacking any defense, and considering he got his bad game out of the way recently against the Jaguars, I am willing to continue rolling with him. The Cowboys are coming off an emotional roller coaster of a win last week that all but guaranteed they will win the division. After that game, it is very possible we see a bit of a 'letdown game' from them, especially with a somewhat tired and banged up Ezekiel Elliott. The Colts top weapons of Andrew Luck, T.Y. Hilton, and Eric Ebron will show up once again to continue their unlikely run to the playoffs. It's hard to not keep going after Amari Cooper and Elliott who continue to dominate, but after their games last week, they will be crazy popular and very unlikely to replicate such outstanding results. 

Mario's DFS Take: Multiple times, this season, I have stated that I am a believer in the Cowboys' defense. But, since the start of the year, I have shouted from any metaphorical mountaintop that Andrew Luck is poised to have a big season. The latter holds more weight than the former, and I simply will not remove Luck from my lineup unless the situation calls for a 'trap.' This isn't the case on Sunday – in fact, the Colts are favored in a game I anticipate them winning. As usual, the ideal play of adding T.Y. Hilton to a lineup with Luck is somewhat risky because of Hilton's ever-present injury designation, so keep an eye to see if his status improves. Of all the definitive statements I have made, I was slow to convert to the Colts' defense. It has withstood the rigors of a nearly full season and, with a good matchup against a Cowboys' offense that does not scare me, I'd be fine using Indianapolis' defense in my lineup.
New England Patriots at Pittsburgh Steelers

Luke's DFS Take: This game is one of the more important matchups of the week as both teams have plenty to play for at this stage of the season. They are coming off crushing losses on freak plays, and the Steelers have dropped three games in a row now. The way these teams bounce back could have a profound impact on their playoff fate – whether it's playing for a first round bye, or just playing to stay in the playoffs. The Patriots' offense brought their A-game to Miami last week, but they have so many weapons that it will make it difficult for any one guy to really have a huge game on a given week, let alone get that player correct. Between Sony Michel, James White, Rex Burkhead, Josh Gordon, Julian Edelman, and Rob Gronkowski, Tom Brady has an elite cast of playmakers, but it makes the offense hard to peg for opposing teams as well as fantasy owners. In a critical game in December, I will almost never pick against Brady and this offense, but it's hard to narrow down the playable options. The Steelers' defense has been very tough to beat on the ground, but that doesn't do much outside of probably taking Michel off our list this week. We constantly talk about the Patriots looking to eliminate their opposition's best players, but it will be hard to commit enough defensive manpower to stop both Antonio Brown and Juju Smith-Schuster. At least one of this dynamic duo has a big game seemingly every week, and it's hard to imagine this week being any different against a beatable Patriots defense in Pittsburgh. Of course, the health of Ben Roethlisberger is important to follow, but I find it hard to believe he won't be out on the field for this one. Should James Conner be out once again, Jaylen Samuels remains a good value option as he clearly lead the backfield committee in touches and has a high floor and ceiling due to his pass catching prowess.
Mario's DFS Take: I'm starting to hear more-and-more rumblings that this Patriots team is "not nearly as good as the ones we have seen in the past." Immediately, I am prone to buy into New England as it looks to assert itself as the same dominant force it usually is in the AFC. If we add in the fact that Kansas City just lost its stranglehold on the top seed in the conference, we can look for the Patriots to be at their best with the door opened for them. Pittsburgh's defense had been nonexistent in the first few weeks of the season and has now allowed a combined 81 points over the last three weeks. Two of those outings were against the Broncos and Raiders, both of whom rank in the bottom half of the league for offense. The same cast of characters led by Tom Brady, Julian Edelman, Josh Gordon, and Rob Gronkowski are in position to shine.
Read More Daily Fantasy Football Content On Sporfolio
Photo Credit:Keith Allison from Hanover, MD, USA [CC BY-SA 2.0], via Wikimedia Commons