It's always fun when we have a big week.
It's not because the record grows or we move up the standings – although these are nice benefits – but that we are reminded that the system works. That trends are real and, even if they have been less fruitful than in the past, they remain in-place. Dormant until active.
As always, we have to keep our eyes pointed ahead of us. Because each week's storyline effectively ends when the set of games is complete. We can see this in grand fashion in Week 15.
Underdogs were outstanding, last week, and they were helped by a few large spreads that gave a cushion in case a team faltered. Now, we still have a decent amount of spreads that indicate one team is vastly different from the other, but they are more confined and less aggressive.
Week 15 also brings our first pair of Saturday games, this season, which presents another few games that will be highlighted nationally. Take note, because we can already start to plan how things will appear next week based on what happens when a larger number of eyes are paying attention.
After all, much of what happened, last week, became newsworthy enough to provide immense value for this week's games.
Listen to Episode 7 of our free podcast here:
Below are predictions for each game against the spread. Spreads have been taken from various websites and are subject to change. The spread in parenthesis denotes the selected team. An asterisk denotes a confidence pick.
*Confidence Picks – 2018 Season: 48-39-3 (Last Week: 4-2)
(2017 Season: 53-48-4) (2016 Season: 53-67-3) (2015 Season: 69-45-2) (2014 Season: 61-46-2) (4-Year Total: 236-206-11)
All Picks Against Spread – 2018 Season: 108-92-8 (Last Week: 11-5)
(2017 Season: 137-119-11) (2016 Season: 123-136-8) (2015 Season: 143-117-7) (2014 Season: 149-114-4) (4-Year Total: 552-486-30)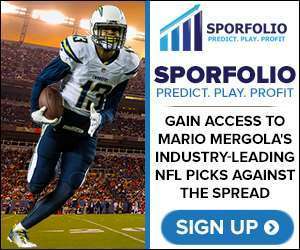 Dallas Cowboys at Indianapolis Colts
I love to paint mental images of whatever I just saw from a weekend of football and determine how overblown they are. This one was particularly easy.
Picture the Dallas Cowboys following their Week 14 win over the Eagles. Picture the smiling face of head coach Jason Garrett who, after getting lambasted for not attempting a fourth-down conversion earlier in the year – when it made sense to "go-for it" – inexplicably did so in a tie game in overtime. And picture the standings, that show a full two-game separation between the Cowboys and the next-best team in the division.
These images tell a story. They tell us that the Dallas Cowboys are soaring. And that, since nothing has gone wrong, nothing will.
Which is, of course, a fallacy.
Lost in the images of a celebratory Cowboys Stadium was the nonexistent Cowboys' offense for the majority of the game. Or the relentless come-from-behind efforts by the Eagles that worked. Or the seventeen points allowed by Dallas in the fourth quarter. Or, most importantly, the ball literally bouncing in the right direction when quarterback Dak Prescott threw an ill-advised pass to a well-covered receiver that was deflected into the air and then into the hands of wide receiver Amari Cooper as he walked into the endzone for the win.
In essence, Dallas played exactly how it should have, and then emerged a cut above said level. In doing so, it helps solidify the strength of the team's five-game winning streak. And it makes the division lead appear insurmountable. Hence the smiles.
Meanwhile, the Indianapolis Colts are not celebrating. Not yet. The squad had to win five consecutive games recently just to move into the playoff conversation. And, now that the Colts have arrived, the task is not yet complete. There is still room for Indianapolis to grow.
As stated in previous weeks, the Cowboys' defense is as good as advertised. But, so is Indianapolis' offense. The Colts have been slowed down by exactly one team in the last ten games, and it came in the form of a division rival in a 'letdown.' It was an expected pullback. An exception.
What continues to get lost in the Colts' surge is that the team's defense has been far better than many would have expected. Indianapolis now ranks 11th in yards-per-game and seventh in yards-per-rush. The latter is critical to Sunday's matchup with a Cowboys team that sits in the top-ten for rushing attempts, yards, and yards-per-carry.
The Colts have been on both sides of winning streaks, of late – seeing their own get snapped against Jacksonville and then breaking the Texans' streak – and they have proven talented and prepared enough to come out on top in either scenario. Indianapolis wins by six points and beats the spread.
Confidence Pick: Indianapolis Colts (-2.5)
New England Patriots at Pittsburgh Steelers

I frequently cite 'lookahead' games as a reason for a misstep in a certain week, and we have two of the best examples in the New England Patriots and Pittsburgh Steelers. With a head-to-head showdown looming in Week 15, the two could have easily taken their prior opponents lightly and fallen asleep at the wheel. But, that wasn't the case. At least, not for one of the two teams.
The Steelers walked into Oakland and expected to roll over the Raiders. Instead, Pittsburgh didn't lead until there was under a minute remaining in the first half, and then lost two fourth quarter leads. Granted, quarterback Ben Roethlisberger spent some time on the sideline due to an injury, but he also needed a miracle play just to set up a potential game-tying field goal that was ultimately blocked. If anything, the Steelers had lost the game, and then were bailed out to even have a chance.
The exact opposite happened to New England.
The Patriots were in control of their game in Miami when it mattered most. They extended their lead from two points to five points with a field goal near the end of the fourth quarter and then obliged the rules by kicking the ball to the Dolphins. For all intents and purposes, the game was over. The Dolphins would try their own version of a miracle attempt – similar to what the Steelers did – and, in almost every circumstance we've ever seen, fail. But they didn't.
The Dolphins scoring a game-winning touchdown on a truly ridiculous prayer that was answered. They won the game. In turn, the Patriots lost. And that is what the final score and standings will display.
That is not what we know to have happened.
Indeed, New England allowed 34 points and only scored 33. We get it. But, the Patriots lost on the road to a division rival that was severely undervalued, and did so by a fluke. If this isn't the most acceptable loss in terms of not damaging a team's image, we never find one.
Oakland exploited a Steelers team that has flaws but typically uses brute force to hide them. It works in select conditions, but we have now seen it fail – or nearly fail – against the Jaguars, Broncos, Chargers, and Raiders. Conversely, New England's head coach has made a career out of attacking an opponent's weakness, and this recent skid by the Steelers has helped lay the groundwork.
The Patriots were a series of laterals away from getting to double-digit wins for the sixteenth consecutive season. They reach this mark with a victory on Sunday.
New England wins by a touchdown and covers the spread.
Prediction: New England Patriots (-1.5)
Click here to sign up for Sporfolio to see the rest of Mario Mergola's NFL picks against the point spread. Mergola finished with the highest total of correct NFL picks against the spread for 2015 and 2016 – tracked by NFLPickwatch, and finished 2015 with an accuracy of 60.53% for his confidence picks. His 4-year record for all NFL games against the spread is 552-486-30!
Photo Credit: Keith Allison, Flickr, C.C 2.0