MLB Trade Deadline has now passed and some big moves were made by contenders.  The day was slow and then the Yankees made a splash picking up Sonny Gray, and didn't cost them that much.  This looked to be the biggest move of the day, but at the very end the Dodgers acquired Yu Darvish.  A huge play that makes the Dodgers all-in this year.  The Nationals will be a tough team to face in the playoffs however odds are the Dodgers won't see them as the Nationals can't win a post season series.  The Yankees and Dodgers both won the deadline, now you have to wonder, are they the favorites to come out of their respective leagues?  If you ask me I say the Astros are still the team to beat in the AL but this makes things much more interesting.  I wouldn't count Cleveland out of it and the Red Sox are quite of it just yet.
We almost saw a no hitter last night as Gio Gonzalez took the Marlins into the 9th inning, not allowing a hit.  Dee Gordon slapped a single into center field to break up the no hitter which was just unlucky.  He had to get 3 outs, and had to do it against the toughest part of the Marlins' lineup. The announcers in the game were saying that Dee Gordon should just bunt.  If a batter bunts to break up a no hitter in the 9th they should be suspended for 3 games for being soft. Granted it was a 1 run game so it would make sense, however still a coward play.
We have a full slate of games with some big arms on the mound, lets break them down.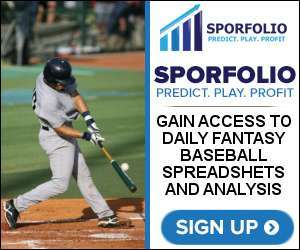 Low-Scoring Plays
Cleveland Indians @ Boston Red Sox – The Indians were shut down yesterday by Fister who has been questionable this year for Boston.  Well he pitched great and gives me even more confidence in this pick.  Sale is headed to the mound for Boston who is having a career year as we know.  The Red Sox never score with him on the mound and scored 6 last night so this game should be low scoring on their end as well.  Nunez has been playing well since coming over to Boston as he has filled in for Pedroia who is having knee problems.  Benintendi had last night off so look for him to come back rejuvenated and have a big game. Sale should be a lock for your lineup as it will be another huge day.
Targets: Sale, Benintendi, Nunez
Washington Nationals @ Miami Marlins – Like the Indians, the Marlins were shut down by the back end of a rotation guy.  Also just like the Indians, it won't get any easier for the Marlins as they face Max Scherzer tonight.  Scherzer is 10 strikeouts behind Sale for the league lead, but leads Sale is ERA at 2.23.  The Marlins have some pop in their lineup and are usually a play that I would take after being shut down last night.  However Scherzer is a different type of pitcher.  Kershaw, Scherzer, and Sale are in a league of their own this year.  Scherzer and Sale will almost be impossible to take, you have to like the Indians to score more than the Marlins, so Scherzer will be a better play.
Targets: Scherzer, Harper, Rendon
Tampa Bay Rays @ Houston Astros – These two teams are hitting the long ball at will and putting up runs.  However this game will stay low because Chris Archer is on the mound.  It's never easy picking against Houston and their lineup however the numbers are there and favor Archer.  Archer has faced almost all of the Astros and has held them to a collective average of .160 with the highest average .365 by Gonzalez. In 119 at bats the Astros have only hit 4 home runs off of Archer.  Archer is only $9600, for a pitcher that strikes out as many batters as he does that is a steal.  Again he is facing the Astros which is why his price is where it is but still, great pitching will triumph great hitting.
Targets: Archer, Morrison
High-Scoring Plays
Philadelphia Phillies @ L.A. Angels – The Phillies are the worst team in the MLB so this game should be a field day for the Angels.  The Angels have brought up Cowart who is currently playing third base for them.  He is 10 for 21 batting .476 in his 7 games so far in the league.  Trout is batting a cool .332 and Simmons is batting .302.  Cameron Maybin has an OBP of .342 and when on base he is always a threat as he has 25 stolen bases on the year.  The Phillies are in trouble in this one as the stars are aligned for the Angels.
Targets: Trout, Simmons, Maybin
L.A. Dodgers @ Atlanta Braves – Another game that is shaping up in favor of an LA team. Lucas Sims a young 23 year old is making his first start of his career.  It is a tough spot for Sims to come up in, as the Dodgers are the hottest team in baseball and the best team in baseball.  Look for them to jump all over Sims early in this one.  It's not that I don't believe in his talent, the Dodgers are just too good.  Seager is the hottest of them all right now batting .378 with 2 home runs over the last week.  Bellinger is always a great play and I love Puig here too.  As the Dodgers will get on base Sims will become rattled and serve one up for Puig to pimp out of the stadium.  Stack a ton of Dodgers as many as possible.
Targets: Puig, Seager
Toronto Blue Jays @ Chicago White Sox – The White Sox had a devastating blow last night as Moncada – the talented infielder they got for Sale from Boston – and Garcia collided trying to make a play.  Both left the game and likely won't be in the lineup today.  Mike Pelfrey pitches for the Sox who is struggling this year.  Look for the Jays to score a ton of runs in this one as they have power to hit multiple home runs.  Donaldson is always a great play he homered last night.  Smoak has been raking this year and has 29 home runs on the season and 2 over the last week.  Bautista has been quiet so look for him to have a big game as well.
Targets: Smoak, Donaldson
Undervalued Plays
Sabathia – NYY – SP – It was this time two years ago Sabathia told the Yankees peace out I'm going to rehab.  At that point I thought Sabathia's career was over and a lot of others probably did as well.  Shout out to CC for realizing he had a problem, facing it and bouncing back strong.  Sabathia will be a great play today as the Tigers are in rebuilding mode.  Sabathia at home lock it in.
Morrison – TB – 1B – Tampa is going to need some pop in this game to help Archer pick up the win.  Archer won't get a shut out but he will hold the Astros within 3 runs.  Morrison has been crushing the ball this year and I honestly have never heard of him until this year.  A day where a lot of money will be spent on Sale or Scherzer for $3400 you can get a first baseman that has 26 home runs on the year.
Pedroia – BOS – 2B – Pedroia has sat out ever since Nunez came from San Fran and Devers was brought up.  Pedroia has sore knees from playing on them every day.  However before he went out of the line up he was providing all of the offense for Boston.  If he is in the line up today he should be rested and have a strong game.  Won't be a terrible pick.
Cano – SEA – 2B – Cano is only $3700.  One of the best hitting second baseman to ever play the game and he is below $4000.  That is a play that I love, everyday my first instinct for a 2nd baseman is Cano.  He can have a multi home run game any night it doesn't matter who is pitching he is that good.  Nunez and Odor are playing well and will be highly owned at 2nd base, sneak in Cano as he should have a big game.
Devers – BOS – 3B – The young gun Boston brought up to replace that waste of a life in Pablo Sandoval.  Devers has performed since coming up and he went 4-4 last night.  Now the kid is super young and can go 0-6 any day, we see it all the time with young players so there is a risk.  However for $3300 you can get a 3rd baseman averaging 11.7 points per game.
Cowart – LAA – 3B – I wrote about Cowart above but he is only $2000 and batting .476.  Yeah his average is skewed from a limited sample size but he has played in 7 games, which is better than 2 and having his average that high. He is looking for his first home run and if the kid is hot why can't it come tonight.  He's playing at home against the worst team. An outfielder for $2000 you might get Sale and Scherzer today.
Sign up for Sporfolio to gain access to NFL picks and DFS, NHL DFS, and MLB DFS spreadsheets (picks from the Pitcher Breakdown Spreadsheet – all over/unders – are now at 59.1% accuracy since June 30).