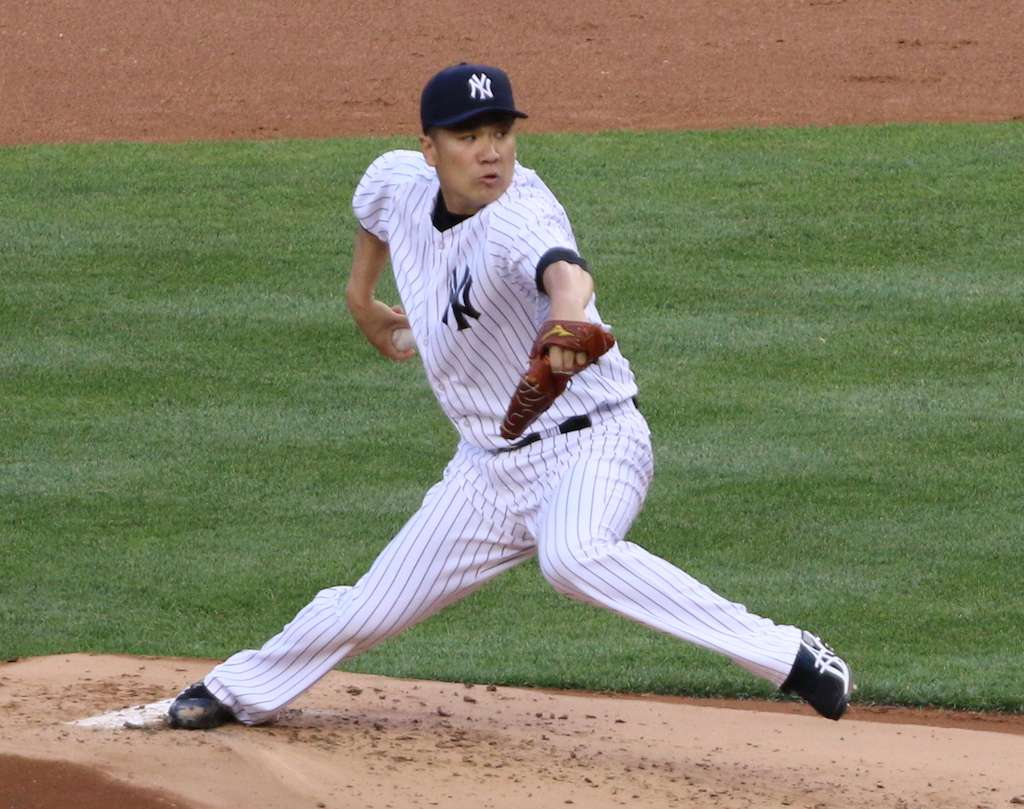 Latest posts by Colin Cazzetta
(see all)
The DraftKings gods are out to get me.  I found a way to get both Sale and Scherzer into my lineup yesterday.  You would think this wouldn't allow me to take anyone good, but I still had players like Morrison, Betts, Bogaerts, and Baez in my lineup.  Not the best players this year but players that can make noise at any point.  Anyway, my lineup put a solid 65 points so you would think I'm going to win money with the two monsters on the mound.  Wrong. Sale gets lit up and only goes 5 innings. Scherzer hits a home run then leaves the game with neck spasms. I can't catch a break.
We have a full slate of games today, let's forget last night and dive right into it.
Low-Scoring Plays
Tampa Bay Rays @ Houston Astros – Last night the Astros ran into Chris Archer.  Well tonight the Astros are sending their Chris Archer to the mound with Dallas Keuchel.  Dallas Keuchel has owned the Rays as he has held them to a batting average of .225.  The Rays have never hit a home run off of Kuechel in 89 at bats.  On top of 0 home runs the Rays only have 3 RBI's against him.  Keuchel should have a big day today as the Rays used all of their mojo last night.
Targets: Keuchel, Altuve, Correa
Kansas City Royals @ Baltimore Orioles – Vargas gets the call for the Royals who came out and owned the Red Sox in his last outing. The Red Sox have a better lineup than Baltimore so Vargas should have a big day in this one.  The Royals are hot and Vargas will field off of the energy.  The Orioles have hit .255 off of Vargas with 1 home run in 119 at bats. The Royals and Vargas should have a huge day.
Targets: Vargas, Moustakas
Minnesota Twins @ San Diego Padres – Ervin Santana started off this year hot as he has tailed off a little bit this season.  Look for him to have a big day against the Padres who are not a good ball club at all.  Santana is the 3rd most expensive pitcher which is a great play.  He averages 18 points per game, and strikes out good amount of batters.  He hasn't been great of late, but I love the play today.
Targets: Santana, Sano
High-Scoring Plays
New York Mets @ Colorado Rockies – The Mets are sending Chris Flexen to the mound who is a young prospect making his second career start.  In his first outing he went 5 innings allowing 5 runs over that span.  Going to Colorado facing the Rockies will not be an easy task, and the Rockies should light him up.  I would stack as many Rockies as possible as they should have a huge game against this young kid.  The Rockies have too much fire power for Flexen to work his way around this lineup.
Targets: Arenado, Story, Blackmond
Cleveland Indians @ Boston Red Sox – This game last night was the craziest game, and the game of the year so far.    Today Porcello takes the mound who is not having a great year.  Look for Cleveland to have a big game today.  They hung up 5 quick runs on Sale yesterday, so they should be able to hang up more on Porcello.  The Red Sox were able to score yesterday as well which is surprising.  Nunez is playing out of his mind and was a great pickup by Boston.  I like the Indians more in this one but the Red Sox prices have all fallen so it'll be a good play if you take them.
Targets: Encarnacion, Lindor, Ramirez
Washington Nationals @ Miami Marlins – Scherzer goes down, Strasburg is down, the Nationals could be in trouble. Luckily they have a great lineup that can keep them afloat.  The Marlins came back in this game yesterday after being down 6 to beat the Nationals 7-6.  Look for the Nationals to come out firing on all cylinders.  They can't become a complacent team.  They may have the Division already won but they at least to win a play off series this year.  Look for the Nats to bounce back after that embarrassing loss last night and win this one big.
Targets: Harper, Murphy
Undervalued Plays
Tanaka – NYY – SP – Tanaka has been pitching better lately, which isn't saying much because he couldn't pitch much worse.  However the Tigers don't have a great lineup and he is pitching at home so he should have a big day.  I like Vargas as a better play, who is also cheaper, but the at the very least Tanaka should pick up the win in this one.
Morrison – TB – 1B – Morrison had a double digit point performance last night, and is always a great play.  He is facing Keuchel tonight which could be up in the air but if any of the Rays are going to get to Keuchel it will be Morrison.
Bogaerts – BOS – SS – Bogaerts has slumped a little this second half as it is rumored he has an injury to his hand.  Bogaerts is not playing to his potential at all and is one of the reason the Red Sox aren't causing in first place right now.  They have the best ERA in the AL, they just need to score runs.  Bogaerts always shows potential to be a star so getting him for $3200 is a great play.
Betts – BOS – OF – Betts is another player whose price has fallen.  At one point this year he was the most expensive outfielder.  Unlike Bogaerts I don't think Betts is having a terrible year.  Sure some games aren't that great but he is still producing RBI's and lighting the fire for the Red Sox offense.  Betts should be a lock in your lineup until his price goes above $4800.
Sign up for Sporfolio to gain access to NFL picks and DFS, NHL DFS, and MLB DFS spreadsheets (picks from the Pitcher Breakdown Spreadsheet – all over/unders – are now at 60.0% accuracy since June 30).
Featured Image Credit: By Arturo Pardavila III from Hoboken, NJ, USA (Lester vs. Tanaka) [CC BY-SA 2.0], via Wikimedia Commons