Another day in the MLB with not too many stories coming out of the league.  Bellinger hit a clutch home run to help the Dodgers get back on their winning track.  Stanton continues his home run hitting ways as he is putting up a record setting July and now has 7 multi home run games on the season.
We have a full slate of games with a 2 o'clock start in Chicago so let's get to it.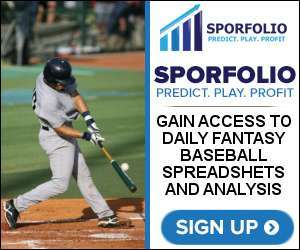 Low-Scoring Plays
Pittsburgh Pirates @ San Francisco Giants – Andrew McCutchen has bounced back this season as he has been playing like the MVP he once was 3 years ago.  Harrison and Polanco are also playing well for Pittsburgh however the three of them will run into trouble today as they face Bumgarner. Bumgarner is making his 3rd start back from injury. He struck out 5 in each of those starts and he should get his feet back in this game and strike out more. The Giants are a struggling ball club but this is a winnable game for them.
Targets: Bumgarner, Belt, Crawford
Boston Red Sox @ Seattle Mariners – Boston was shut down last night as they have now lost 3 in a row.  Today they have Pomeranz on the mound who has the 2nd most wins in the Boston rotation.  Didn't think anyone would be saying that this year.  Look for Pomeranz to continue his good outings and keeping the Mariners under 3 runs.  Boston's offense has to wake up sooner or later but their struggle will continue until they make a play in the trade market.  Boston will pick up a win but it won't be a high scoring game.
Targets: Pomeranz, Pedroia
Kansas City Royals @ Detroit Tigers – The Royals have been hot, we know this as they climbed back into the race for the playoffs but today will be different.  They are facing Fulmer who is 10-7 on the season.  Fulmer isn't going to give up a lot of hits as he is has a WHIP of 1.108, and an ERA at 3.35.  Verlander had a solid game against the Royals last night look for Fulmer to have the same.
Targets: Fulmer, Cabrera
High-Scoring Plays
Cincinnati Reds @ New York Yankees – The Bronx Bombers are about to go off in this game.  Todd Frazier is making his debut at Yankee Stadium and he is very excited for a clean slate.  Judge is excited to get back to Yankee Stadium because he absolutely rakes there.  If Frazier puts up the numbers he is capable of, this line up can be lethal.  Look for the Yankees to have a huge game in this one.
Targets: Judge, Frazier, Sanchez
Houston Astros @ Philadelphia Phillies – The Phillies got beat down by the Astros last night and look for the same to happen today.  The Phillies are bad and don't stand against this powerhouse of an Astros lineup.  Altuve had a big game last night with 3 hits, 2 were doubles and 4 RBIs.  The Astros are the team to beat in the American League there is no denying it.  Imagine if they were still in the NL, that would be a stacked playoffs with the Dodgers, Bats and Astros.  The Astros should jump all over Pivetta early and make the Phillies survive on their bullpen.
Targets: Altuve, Correa, Beltran
Undervalued Plays
Thames – MIL – 1B/OF – The Brewers vs Nationals should be the slugfest game of the day.  Thames will be a great play he is only $3600 and is due for a big game.  His counterpart Shaw also won't be a bad play but Thames would be my first choice.
Ozuna – MIA – OF – Ozuna is facing the Rangers and Hamels so it might be a tough play but the Marlins have been playing decent ball with Stanton smoking the ball.  Ozuna is projected to score 8.9 points today which is good play for $3900.  He won't be the player to let you win it all but he will give you a solid performance to take a bigger star that can help you win it all.
Benintendi – BOS – OF – Benintendi's price has plummeted as Boston is searching for answers.  Benintendi is still super young, Judge will win Rookie of the year, but Benintendi is 2 years younger than he is.  That is how much Boston believes in this guy and they should he is a star.  Look for Benintendi to have a monster game and should be a lock in your lineup.
Beltran – HOU – OF – Beltran cost $4400 but will be a great play as Houston should bash the Phillies.  Altuve, Correa and Beltran are all great plays today.  Beltran is old but he doesn't have to play to the field and only focuses on batting, so look for a big day.
Sign up for Sporfolio to gain access to NFL picks and DFS, NHL DFS, and MLB DFS spreadsheets (picks from the Pitcher Breakdown Spreadsheet – all over/unders – are now at 56.2% accuracy since June 30).
Photo Credit: Keith Allison/Flickr C.C. 2.0