A beat down from Miami, a game where I loved Yu Darvish to actually play well, he decided to tank his trade value. Darvish went 3.2 innings allowing 9 hits and 10 earned.  Texas didn't play badly as they scored 10 runs but it was nothing to match Miami's 22 runs.
Devers the 3rd baseman brought up by Boston is the youngest player in the MLB at 20 years old.  He went 0-4 in his debut but he had his first hit yesterday which was a home run.  I'm not one to freak out his first hit was a home run because I feel like every milestone these days is completed with a home run.  What I am impressed about is the young kid's swing.  Go back and watch his highlights from yesterday his swing is fluent and beautiful.  This kid is going to be a special talent.
It's travel day in the league with not a lot of action, but there are still lineups to be made.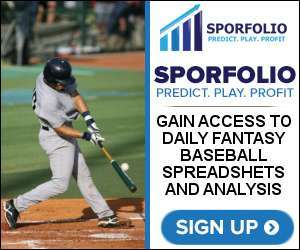 Low-Scoring Plays
Milwaukee Brewers @ Washington Nationals- Another monster day yesterday by Sale should lead to a monster day by Scherzer today.  These two go back and fourth striking out 10 plus batters at will.  The Brewers are a strong team, Shaw is having an astounding year for them.  However Scherzer will be just way to much for them to handle. He will be the highest owned today, probably near 60% because there are not many other great pitchers playing.
Targets: Scherzer, Harper, Rendon
Tampa Rays @ New York Yankees – A huge series here getting started in the Bronx.  This series will determine 2nd place of the AL East, as the race heats up in the division.  The series is getting started off right with Archer vs. Sabathia.  Usually I would take the Yankees at home here but Archer is a better pitcher than Sabathia.  The key part for the Rays though will be Logan Morrison.  He was the one who came at Sanchez for being in the home run derby, I like him to show up at Yankee Stadium and make a statement as Sanchez is squatting behind him watching the ball sail out of the stadium.
Targets: Archer, Morrison
High-Scoring Plays
Oakland Athletics @ Toronto Blue Jays – The only thing that these two teams seem able to do is mash the ball.  I don't see fantastic pitching on either side, not too many players that are contact hitters like a Seager or Dee Gordon. They just have guys that can rock the ball to the moon. Expect this game to get out of hand, I like the Jays at home but Oakland should score off of Stroman, and knock him out of this game early.
Targets: Bautista, Donaldson
Arizona Diamondbacks @ St. Louis Cardinals – Luke Weaver takes the mound for the Cards who is making his first start of the season.  He has appeared in 2 games this year pitching 3 innings and striking out two.  There is very limited experience here against a playoff bound team.  I would stack as many Diamondbacks as possible as they should jump all over this kid's confidence and get him out of this game.  Goldschmidt and Owings will be great plays I always love taking them.
Targets: Goldschmidt, Owings
Extra Innings
The Mets are sending Chris Flexen to the mound against the Padres.  He spent most of his time this year in Binghamton, the Mets AA team.  He didn't even get to AAA but he is going to the majors.  The Padres aren't a great team but the could have a big day today.  Look for them to be on the cheaper side and not highly owned.  They are in the late game too which will make them even less owned.  The Mets can score some runs as well but a 23 year old taking the mound against in the big leagues doesn't shape up well for the Mets.
Sign up for Sporfolio to gain access to NFL picks and DFS, NHL DFS, and MLB DFS spreadsheets (picks from the Pitcher Breakdown Spreadsheet – all over/unders – are now at 56.8% accuracy since June 30).
Photo Credit: Keith Allison/Flickr C.C. 2.0