A lot of news around the league last night from big time pitchers.  Starting with the good news, Kluber had a massive game as he struck out 14 to help the Indians complete the sweep.  Kluber has been huge since he came back from the DL, and could put some pressure on Sale for the AL Cy Young.
The bad news for pitchers was with Kershaw and Strasburg, as they both exited the game early with injuries.  Kershaw's injury was more serious as he is headed to the DL.  Strasburg left the game for precautionary reasons, but still isn't a good sign for the Nationals.  If Kershaw is out for an extended amount of time that can lock up the Cy Young for Scherzer.
We have 13 games today, with one getting started at 2:20.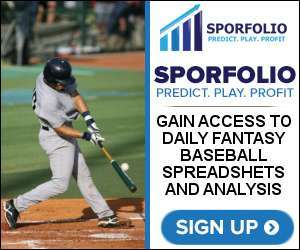 Low-Scoring Plays
New York Mets @ San Diego Padres- deGrom gets the call for the Mets who is the best pitcher on the mound today.  deGrom is having a monster year with 125 innings pitched and 144 strikeouts.  San Diego is top 3 in the league in strikeouts with 929 on the season.  This sets up well for deGrom as he should have a huge day for the Mets.  The Mets are a streaky team but I they should be able to score some runs here and help deGrom get the win.
Targets: deGrom, Cespedes, Reyes
Atlanta Braves @ Arizona Diamondbacks – This game should be low scoring on only one side.  The Braves are facing Greinke who should have a monster day and shut down the Braves.  The D-backs are going against R.A. Dickey, who is not having a great year.  The Diamondbacks should win this game big.  Look for Goldschmidt to have a huge day and Owings to score a number of runs in this one.  The Braves aren't a great team batting, they have their moments, but a great pitcher like Greinke should be able to shut them down.
Targets: Greinke, Goldschmidt, Owings
High-Scoring Plays
Boston Red Sox @ Seattle Mariners – The Red Sox hold a 2.5 game lead over the Yankees for the lead in the AL East.  Eduardo Rodriguez gets the call for the Red Sox who is coming back from injury.  Rodriguez is a good pitcher but it takes him a little while to get into the grove of things.  Look for the Mariners to tee off against Rodriguez,  Cano and Cruz are always plays I love no matter who is pitching.  It is always nice to have a slugger in the late games as they can help you climb the standings as everyone else's team is finished.
Targets: Cano, Cruz
Minnesota Twins @ L.A. Dodgers – Minnesota is sending Bartolo to the mound who just doesn't have it this year.  He is facing the best team in baseball which could get ugly very quickly.  Bartolo got shelled with the Braves and was designated for assignment where the Twins picked him up and he lost his first start for them.  Stack as many Dodgers are you can in this game as they should all be hitting the ball well, scoring runs and hitting long balls.
Targets: Seager, Turner, Puig
Undervalued Plays
Senzatala – COL – SP – This is an interesting play, he doesn't strike out batters but averages 11.2 points per game.  Which isn't what you want for a starting pitcher.  However playing STL, the Rockies should get the win as they are better team then STL.  Senzatala could be a strong play, if he goes off an strikes out 8 batters or so. It will also save you money to take a lot of LAD players.
Moreland – BOS – 1B – Moreland has gone quiet this year which is what happened last year he came out of the gate playing well but then had nothing in the second half.  Moreland has to turn it around if the Sox want a chance to win it all.  He has been dropped down in the order which should take some pressure off him so look for him to turn it around soon for Boston.
Beltre – TEX – 3B – Beltre is only $4000 and averages 8.9 points per game.  He will always be a great play as he is one of the best veteran players in the league.  I don't know how he is still turning out  the numbers that he is but he has to go down as one of the best hitting 3rd baseman of all time.  Texas is playing Miami today so it should be a high scoring game.
Sign up for Sporfolio to gain access to NFL picks and DFS, NHL DFS, and MLB DFS spreadsheets (picks from the Pitcher Breakdown Spreadsheet – all over/unders – are now at 56.3% accuracy since June 30).
Featured Image Credit: By Arturo Pardavila III from Hoboken, NJ, USA (#WorldSeries Game 2: Jacob deGrom) [CC BY 2.0], via Wikimedia Commons