Anthony Rizzo continues his on-base streak with another home run from the lead off position.  Since taking over the 1 spot in the line up Rizzo has yet to get out.  He has 3 home runs, a double, two singles, and a walk.  Rizzo ties Richie Asburn as the only Cub to reach safely as the first batter of a game, seven times in a row.  I am willing to bet that Rizzo is the first ever to do this in his first 7 at bats from the 1 hole.
Chris Sale showed up to the diamond again as he had another multi strikeout game to help the Red Sox take sole possession of first place in the AL East.  John Farrell is lucky he has a great farm system and endless amounts of money because he would be fired by any other ball club, but Boston can play and has saved his job for him the last 3 years.
Full slate of games on hump day with four of them coming during the afternoon.  Find that incognito button on your chrome browser so your boss can't see what you're doing, kick back and watch some baseball!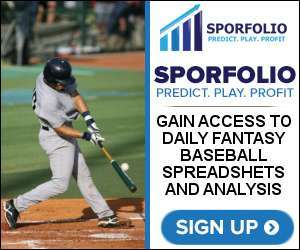 Low-Scoring Plays
San Francisco Giants @ Atlanta Braves – Jeff Samardzija finally gets a draw in his favor and could pick up a win in this one.  At the very least Samazrdzija will mow down the Braves.  We know that the Giants won't score which is the reason why Samardzija is 2-9 on the season.  However the Giants will show up in this one and Samardzija will have enough strikeouts to keep the Giants in this ball game.  He will pick up his 3rd win today, no one strikes out that many batters and goes, 2-10.
Target: Samardzija, Posey
Washington Nationals @ Miami Marlins – Max Scherzer takes the mound for the Nationals, who still is in striking distance of the league lead for strikeouts.  Sale had a 10k game last night and now has a 12k lead on Scherzer but we have seen Scherzer have freak games before.  The Nationals caked it on last night as all of their stars were hitting.  They should have a quieter day today and will win this game around 6-1.  After a dramatic comeback and an okAY game last night, there is only one thing left for the Marlins to do to complete this series: get shut down.  Scherzer will do exactly that and should be the focal point of your entire lineup.
Target: Scherzer, Turner
High-Scoring Plays
Boston Red Sox @ Kansas City Royals – The Boston bats were alive last night as they beat the Royals scoring 8 runs.  However the Royals will bounce back and take this one from Boston.  Drew Pomeranz pitches for the Red Sox who has been streaky.  He has been terrible-more often than not- but he has also turned out 3 solid starts in his last 4 outings.  The Royals too have caught fire though and showed it two nights ago against Boston.  Pomeranz will revert back to his old ways and the Royals will win this one.
Targets: Hosmer, Morales
New York Mets @ L.A. Dodgers – The Dodgers have been bullying the Mets this series.  Last night we saw Bellinger hit another home run and Seager hit 3 home runs in 5 innings!  It isn't going to get any easier for the Mets as Tyler Pill takes the mound for them. Stack as many Dodger players as you can.  Puig will be a sleeper in this game and a play that I love.  Seager hitting another home run tonight isn't likely, so I wouldn't break the bank on him, however Bellinger has proven he's a home run hitting machine so there is a play that I love. He is hitting them faster than Judge is and Judge hits one every 10 at bats. If the Dodgers keep up this offense they will be a tough out in the National league.  Only team that can go toe to toe with their fire power is the Nationals.
Targets: Bellinger, Seager, Puig
With a full slate of games I would usually write about more games.  However these games are the only ones that I like going low and high.  The other games will seem to finish in the middle as there are some ok pitchers on the bump.  They aren't great pitchers but they aren't terrible.  Verlander could be a sleeper so look to pick him up in a game that he can win big.
Undervalued Plays
Hanson – CWS – 2B – Hanson will give you the best bang for your buck as a second baseman and throughout all of DFS honestly. He is only $3200 and averages 10 points per game, making his cost per point 302. Lower than any one else in the league.
Frazier – CWS – 3B – Just like his teammate Hanson, Frazier is a great play.  He has 11 home runs on the season and will cost you only 307 per point.  Frazier had a 40 home run season last year look for him to pick it up and hit 45 plus home runs this year.
Rosales – OAK – SS –You can go out and spend a ton of money on Bogaerts, Turner, Seager, Correa, and you will get a return on your investment there however is it worth it?  Rosales is only $2100 and averages 6.2 points per game. A day where you want Scherzer in your lineup it will be hard to afford one of the top shortstops.  If you do take a top shortstop too, your outfield will be filled with bottom feeders in the DFS world.  Rosales will be a great play that will allow you to still take high quality outfields – the players that put up big points.
Sign up for Sporfolio to gain access to NFL picks and DFS, NHL DFS, and MLB DFS spreadsheets.