Not too many stories coming out of the league last night. Kershaw picked up another win and had 10 strikeouts, however he let up 6 runs which is very un-Kershaw like.  The Miami Marlins had a major comeback and beat the Nationals after they were down early.  A grand slam tied the game and they then had a walk off home run to stun the Nats.
Other than that nothing really went on, we have a full slate of games today so let's break them down.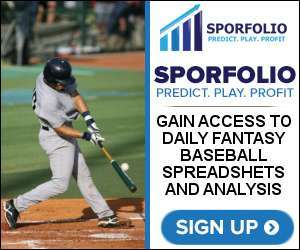 Low-Scoring Plays
Boston Red Sox @ Kansas City Royals – The league leader in strikeouts- Chris Sale-takes the mound for the Red Sox.  The Royals have been red hot after there road trip where they went 7-2 scoring 56 runs over that stretch and 18 home runs.  However before that trip the Royals were a struggling ball club.  Look for them to fall back to their old ways here as Sale's control with the ball is unreal.  Look for another great performance by him.  Bogaerts has been batting well for Boston as he had another multi-hit game last night. I like the Red Sox to win this game but it should finish with less than 5 runs scored by both teams together.
Targets: Sale, Bogaerts
Washington Nationals @ Miami Marlins – A game that was high scoring last night I like to stay low tonight.  Gonzalez pitches for the Nationals who is 10th in the MLB in ERA at a 2.89.  With Sale being so expensive I don't love the play of Gonzalez and him together.  However if you aren't taking Sale, Gonzalez should be a lock in your lineup.  Miami isn't a strong ball club.  Outside of Stanton and Gordon no one can do damage constantly.  Gonzalez should have a strong day and take care of the Marlins with ease.
Targets: Gonzalez, Turner, Murphy
Arizona Diamondbacks @ Colorado Rockies – Two of the stronger offenses in the National League square off in the Rocky Mountains.  If you look at the offensive numbers you would think this game would be high scoring.  However Greinke takes the mound for the Diamondbacks.  Greinke's price has dropped to where it was to start the season. We saw him pitch well early this year, to where his price rose.  Now that it back down, Greinke will be a steal.  Yes, the Rockies can mash the ball and are a great offensive team.  However Greinke is still a superstar pitcher in this league.  If he played for a major market team – New York, Boston, Chicago – you would hear more about him.  However playing late games out west let's him get forgotten.
Targets: Greinke, Goldschmidt
High-Scoring Plays
L.A. Angels @ New York Yankees – The Yankees return home after a day off yesterday.  That day off will be huge for New York and they should dominate this game.  Sanchez, Judge, Gardner, and Hicks will all have big days.  Pineda is pitching for the Yanks so the Angels shouldn't be able to do too much.  Maybe a home run for Pujols because he shows up on the big stage – Yankee Stadium.  I love the Yankees in this one, stack as many as their batters as you can.
Targets: Judge, Gardner, Hicks
Cleveland Indians @ Baltimore Orioles – Neither pitcher in this game is great so a lot of offense should take place.  The Orioles have plummeted and are now 1 game under .500 and below the Rays in the standings, tied with the Blue Jays who started terribly.  Baltimore has fire power and can be a good team, at home going against Tomlin – an average pitcher at best – should be able to put up runs in this game.  However, the Indians should win this one because of two players who are red hot.  Encarnacion, and Jose Ramirez have been on a tear.  Encarnacion is hitting .471 with 4 home runs over the last week.  Ramirez is hitting an even better .576 with 3 home runs over that same week.  These two will make the difference that will help the Indians prevail over the Orioles.
Targets: Encarnacion, Ramirez
Toronto Blue Jays @ Texas Rangers – These are two offenses that live off the home run.  Just like the Cle-Bal game neither team is throwing an ace in this game and it will come down to which will hit the most home runs in it.  Toronto has turned their season around and are only 5 games out of first, which is pretty much tied for first with this much baseball left to play.  Look for the Jays to steal one here in Texas.  Smoak and Morales have taken control of the fire power in this line up from Bautista and Tulo.  Donaldson is back in the lineup and already has 8 home runs, only four fewer than Bautista who has played the entire season.  However Tulo and Bautista are the plays I like in this game. They will be the difference to help the Blue Jays win this one which will be the slugfest of the day. (Might not be the highest scoring game but will have the most home runs in it.)
Targets: Bautista, Donaldson, Tulo
Undervalued Plays
Greinke – ARI – SP – Targeted above as a play that I love, but it should be highlighted again.  Greinke is a stud and has potential to strike out double digit batters.  He will have a tough time against a great Colorado team however great players rise in big games-that is exactly what Greinke will do.
Moreland – BOS – 1B – Moreland has earned the name Mitchy-Two-Bags by Boston writer Jared Carrabis because of the amount of doubles he hits.  He has upped that name to Mitchy-Four-Bags as he has found his stroke and now hitting home runs.  Sale's last outing he got no run support so look for the Red Sox offense to come out aggressive tonight and help Sale pick up the win.  Moreland has a ton of protection around him and should have the green light to swing away all night.
Flores – NYM – 2B – Flores is a flex position that you can put at 2nd or 3rd. With Walker out the Mets will need other infielders to step up and make up for his lack of production.  The Mets were able to score 6 off of Kershaw and should have a good night tonight.  Flores is 0-9 in his last two games so look for him to break out of this mini slump tonight with a multi-hit game.  Flores is batting just under .300 with 6 home runs and always has random games where he will have 4 hits with a home run.  Look for that tonight.
Gallo – TEX – 3B – Gallo is hitless in his last 3 games and hitting a dreadful .191.  However he does have 18 home runs on the season.  A game that should be a slugfest you might get lucky and have a night with Gallo going 3-4 with 2 home runs.  Texas and Toronto hate each other after Odor and Bautista brawled it out last year.  Look for the ball to be flying, if you can't afford Donaldson, Gallo will be a great play if he's in the line up.
Gardner – NYY – OF – Garnder isn't the cheapest outfielder at $4100, however he is a play that I love, especially today. Gardner and Holliday are both players that get forgotten in the young Yankee lineup however are both always sleepers.  Gardner is still fast as could be, hits for power.  After a day off and playing at home against a weak Angels team, Gardner will be a great play.
Sign up for Sporfolio to gain access to NFL picks and DFS, NHL DFS, and MLB DFS spreadsheets (picks from the Pitcher Breakdown Spreadsheet – all over/unders – are now at 50.5% accuracy since May 21).
By Keith Allison on Flickr (Originally posted to Flickr as "Jose Bautista") [CC BY-SA 2.0], via Wikimedia Commons