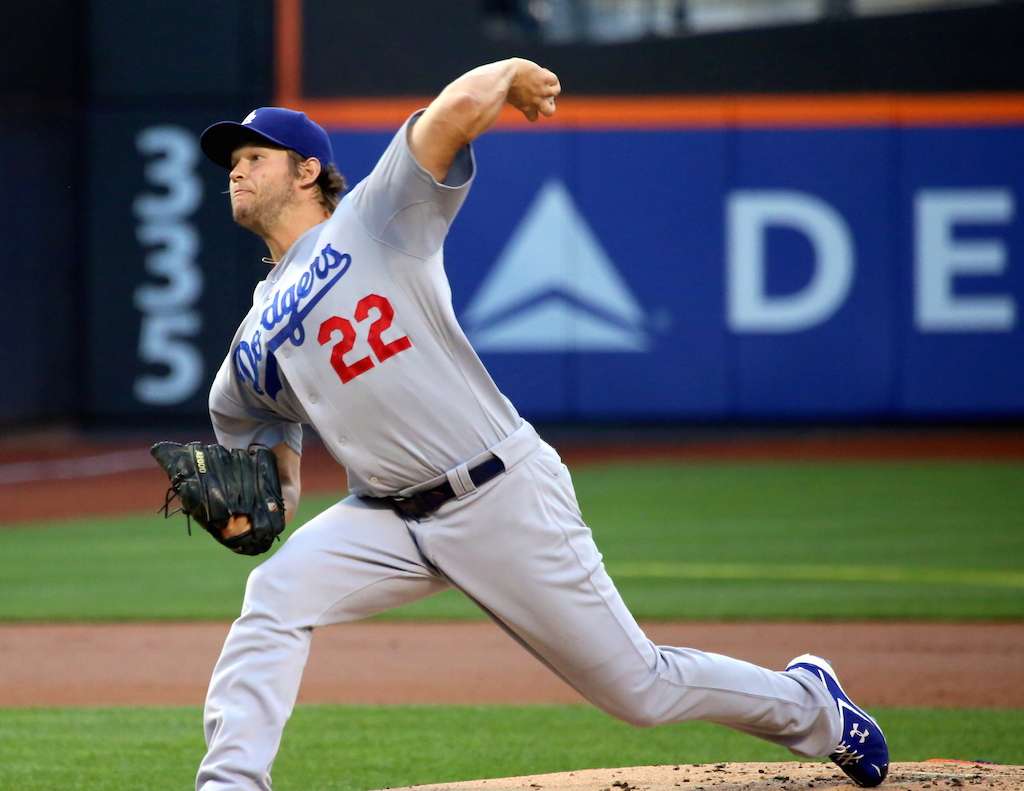 Latest posts by Felipe Melecio
(see all)
We are officially past the first day of summer and All-Star voting is heating up in the American League and the National League. Voting ends on June 29th.
We start our annual look at All-Star campaigning season with pitchers. Yes, we are aware pitchers aren't voted upon as they are selected by the managers and coaches. Regardless, we will begin with the men who toe the rubber and take the mound.
TERMS TO KNOW
We will be using Felipe's Ultimate Baseball Advanced Rankings (or FUBAR for short–a ranking system that utilizes advanced stats almost exclusively) to rank the pitchers, both starters and relievers.
Five stats were used to compile these rankings. Pitchers were awarded points based on where they finished in each statistical category. Only the top 15 pitchers in each category were considered. If a pitcher finished first in a stat, he would be awarded 15 points, second received 14 points, third got 13 points, etc.
The following stats were used:
EARNED RUN AVERAGE MINUS (ERA-): Like traditional ERA, but this accounts for ballpark and league factors. A score below 100 is good, above 100 is bad.
Fielding Independent Pitching (FIP): Pitching stat that only accounts for the factors that a pitcher can control: walks, strikeouts, home runs allowed and hit batsmen in an attempt to remove uncontrolled variables such as team defense and luck.
Fielding Independent Pitching (FIP-): Like FIP, but this stat accounts for ballpark and league factors. A score below 100 is good, above 100 is bad.
Expected Fielding Independent Pitching (xFIP): Just like FIP, but this stat attempts to normalize a pitcher's home runs allowed as Home Runs per Fly Balls are scaled back to a league average, usually between 9 and 10 percent.
Skill-Interactive Earned Run Average (SIERA): Just like FIP, but also attempts to calculate the impact of balls in play.
For a more detailed look at these stats, please visit fangraphs.com.
2017 STARTING PITCHERS
No surprise here as Chris Sale of the Boston Red Sox has been the most dominant pitcher in baseball this year, leading all qualifying starters with a Wins Above Replacement (WAR) of 4.6, giving him a 1.5 to the runner up, Max Scherzer.
Here's who FUBAR thinks should be highly considered for a roster spot for the AL:
Chris Sale
Lance McCullers
Dallas Keuchel
Chris Archer
Luis Severino
Jason Vargas 
So we have one established stud in Sale, and a bunch of bounce-back candidates, including former Cy Young winner, Keuchel (a player we spotlighted in a podcast episode last year). Vargas is the feel-good story of the year as he's had a successful run after undergoing Tommy John surgery.
Over in the National League:
Max Scherzer
Clayton Kershaw
Stephen Strasburg
Carlos Martinez
Zack Greinke
Jimmy Nelson/Jeff Samardzija
As you can see, more established names in the senior circuit are the frontrunners to garner roster spots at the All-Star game as two Nationals' pitchers (Scherzer and Strasburg) are flanking this generation's best hurler, Clayton Kershaw.
2017 RELIEF PITCHERS
In the American League, joining teammate Chris Sale is Craig Kimbrel as he edges out the top spot over the Dodgers' Kenley Jansen. Joining Kimbrel in the AL are a group of newcomers who are ranked in the top five (Tommy Kahnle and Blake Parker) along with "old" reliables like Dellin Betances and Andrew Miller.
In the National League, playing supporting roles for Jansen are surprising closer Corey Knebel and Cardinals' fireballer, Trevor Rosenthal.
Feel like the stats have omitted, overlooked, or overrated certain pitchers? Feel free to comment, question, or analyze below.
Data extracted from fangraphs.com on June 21, 2017. 
Featured Image Credit: By Arturo Pardavila III on Flickr [CC BY 2.0], via Wikimedia Commons