A breakout night for the Twins as they hung 20 on the Mariners.  The Twins did that on an astounding 28 hits which is a franchise record.  The Twins aren't a great team so stacking a lot of their players would be a move only Twin fans would probably do.  Golden Corral is going to be bumping in Minnesota tonight as they all spend their big winnings.
In other news the Red Sox won their second game in a row in extra innings on a walk off.  First it was Pedroia on Monday and Benintendi last night.  Red Sox fans might think this is a good sign however they are playing the Phillies.  This is a ball club that you would want to beat by a good amount.  The Phillies aren't awful but if Boston thinks they are contender these are games they should be winning by at least 3 or 4.  Regardless, it is good to see the bats come up in big spots as the Big Papi's clutch bat is gone.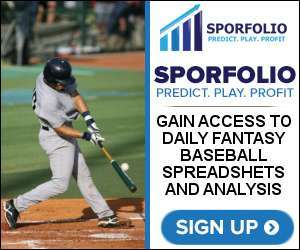 Low-Scoring Plays
New York Yankees @ L.A. Angels – The Yankees have been red hot, but have to cool down at some point.  The Yankees will win this game for their 7th in 8 days, however, they won't score double digits like they have been.  Pineda is pitching for the Yankees who has been having a strong season.  Look for him to keep the Angels very low in this one.  Without Trout the Angels have no firepower.  Judge is on a power serge like no tomorrow, if you can afford him I would take him, but don't break your bank trying to fit him into your lineup.
Targets: Pineda, Judge
L.A. Dodgers @ Cleveland Indians – Not too sure what Puig was thinking as he rounded the bases on his home run.  Corey Kluber takes the mound for the Indians who should have a big game.  The Dodgers' lineup shows potential as they have numerous hitters with an average around the .300 mark.  However on the road against a tough pitcher I like the Indians in this one.  Although they aren't great this year, the Indians were in the World Series last year and Kluber was a major reason why.
Targets: Kluber
Boston Red Sox @ Philadelphia Phillies – This series has been low scoring all week as each game has gone into extra innings.  Brian Johnson takes the mound for Boston who has had a good season in his limited starts.  In his debut for Boston he tossed a complete game shutout which has only been done by him and Pedro.  Look for him to have a big game today as the Phillies are okay but not great.  As for the Boston lineup, they haven't been scoring. Sandoval needs to be cut or something he is batting terribly and can't play the field at all.  I'll side with Boston in this one but this will be very low scoring.
Targets: Ramirez
High-Scoring Plays
Colorado Rockies @ Pittsburgh Pirates – The Rockies are having a great year as they look to be a play off contender in their division.  They have cooled off lately, however they will have a breakout game today.  Carlos Gonzalez has been in a slump who is hitless over the last week.  Look for him to come out of the slump against Kuhl who is 1-5 on the year.  Blackmon will be a great play as he continues to hit above average and power.  Overall stack a ton of Rockies batters, it will pay off.
Chicago Cubs @ New York Mets – The Cubs were on fire last night as they knocked Wheeler out of the game in 1.2 innings.  By the 4th inning every Cubs hitter had a hit and they had multiple home runs in this one.  That is a great sign as it is hard to hit home runs in Citi Field.  Terry Collins can't be the manager for the Mets for much longer, however he will probably get a contract extension because the Mets have no idea what they are doing.  The Cubs are a team like Boston who will show up one game and stink the next but I like them to take another one from the Mets.  We know the Harvey struggles, and the Cubs should win this one.
Targets: Rizzo, Bryant, Baez
If you stack Cubs and Rockies and maybe sprinkle in some Yankees I think you will have a pretty good lineup as I don't love many of these games to be high scoring.
Undervalued Plays
Pirela – 2B – SD –The young player is batting out of his mind as he makes his ways into the majors.  The Reds aren't a great team so he should have a big day against them.  He is only $3600 and is batting near .500 in his early career.
Story – SS – COL –Story has been having a down year as he tore up this league last year.  He is a great player and can put up superstar numbers like a Turner or Bogaerts.  Look for him to have a big day against Pittsburgh as they should win this one big.
Mallex Smith – OF – TB – Smith doesn't hit for power but he is hitting over .350 which is a play I have been going for in my outfielders. It's easy to look for the players that hit home runs I like to look for outfielders that will get on base and score runs.  Smith will do exactly that and will be a great play in Toronto.
Sign up for Sporfolio to gain access to NFL picks and DFS, NHL DFS, and MLB DFS spreadsheets (picks from the Pitcher Breakdown Spreadsheet – all over/unders – are now at 53.6% accuracy since May 21).

Featured Image Credit: By Keith Allison on Flickr (Original version)UCinternational (Crop) [CC BY-SA 2.0], via Wikimedia Commons