The MLB Draft took place last night as teams load up on high school talent that we won't see on the big league diamond for another 5 years.  Other than that there weren't many stories coming out of the league.  Huge shout out to Jameson Tallion who picked up the win in his first game back from surgery.  It was a game where I thought he would lose but I am happy to get that one wrong and to see him play well.
We have a ton of games today so let's break them down.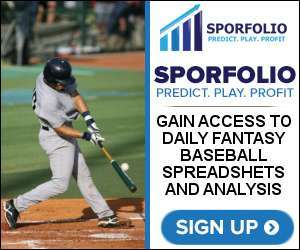 Low-Scoring Plays
New York Yankees @ L.A. Angels – C.C. Sabathia takes the mound for the Yankees who has been great in his last 5 starts.  In his last 5 he went 7,6,7,7,and 8 innings.  His last outing he shut down the Red Sox offense who looked pretty strong the night before against Tanaka.  L.A. does not have an offense that can even replicate Boston's, especially with Trout out.  Sabathia is a play that I love, and should be a lock for your lineup.
Targets: Sabathia, Carter, Castro
L.A. Dodgers @ Cleveland Indians – Clayton Kershaw takes the mound looking to go to 9-2 on the year. Cleveland hasn't had a great year so far offensively.  They are 24th in the league in runs scored and batting .244 as a team.  This is a game Kershaw should do well in, I don't think he will be as dominate as he isn't pitching at home however he should have a strong outing.  Only 2 batters have faced Kershaw which gives him the upper hand.  You can get the scouting report on Kershaw but you won't know what to expect until you actually face him.
Targets: Kershaw, Puig
Kansas City Royals @ San Francisco Giants – Two of the worst offenses in baseball match up in the Bay Area.  Each pitcher could throw a no hitter that's how little confidence I have in these teams.  Vargas takes the mound for the Royals and should have a big day for them.  Just like Kershaw he is looking to pick up his 9th win.  Since Kershaw isn't pitching at home I would almost favor saving the money and pick Vargas who is playing the worst offense in baseball.
Targets: Vargas
High-Scoring Plays
Atlanta Braves @ Washington Nationals – The Nationals are due for a huge breakout game and it could happen tonight.  R.A. Dickey takes the mound for the Braves who just isn't good.  He has yet to make it longer than 7 innings this season.  Now a 7 inning outing is great however for a knuckleball pitcher you want them to go even farther.  It doesn't take a lot to throw the knuckleball so your arm shouldn't be tired.  The Nationals have the scariest lineup, up and down when you look at it.  Look for Harper to hit a homer or two and Turner to have a big game.
Target: Harper, Turner, Murphy
Colorado Rockies @ Pittsburgh Pirates- This was a game that I thought the Rockies would run away with yesterday. It won't get any easier for them as they face Gerrit Cole.  However the Rockies are too good to be silenced two nights in a row. Blackmon will show up in this one in a big way.  McCutchen has been hitting better for the Pirates and won't be the worst play although I think they will lose.
Targets: Blackmon, Gonzalez
Philadelphia Phillies @ Boston Red Sox – David Price makes his 4th start of the season.  He had one okay start and two good starts.  I think he will struggle in this one though.  The Red Sox have been a streaky team that I can't figure out.  With one of their best pitchers on the mound this is a typical game for them to lose to a not so good Phillies team.  Joseph, Franco and Kendrick made some noise last night at Fenway to take the game to extra innings and they will be big factor in this one.
Targets: Joseph, Franco, Kendrick
Sign up for Sporfolio to gain access to NFL picks and DFS, NHL DFS, and MLB DFS spreadsheets (picks from the Pitcher Breakdown Spreadsheet – all over/unders – are now at 54.9% accuracy since May 21).

feature image credit: By Arturo Pardavila III on Flickr [CC BY 2.0], via Wikimedia Commons