Anthony Rizzo has made Cubs history as he is the first player to ever hit leadoff home runs in his first to starts in the 1 hole.  He took Harvey deep off of the first pitch of the game and it looked like the Mets were in for a long day.  They were able to come back and beat the Cubs on some late home runs, but Rizzo is having a field day batting first in the lineup.
The Yankees finally lost, however, Hicks made an incredible play last night taking away a grand slam from the Angels.  Judge did not hit a home run but his bash brother picked up the slack and Sanchez hit another home run.  Sanchez and Judge are on pace to be some of the best pairing in baseball.  It'll be like Manny and Ortiz in '04 or Tex and A-Rod in '09.
It's travel day in the league so we have small slate of games as we get ready for Free Line Up Friday tomorrow – I won't forget this week.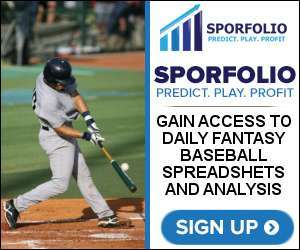 Low-Scoring Plays
Boston Red Sox @ Philadelphia Phillies – The Red Sox look to complete the 4 game sweep against the Phillies.  Chris Sale gets the call for the Red Sox who should get back on pace for his dominant season.  He should have a strong day as the Phillies aren't a strong team.  They aren't bad and showing potential for the future however they are not there yet.  Sale has had his way against the Phillies so far in his career, as they are batting .225 as a team against Sale.  Sale is going to be super expensive and very highly owned so if you don't pick him it's understandable, however I think you should.
Targets: Sale, Betts, Moreland
Tampa Rays @ Detroit Tigers – Justin Verlander has destroyed the Rays through out his career, as the Rays have hit .188 off of him in their careers.  In 104 at plate appearances the Rays only have 1 home run.  Pitching at home this is a game that I love Verlander in.  Verlander didn't pitch terribly against the Red Sox in his last outing look for him to build off of that and rock the Rays in this one. If you take Sale and Verlander it will leave you with the Average Remaining Salary of $3,537, which isn't terrible.
Targets: Verlander, Cabrera
High-Scoring Plays
Washington Nationals @ New York Mets – Division Rivals battle it out in Queens.  Gsellman takes the mound for the Mets who isn't great.  I have the least amount of confidence in Gsellman of anyone on that staff – and I have no confidence in Harvey.  Ryan Zimmerman has been hot, over the last week he is hitting .357 with 4 home runs and 7 RBI's.  Look for the Nationals to win this one, however the Mets could score some runs as well.  Cespedes always shows up for big games like this one, Bruce and Walker will play well too.  But the Nats have fire power and will over power Gsellman.
Targets: Harper, Zimmerman, Murphy
Kansas City Royals @ L.A. Angels – Kansas City has been hot as they have won 4 in a row.  In those wins they scored 12,8,8 and 7 which is huge for the Royals offense which is struggling. Moustakas and Cain have been great over this stretch together they have hit 7 home runs over the last week.  Whit Merrifield – Kansas City's 2nd baseman had a strong day yesterday as he went 3-6 with a stolen base.  Merrifield will be a great play at second base if you take Verlander and Sale because he is right around the price you want your players too be.
Targets: Merrifield, Cain
Extra-Innings
Again this is a new part of the blog I am going to put up on days there are small slates of games.  There aren't any undervalued plays as everyone sees almost every player.  I didn't write about the Yankees and A's game as they are two offensive teams that love the long ball.  The Yankees finally lost to the Angels last night, but they still had power as Sanchez hit a home run.  This game will be high scoring however I like the Nats and Royals players more. If you don't take Sale and go a cheaper route that will help you afford some of the top Yankee stars. The winnings team will have 3+ home runs in this game, and will come down to the strong bullpen-which is the Yankees.
Sign up for Sporfolio to gain access to NFL picks and DFS, NHL DFS, and MLB DFS spreadsheets (picks from the Pitcher Breakdown Spreadsheet – all over/unders – are now at 55.2% accuracy since May 21).

 Featured Image Credit: Keith Allison/Flickr C.C. 2.0