The Houston Astros are on fire.  Eyeing their 12th win in a row the team is now 40-16! They are playing out of their minds and look to be the favorite in the AL this year.  Yet I still think the Astros are underrated.  They don't get the hype the Yankees or Red Sox do because of their payrolls and buying whatever player they want.  The Astros are home grown and have some of the best young stars in baseball.  Their GM is due for a major pay day from the Astros, if not he could be on the move in the future to a big market team.
In other news around the league, David Ortiz might be eyeing a comeback?  David Ortiz came out and said that him and the Sox are talking about a role within the organization, not as a player but in another role.  However Pedro tweeted that David Ortiz is working out and he knows that he is in baseball shape.  Boston could use his bat this year.  Boston enters New York today for a major series 2 games behind the Yanks for first place.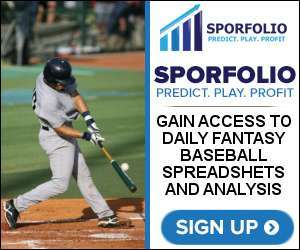 Low-Scoring Plays
San Diego Padres @ Arizona D-Backs – San Diego is one of the worst teams in the Majors and has been for a while now.  I'm not sure what is going on out there, we've seen the Astros, Yankees, Red Sox, Cubs, and Dodgers all develop young stars and it seems like the Padres haven't done anything.  I get that these are major market teams that have stars to trade for prospects but come on, the Padres shouldn't be this bad for so long.  That is why I love Robbie Ray to dominate the Padres today.  The Diamondbacks should be able to put up some runs in this one, but Robbie Ray averaging 21 points per start should be a lock for your lineup.  He has a WHIP of 1.10 which is great for a pitcher and an ERA at 3.
Targets: Ray, Goldschmidt
Washington Nationals @ L.A. Dodgers – Scherzer is back on the mound for the Nationals, like Sale and Kershaw, Scherzer is a must play when he is on the mound.  He has the ability to strike out batters at will.  The Dodgers are 6th in the league in strikeouts so Scherzer should have a day.  He might give up a long ball with a pitch that he misses because the Dodgers can hit the long ball.  However the potential to strike out double digits triumphs the potential to get shelled in this one.  Scherzer is closing the door on Sale for the league lead in strikeouts, I like him to pull with 3 or 4 strike outs of Sale – he's 19 behind.
Targets: Scherzer, Murphy
High-Scoring Plays
Boston Red Sox @ New York Yankees – The series for first place in the AL East kicks off with the two pitchers who are struggling this season.  Pomeranz vs. Tanaka is setting up for a slugfest!  Pomeranz has shown a little promise in his past 2 starts, but at the end of the day he is Drew Pomeranz and will fall back to his old ways.  Look for Judge and Sanchez to have a strong day today.  However I like Boston to win this one because Tanaka is terrible this year.  Tanaka is 2nd highest in ERA only behind Bartolo Colon.  The Boston-New York rivalry is on the verge of coming back, battling it out for the top of the division.  Boston's stars are more experience which is why I like them in this game.  Benintendi broke his little slump with two dingers last game.  I love this game to be the start of Bogaerts' power serge.  He is hitting phenomenally, but his only problem is that he's hitting all singles.  Leaving Bogaerts out of your lineup today will be a mistake.
Target: Bogaerts, Moreland, Bradley Jr.
Houston Astros @ Kansas City Royals – The Astros are going to continue their streak tonight.  They are young, dynamic and most importantly love the game of baseball.  There are some players in the league for the money-Pablo Sandoval- but the Astros flat out love the game.  You can see it on their faces when they play.  Look for them to put up 10 plus runs in this one, the Royals aren't good and are already out of this season.  The Astros are going to try their hardest to keep the streak going because that's the type of the team they are.  It also helps when your stars are hitting above .400 during this streak and playing out their minds.
Targets: Altuve, Correa, Beltran
Undervalued Plays
Paxton – SP – SEA – Paxton is 4-0 on the year with an ERA of 1.26 and averages 25.5 points per game.  A day where I love high prices batters like Bogaerts, Altuve, Judge, look to save money at the pitching position.  You should take Ray or Scherzer, Paxton will be a solid second pitcher.
Arrieta – SP – CHC – We know Arrieta's potential.  Usually he would be right behind Scherzer in price, however he is only $9000.  He hasn't had the best year but I do like him at home against Miami.  It looks like Chicago is getting a little bit of their swagger back so look for Arrieta at the very least to pick up a win in this one.
Holliday – 1B – NYY – Holliday is a player in the Yankees lineup that gets forgotten, then he turns around and hits 2 home runs in a game and you think "oh yeah he's still good."  At $4700 he isn't cheap however I think undervalued.  The eyes will be on Betts, Bogaerts, Judge and Sanchez,  Holliday will fly under the radar and could have a big day against Pomeranz.  It will be a risky play but I wouldn't judge you one bit if you put him in your line up.
Betts – OF – BOS – Just like Holliday, Betts isn't cheap but under valued.  He is $4600 tonight against Tanaka.  That should be a lock in your lineup.  He is batting 1st and leads the Red Sox in home runs – granted the Red Sox don't hit a lot of home runs – but in a big series, playing your rivals, with a small ball park, take Mookie.
Sign up for Sporfolio to gain access to NFL picks and DFS, NHL DFS, and MLB DFS spreadsheets (picks from the Pitcher Breakdown Spreadsheet – all over/unders – are now at 53.4% accuracy since May 21).
Featured Image Credit: Parkerjh at the English language Wikipedia [CC BY 3.0], via Wikimedia Commons