Scooter Gennet not only has an awesome name but he had him self a night-seriously Scooter is a top 5 name in the world.  As you already know, Scooter had 5 hits last night, 4 were home runs and he had 10 runs batted in.  He put up 71 points in Draft Kings.  My entire team put up 98 and he put 71 up alone.  The game was a blow out so you have to think in a closer game Scooter does not get pitched too.  At least he didn't even cross my mind to put in my lineup.  Mario had him 2 nights ago and missed out on a big payday by one night.
Max Scherzer had an incredible night striking out 14 and he is now 5 behind Sale for the league lead.  At one point Scherzer struck out 10 through 3.1 innings-that's striking out everyone, from the first batter all the way through the lineup.  If you had Scooter or Scherzer, you can find me on Vemno, share some of your wealth.
We have a full slate of games with a huge pitching duel in L.A.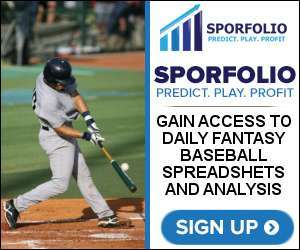 Low-Scoring Plays
Washington Nationals @ L.A. Dodgers – Strasburg vs. Kershaw is easily the pitching match up of the day.  I am going to side with Kershaw because he is too good when pitching at home.  The Dodgers were shut down last night so I like their bats to be a little more alive tonight.  If it were possible to afford both of these pitchers I would say do it.  However you will risk the rest of your lineup and one of these players won't even get points for the win.  Kershaw has to be the play at home but Strasburg is a great pick too, I just don't think he will pick up the win.
Targets: Kershaw, Seager
Houston Astros @ Kansas City Royals – The Royals came back to score 4 in the 8th and 2 in the 9th to win it and break the Astros' win streak.  Tonight we have two elite pitchers on the mound.  Keuchel is 9-0 on the year which is flat out ridiculous to not lose this far into the season. On the other side Vargas takes the mound for the Royals who is 2nd in the league in ERA with a 2.08.  The Astros have been hot which is why I'll side with the Royals and Vargas to take another one here.
Targets: Vargas, Hosmer
New York Mets @ Texas Rangers – deGrom got beat up last night for the Mets, and tonight will not get any easier for them as they face Yu Darvish.  Darvish is a lock for my lineup.  The inconstancies for the Mets are too good to pass up on.  The Rangers aren't what we expected so far this year, last night they scored 10 which is a lot of them.  Look for Wheeler to have a strong game and keep them around 5 runs.  However Darvish will be too much for the Mets.
Targets: Darvish, Odor
High-Scoring Plays
Philadelphia Phillies @ Milwaukee Brewers –Jerad Eickoff takes the mound for the Phillies who is in search of his first win.  Well it won't come tonight on the road.  I love the Brewers in this one.  Thames should put a ball on the moon he is due for one.  A stack of Thames, Sogard and Santana will be a lethal combination.  The Phillies are able to score some runs too. Joseph is always a good pick and look for Franco to break out of his slump soon.
Targets: Thames, Sogard
Pittsburgh Pirates @ Baltimore Orioles – Chad Kuhl is having a rough year at 1-5.  It isn't his fault he gets no run support but at the end of the day you should be able to keep teams low enough where your terrible offense could have a shot.  I love the Orioles in this one to beat up on the Pirates big.  I mean double digit runs big.  Trumbo, Machado, Davis, Schoop as many of them you can get into your lineup do it.  Then use the Brewers as filler players.
Targets: Machado, Davis, Jones
Undervalued Plays
Porcello – SP – BOS – Porcello is a solid second pitcher on the day if you are taking Kershaw or Strasburg.  Porcello has potential to be great – he won the Cy Young last year.  I think he was over rated however he has shown some good games this year. Boston has won 11 of their last 15 look for the offense to have his back and Porcello to have a strong outing.
Sabathia – SP – NYY –Both pitchers in this game are underrated as Sabathia faces Porcello.  Sabathia has been ok this year just like he has been for the last 4 years.  However, Boston has injuries.  Once you get passed JBJ in the lineup you have to face players like Vazquez, Rutledge, Sandoval, Morero, all players who don't scare me one bit. Yeah there is death row in Betts, Benintendi, Bogaerts and the top of the order but that is why Sabathia is cheap. He could be a great play.
Sogard – 2B/SS – MIL – He is targeted above but he is very under valued and that is because he doesn't hit home runs with only 2 on the year.  But that is ok with me because he is hitting nearly .400!  Let him get on base and the rest of the Brew Crew will drive him in.
Harper – OF – WAS – Harper's price has dropped due to facing Kershaw.  I am licking my lips at his price, $4500, that's a steal.  Kershaw does scare me, which is why I won't go near Harper, but everyone else will have the same mentality as me.  If someone is going to beat Kershaw it's Harper.  He will be low owned and could help you out greatly.
Betts – OF – BOS – Betts had a solid game last night, almost had a home run as he belted one to the warning track. He has so much protection behind him as Benintendi is mashing the ball now. Betts is a play I love and will take him almost every time if his price is under $5000.
Eric Young Jr. – OF – LAA – Not sure what his story is yet, but he is hitting .308 and has 1 home run.  He averages 8.9 Fantasy Points Per.  He is only $2000, which will allow you to take any one you want in another position.  I would check to see if he is in the starting lineup.  If he is then take him because the worst thing that happens is he puts up 0.  You spent $2000 on him that's not a loss, it's a loss when you pick Judge for $5400 and Kimbrell fans him on 3 pitches when he could win the game for the Yankees.
Sign up for Sporfolio to gain access to NFL picks and DFS, NHL DFS, and MLB DFS spreadsheets (picks from the Pitcher Breakdown Spreadsheet – all over/unders – are now at 54.8% accuracy since May 21).
Featured Image Credit: Keith Allison/Flickr C.C. 2.0