We had an exciting weekend in baseball.  The headline comes from Albert Pujols as he hit a grand slam for his 600th home run.  However the Pujols news wasn't as loud as we've seen past home run milestone such as Bonds and A-Rod.  I'm not sure if it's the NBA and NHL finals taking away from Pujols achievement or the steroid ERA and we are over home runs.  But what Pujols did is a major accomplishment and we might not see 600 home runs for a while.  My guess is Stanton, Harper, or Trout where Stanton leads these three with 223 home runs so we have a while to go.  Congrats to Albert Pujols as he has been one of the most iconic baseball players of the 2000's and played the game the correct way.
We have a very small slate of games today, with a huge series in the AL East coming up between the Red Sox and Yankees.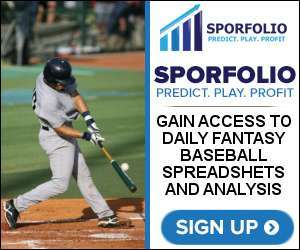 Low-Scoring Plays
Miami Marlins @ Chicago Cubs – The Cubs completed the sweep this weekend to pull within one game of the Brewers for the division lead.  On the other side the Marlins have been one of the hottest teams in baseball as they are 8-2 in their last 10 games.  Even with a dynamic offense the Cubs could potentially have I think Dan Straily will keep them under control today but still lose.  Straily will probably be the highest owned pitcher as he is $3000 less than the top pitcher and only averages 4 less points per game.  At home I think the Cubs will win this one in a close one.  Eddie Butler will be a sleeper in today's lineups and could help you out immensely since he will be very low owned.
Targets: Butler, Rizzo
Washington Nationals @ L.A. Dodgers – These are potentially two of the best offenses in baseball.  However as the Monday Night Game of the Week, I like this game to stay low.  Gio Gonzalez is the better pitcher and should get the win in this one.  Bryce Harper is back and should be a lock in your lineup.  Harper rested from his suspension and playing in Primetime coming back into America's eye, I like two home runs from him.  Aside from Harper, the Nationals have a better lineup.  I think this game will finish around 4-2 with the Nationals having the upper hand.
Targets: Gonzalez, Harper
High-Scoring Plays
Houston Astros @ Kansas City Royals – We know the Royals aren't good and we know the Astros are great.  I love the Astros huge in this one.  Ian Kennedy has an ERA above 5 and only has 45 innings in 9 starts.  That's five innings a start which is not a good number.  Kansas City doesn't have a strong bullpen either and they will be needed in this game.  Stack players like Correa who is hitting .406 with 4 home runs in his last 7 games.  Teammate George Springer is hitting .485 with 6 home runs over that same 7 game span.  Of course Altuve is never a bad play either.
Targets: Correa, Altuve, Springer
Philadelphia Phillies @ Atlanta Braves – Bartolo has been struggling this year especially the his last 3 starts 0-2 with an 7.71 ERA.  I like the Phillies to win this one as Colon will struggle again.  Stacking Joseph, Franco and Kendrick will be the best play for you in this game.  The Braves should be able to score in this one as well.  Matt Adams is batting .226 with 3 home runs over his last 7 games.  Ender Inclarte is hot as well batting .400 with 1 home run.  I like the Phillies to win this one, but the Braves should be able to score, too.
Targets: Franco,Joseph
Undervalued Plays
There is no one under valued today because of so little of games.  I will say that I don't like Carlos Martinez at his price point as the highest priced pitcher.  I love Harper, Correa, Springer and Altuve.  I would put them in my line up and then work around that to build the rest of your team.
Sign up for Sporfolio to gain access to NFL picks and DFS, NHL DFS, and MLB DFS spreadsheets (picks from the Pitcher Breakdown Spreadsheet – all over/unders – are now at 55.4% accuracy since May 21).

Featured Image Credit: By Johnmaxmena2 (Own work) [CC BY-SA 4.0], via Wikimedia Commons