Saturday includes baseball throughout the day, with an unorthodox set of start times ranging through the night. Most importantly, some 'top aces' will be in action in a stark contrast from Friday's set of games.
Currently, we are using xFIP and wOBA simply to compare one pitcher's performance against another – especially against opposite-handed hitters. We aren't using these numbers for calculation. To help with some calculations, we have assumed that each hitter and pitcher has played at least one game. Each pitcher was assigned an innings total relative to his average projection.
Check the starting lineups and weather reports prior to making any plays, as these change without notice.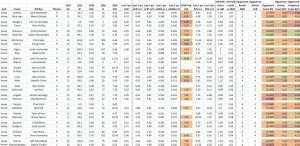 Projected Low-Scoring Games
Kansas City Royals at Philadelphia Phillies – Two of the league's brightest young arms meet on Saturday when Danny Duffy squares off with Aaron Nola. Duffy's transition back into the starting rotation appears complete, and he now holds a 3.33 ERA as a starting pitcher in 2016. His matchup against the strikeout-prone Phillies is excellent, even though Philadelphia's offense is currently cruising. Aaron Nola has absolutely crumbled after a fantastic start of the season, watching his ERA balloon from 2.65 to 4.45 throughout June. His opportunity for a rebound comes on Saturday, when he takes on a Royals offense averaging only 3.7 runs-per-game over their last eleven contests.
Targets: Danny Duffy and Aaron Nola
Chicago Cubs at New York Mets – There are any number of statistics to use to support the recommendation of Jake Arrieta on a given day, but pitching to a strikeout-happy lineup on the heels of back-to-back losses by his team is nearly ideal. In addition, Arrieta is coming off his worst performance of the season, and should rebound in a big way. Bartolo Colon continues to deliver in the Mets' rotation, and carries a 2.85 ERA into Saturday's showdown. Colon sets up nicely to counter Arrieta in a pitcher's duel.
Targets: Jake Arrieta and Bartolo Colin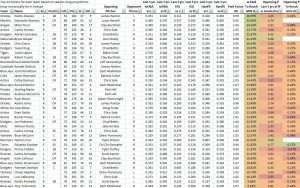 Projected High-Scoring Games
Cincinnati Reds at Washington Nationals – Both Dan Straily and Joe Ross are following nearly identical paths. Each pitcher started 2016 on fire, only to suffer through June. Ross' slip was not as precipitous as that of Straily, but each have returned to a more reasonable level of production. Unfortunately, Saturday presents a better opportunity for hitters, as two comparatively high-scoring offenses greet the scuffling pitchers.
Targets: Cincinnati Reds and Washington Nationals Hitters
Baltimore Orioles at Seattle Mariners – James Paxton's return to Major League Baseball has been anything but smooth. In six starts, the Mariners' pitcher has two games in which he allowed one run or fewer and two games in which he allowed at least four runs. Against one of the highest-scoring teams in the league – that tallied only two runs on Friday night – Paxton is in a dangerous position. His counterpart – Tyler Wilson – has turned a once-excellent ERA of 2.93 into a 4.50 average, with a 4.89 ERA as a starting pitcher. Mariners' hitters should also enjoy a high-scoring contest.
Targets: Baltimore Orioles and Seattle Mariners Hitters
Undervalued Plays
Blake Snell – Once again, the high upside of Blake Snell moves him onto our list of pitching targets. As usual, a potential cap on his pitches or innings limits his ceiling a bit, but a strikeout pitcher facing the relatively strikeout-prone Tigers in a pitcher's park is too good to ignore. Finally, the matchup with Justin Verlander – an All-Star veteran – gives Snell – a rookie – an additional boost.
Houston Astros Hitters – It is always risky to target hitters against Chris Sale, but a depressed set of salaries allows a potential bargain. The southpaw will be throwing in a park that increases power potential for right-handed batters, and Sale allowed an unprecedented seven home runs in June – compared to six in April and May, combined.
Featured Image Credit: By Johnmaxmena2 (Own work) [CC BY-SA 4.0], via Wikimedia Commons