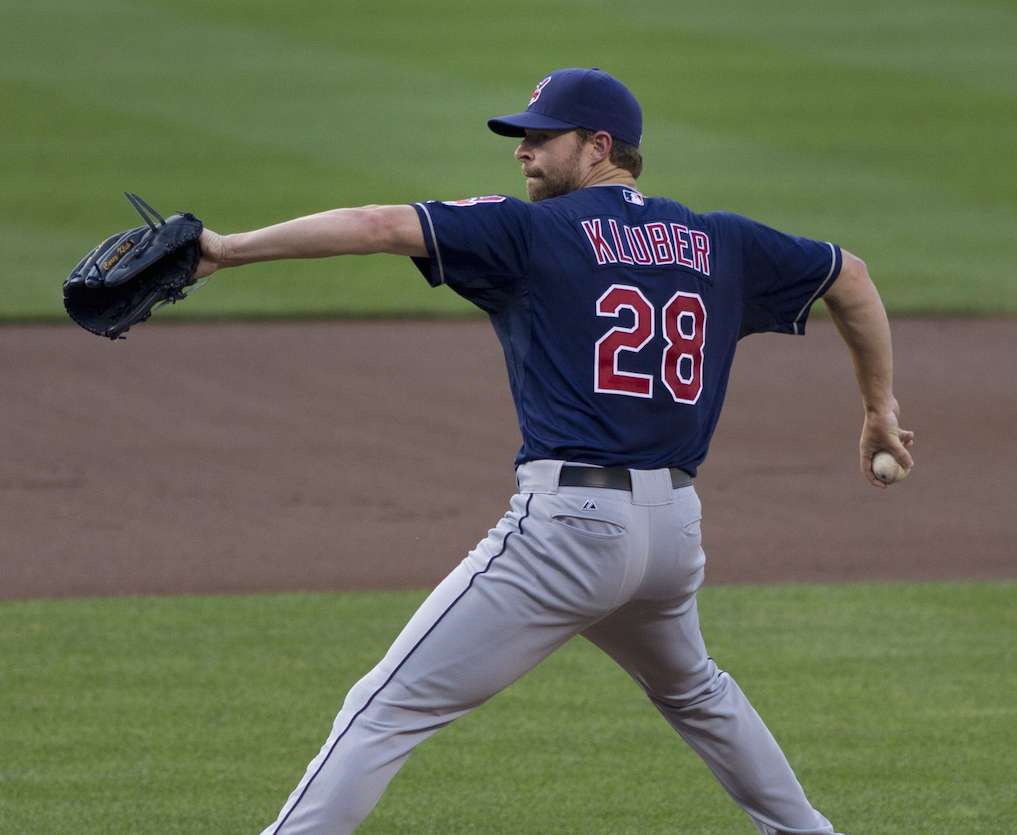 Latest posts by Mario Mergola
(see all)
A regular Sunday schedule is upon us as nearly every team plays in the afternoon with the lone night game standing as the exception. A handful of top pitching options toe the rubber as well, although some of the best values can be found in the matchups driven more by hitters' regressions than pitchers' statistics.
Currently, we are using xFIP and wOBA simply to compare one pitcher's performance against another – especially against opposite-handed hitters. We aren't using these numbers for calculation. To help with some calculations, we have assumed that each hitter and pitcher has played at least one game. Each pitcher was assigned an innings total relative to his average projection.
Check the starting lineups and weather reports prior to making any plays, as these change without notice.
Projected Low-Scoring Games
Cleveland Indians at Toronto Blue Jays – A favorite of this column gets the nod on Sunday and slides to the top of our list of pitchers to target. After the Indians' 14-game winning streak came to an end on Saturday, the perfect follow-up is to send the team's 'ace' to the mound one day later. Corey Kluber's high strikeout rate puts him over the top as one of the best options of the day. His counterpart – Toronto's J.A. Happ – has predictably begun to slip in recent weeks, but still holds an impressive 3.70 ERA on the season. Where Kluber has the benefit of resetting a winning streak, Happ gets a boost from facing a lineup that carried a heavy burden for two weeks. The Blue Jays' southpaw takes advantage on Sunday.
Targets: Corey Kluber and J.A. Happ
Los Angeles Angels at Boston Red Sox – Matt Shoemaker and Sean O'Sullivan enter Sunday with two completely different motivations for the same agenda. Shoemaker is out to prove that his ever-shrinking ERA is trending in the right direction – this is the same pitcher that completed a 20-start season with a 3.04 ERA – while O'Sullivan simply has to limit the Angels to fewer than three touchdowns to deliver a better performance than Boston's pitching staff on Saturday. After Los Angeles scored an unprecedented 21 runs, a regression is obvious. O'Sullivan stands to benefit while Shoemaker continues to deliver.
Targets: Matt Shoemaker and Sean O'Sullivan
Projected High-Scoring Games
New York Yankees at San Diego Padres – As Ivan Nova and Drew Pomeranz exchanged scoreless innings for most of Saturday night, Sunday presents the return of offense via Chad Green and Andrew Cashner. The only start of Green's career featured two home runs and four earned runs allowed in only four innings, while Andrew Cashner has not pitched five complete innings since the end of May – due to both ineffectiveness and injury, although more of the latter. Neither rebounds on Sunday, and hitters get the edge.
Targets: New York Yankees and San Diego Padres Hitters
Pittsburgh Pirates at Oakland Athletics – The Pirates and Athletics jumped out to a combined four runs after four innings on Saturday, but it took ten innings of play for another run to be tallied from either side. Sunday brings the opposite expectation, as Francisco Liriano and Daniel Mengden square off. Liriano has been a complete disappointment in 2016 – especially after his stellar Opening Day performance – and now holds a 5.33 ERA on the season. Mengden has been surprisingly effective to the tune of a 2.81 ERA, but is only four starts into his career and yet to hit a speedbump. It arrives on Sunday, as bats from both teams steal the day.
Targets: Pittsburgh Pirates and Oakland Athletics Hitters
Undervalued Plays
Yordano Ventura – The wildly inconsistent Yordano Ventura takes the mound on Sunday, but brings the single most important characteristic to a daily fantasy baseball lineup – a high strikeout potential. Ventura's personal strikeout rate has actually dipped in 2016 compared to other seasons, but he is only three starts removed from a ten-strikeout day, and faces a Philadelphia lineup that strikes out at an incredibly high rate. As always, Ventura carries a high risk with an even higher reward.
Milwaukee Brewers Hitters – Hitters from Milwaukee are not often targeted when playing outside their own hitter-friendly ballpark, but Sunday presents a buying opportunity against Michael Wacha. Wacha has trended just below average throughout the year – he has allowed only one run in a game once since early May – and has been prone to surprisingly bad outings – in his last eight starts, Wacha has allowed at least six earned runs twice, and at least eight hits three times. Especially after a shutout on Saturday, Milwaukee's hitters will be ready to pop.
Featured Image Credit: By Keith Allison on Flickr (Original version)UCinternational (Crop) [CC BY-SA 2.0], via Wikimedia Commons