Thursday begins with three afternoon contests followed by an eight-game night slate. The must-watch player of the day is clearly Madison Bumgarner, not only for his expectations as a pitcher, but the Giants' plan for him at the plate.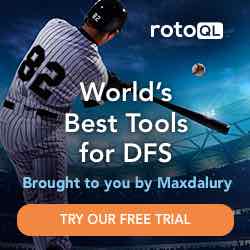 Currently, we are using xFIP and wOBA simply to compare one pitcher's performance against another – especially against opposite-handed hitters. We aren't using these numbers for calculation. To help with some calculations, we have assumed that each hitter and pitcher has played at least one game. Each pitcher was assigned an innings total relative to his average projection.
Check the starting lineups and weather reports prior to making any plays, as these change without notice.

Projected Low-Scoring Games
San Francisco Giants at Oakland Athletics – Thursday night's matchup between the Giants and Athletics brings an interesting combination of both statistics and unquantifiable values. Specifically, Madison Bumgarner is enjoying yet another stellar season that should only continue as the Giants try to avoid a sweep in Oakland. Dillon Overton toes the rubber in his second career start, and gets the typical boost that we assign to any pitcher opposing someone as historically great as Bumgarner. The added storyline to the game is that the Giants are planning to forgo the designated hitter in order to allow Bumgarner to bat. Such a move should have implications for both sides. Overton will technically be pitching to a National League lineup – as good of a hitter as Bumgarner is, he still holds a .175 batting average and .261 on-base percentage in 2016 – while Bumgarner's inclusion in the lineup will likely have a positive 'locker room effect' on the Giants, as a whole. In the end, both pitchers should deliver a low-scoring, attention-worthy game.
Targets: Madison Bumgarner and Dillon Overton
Cleveland Indians at Toronto Blue Jays – As the Indians' winning streak stretches, the opportunity to buy their opponent grows. On Thursday night, this comes in the form of R.A. Dickey and his change-of-pace approach. For a Cleveland team currently torching opponents on a nightly basis, the shift from the lowly Braves to Toronto should provide a much bigger hurdle. Carlos Carrasco is up to the task of keeping the Indians in the game, however, as his already-low 2.73 ERA dwindled to 1.61 over his last three games. In addition, leaving the hitter-haven of Colorado should have a slight negative effect on Toronto's offense. Utilizing a completely separate method of attack – Carrasco's fastball and Dickey's knuckleball – the two arms produce a pitcher's duel.
Targets: Carlos Carrasco and R.A. Dickey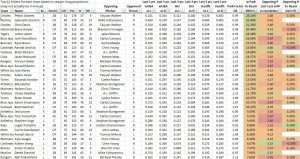 Projected High-Scoring Games
Kansas City Royals at St. Louis Cardinals – On Wednesday night, it took eight innings for the first run, nine innings for the second, and twelve innings for the Royals and Cardinals to conclude their game with a total of five runs. Thursday stands to be significantly more forgiving to both offenses, as Chris Young and Mike Leake will get the start with a combined ERA over 10.00. In addition, neither team strikes out at a high pace with Mike Leake's personal strikeout rate is obscenely low.
Targets: Kansas City Royals and St. Louis Cardinals Hitters
Cincinnati Reds at Washington Nationals – While we have targeted both Brandon Finnegan and Gio Gonzalez as pitchers to use in the past – many times, at that – Thursday's matchup suggests a different route. Gonzalez started 2016 as hot as any pitcher in the game, but now holds an 8.44 ERA over his last seven starts. Finnegan settled in nicely after an average stretch in late-April through May, but allowed seven earned runs over his last two games. In addition, his 110 pitches in his last start was his second-highest total of the season.
Targets: Cincinnati Reds and Washington Nationals Hitters
Undervalued Plays
Steven Matz – The undoubtedly scary news that Steven Matz has bone spurs in his throwing elbow should not be comforting to his fantasy owners. It does, however, depress his price into a fantastic buying range. Indeed, Matz is taking on the powerful Cubs lineup, but he is utterly dominant, at times. Of his 13 starts, he has four scoreless outings – all of which were at least six inning performances – struck out at least seven batters seven times, and has only allowed more than two earned runs three times. With the most recent hiccup also being his most recent game, a rebound is in the works for an incredible discount.
New York Mets Hitters – Continuing with the expectation that New York puts forth a solid effort on Thursday night, the Mets' hitters should finally show up to a game. After getting dominated by Lucas Giolito, the Nationals' bullpen, and Max Scherzer in back-to-back nights, New York's bats will welcome the trip home, along with John Lackey. As noted in the past by this column, Lackey's ERA of 2.66 was unsustainable, and he has subsequently allowed ten earned runs over his last two starts. His regressions pairs nicely with the Mets' uptick to provide runs from New York's offense.
Photo Credit: Keith Allison, Flickr C.C. 2.0