All thirty teams are in action on Wednesday, with an excellent split between afternoon and night games. There are even a few top pitching options scattered throughout the slates, ready to produce a busy set of daily fantasy baseball tournaments.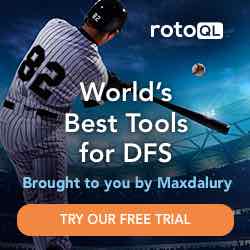 Currently, we are using xFIP and wOBA simply to compare one pitcher's performance against another – especially against opposite-handed hitters. We aren't using these numbers for calculation. To help with some calculations, we have assumed that each hitter and pitcher has played at least one game. Each pitcher was assigned an innings total relative to his average projection.
Check the starting lineups and weather reports prior to making any plays, as these change without notice.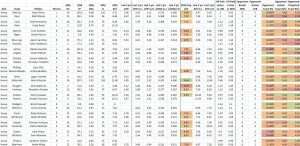 Projected Low-Scoring Games
New York Mets at Washington Nationals – Max Scherzer remains in the elite class of pitchers that deserves consideration every time he takes the mound, regardless of matchup. Ironically, Wednesday does include a positive matchup for the Nationals' 'ace,' as he is opposed by the strikeout-happy Mets. Scherzer cannot realistically be expected to keep his streak of three consecutive double-digit strikeout performances alive, but New York is the right lineup to make it possible. Toeing the rubber for the Mets is Logan Verrett, once again thrust back into the rotation. Verrett had been fantastic in this role in April – back-to-back scoreless, six-inning performances – but has struggled since. The head-to-head matchup with Scherzer gets Verrett back on track as the two combine for a low-scoring game.
Targets: Logan Verrett and Max Scherzer
Boston Red Sox at Tampa Bay Rays – For the third consecutive day, this column is targeting the Red Sox and Rays to produce a low-scoring affair. The early start time for the series finale will only aid in what should develop into the pitcher's duel this series has been lacking. David Price is still trying to find his way in Boston, but had an impressive hot stretch prior to his last outing – eight consecutive games in which he allowed three earned runs or fewer. Matt Moore has been thoroughly inconsistent throughout the year, but has a handful of gems to his name – including back-to-back games in which he allowed a total of two earned runs and struck out fifteen batters prior to his last start.
Targets: David Price and Matt Moore
Projected High-Scoring Games
Minnesota Twins at Chicago White Sox – Once the hottest team in baseball, the Chicago White Sox have fallen to the basement of the American League Central, held up only by the Twins. The two teams meet on Wednesday, one day after Minnesota shut out the White Sox to open the series. With that, Chicago's bats should be ready to rebound against Ricky Nolasco and his 4.95 ERA. Minnesota's offense will be just as eager to arrive to the ballpark, as they will greet James Shields in the middle of a horrific stretch since his trade to the White Sox – 24 earned runs allowed in 13-and-two-thirds-innings.
Targets: Chicago White Sox Hitters, then Minnesota Twins Hitters
Toronto Blue Jays at Colorado Rockies – Why step away from something that is working? While we normally shy away from teams that recently exploded, the Blue Jays and Rockies are a collective exception. The two offenses are obviously thriving in the hitter-friendly ballpark of Colorado, and the series finale should include more of the same. Aaron Sanchez and Tyler Anderson both sport impressive ERAs – at 2.55, Anderson's is completely unsustainable – but pitching statistics are often rendered useless in Colorado.
Targets: Toronto Blue Jays and Colorado Rockies Hitters
Undervalued Plays
Sean Manaea – The return of Sean Manaea to the Athletics' rotation could have been more forgiving with the matchup – San Francisco's offense rarely strikes out – but the opportunity for Manaea to start fresh with a solid outing is enough to warrant consideration. Manaea had actually scattered a few nice starts into his later outings prior to his injury, and the likelihood of a regression by San Francisco's offense after an eleven-run output puts the Athletics' starting pitcher on the radar.
Miami Marlins Hitters – For the second consecutive day, Miami's hitters are worth targeting, although Tuesday included a game-wide recommendation. Instead, Wednesday focuses on Miami's offense, alone, as it faces Daniel Norris in his slow return to the rotation. Norris was limited to only 79 pitches in his first start of the year and, even if he gets stretched out a bit, has a capped ceiling. For a Marlins lineup that put up five runs in a loss, an even better showing is on the horizon.