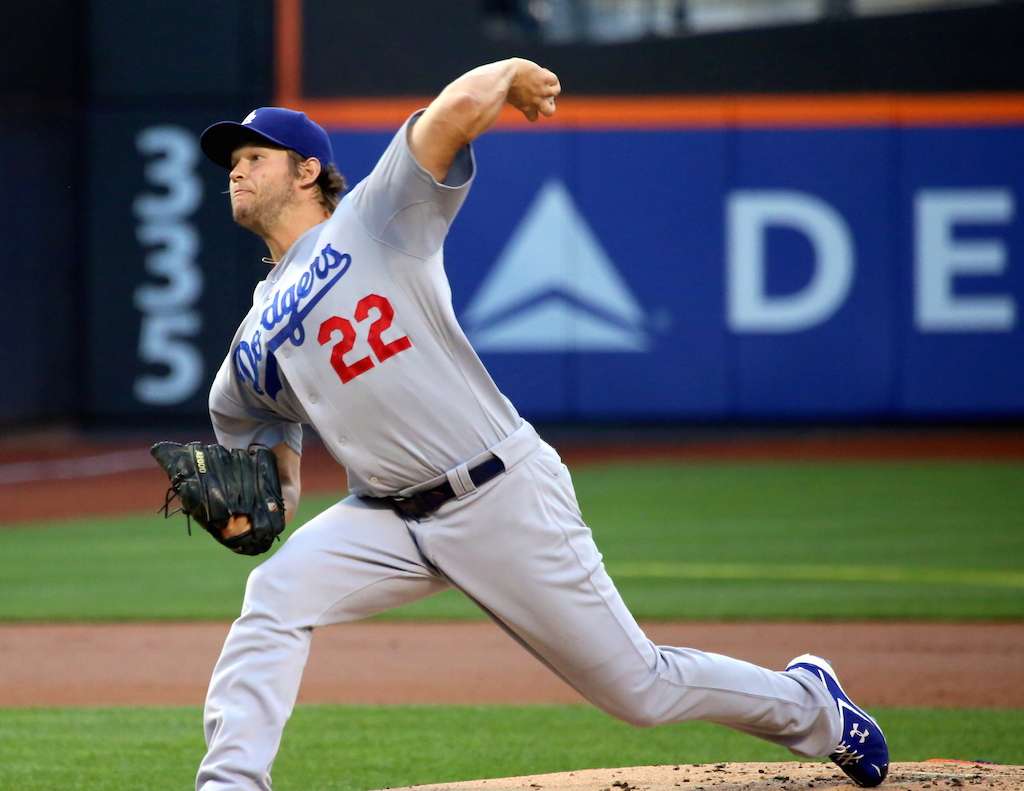 Latest posts by Mario Mergola
(see all)
Saturday's full schedule of baseball begins relatively late, with only one early afternoon game – and it brings a threat of rain, at that. The headliner of the night is, as always, Clayton Kershaw, as he puts his league-leading 1.56 ERA on the line against the Braves.
Currently, we are using xFIP and wOBA simply to compare one pitcher's performance against another – especially against opposite-handed hitters. We aren't using these numbers for calculation. To help with some calculations, we have assumed that each hitter and pitcher has played at least one game. Each pitcher was assigned an innings total relative to his average projection.
Check the starting lineups and weather reports prior to making any plays, as these change without notice.
Projected Low-Scoring Games
Atlanta Braves at Los Angeles Dodgers – Spending any time praising Clayton Kershaw is, in essence, a waste. The best pitcher in baseball has such an excellent matchup that the odds of his team winning are astronomical. Granted, the team's odds are not necessarily tied to one player, but the road to victory must pass through Kershaw whenever he is on the mound. The true contrarian play is Atlanta's Bud Norris, whose only boost comes from the matchup with Kershaw. If Norris will ever rise to the occasion, Saturday is the best opportunity he will have.
Targets: Clayton Kershaw, then Bud Norris as a contrarian tournament play
Washington Nationals at Cincinnati Reds – Cincinnati showed no signs of slowing down its offensive attack on Friday, as it shifted nicely from Colorado to its own hitter-friendly ballpark. Saturday should yield a much more subdued affair, although the Reds' starting pitcher – Dan Straily – continues to get overlooked. Both Straily and Stephen Strasburg should deliver a pitcher's duel, as Straily's worst outing of the season came in the aforementioned hitter haven of Colorado.
Targets: Stephen Strasburg and Dan Straily
Projected High-Scoring Games
Arizona Diamondbacks at Chicago Cubs – At the risk of taking the obvious route, the Chicago Cubs are in position to explode offensively on Saturday. Facing Edwin Escobar – his few career numbers are flat-out terrible – Chicago should return right back to its run-scoring form after seeing a slight dip before the 13-run effort over the past two games. To a significantly lesser extent, Arizona's bats should be considered after Friday's shutout, but avoid too much exposure.
Targets: Chicago Cubs Hitters, then Arizona Diamondbacks Hitters
New York Mets at Miami Marlins – It has become nearly impossible to score runs against Noah Syndergaard, yet the Miami Marlins were actually able to do so twice on Friday. Still, the team was dominated by the Mets' starting pitcher. While Bartolo Colon is not necessarily an easy pitcher to face, he is a significant step down from Syndergaard, and Marlins' bats should be on radar. New York showed signs of life at the plate in the latter stages of Friday's game – and, specifically, from the latter part of the order – and the success should spill into Saturday.
Targets: Miami Marlins Hitters, then New York Mets Hitters
Undervalued Plays
Andrew Cashner – With the Rockies getting shut out on Friday night, the likelihood of another low-scoring output is relatively small, however, Colorado is averaging a dismal 3.3 runs-per-game over their last ten road contests. Andrew Cashner is currently pitcher below his projected rates and has a perfect, sneaky opportunity to rebound.
Ivan Nova – Ivan Nova finally faltered on back-to-back outings, bringing him closer to his expected levels. Still, the Yankees' right-handed pitcher carries a 3.41 ERA over his five starts, and draws an Orioles offense with a surprisingly high strikeout rate. Baltimore's ability to explode at any moment brings risk for Nova, but he has allowed only one earned run in three of his five starts.
Featured Image Credit: By Arturo Pardavila III on Flickr [CC BY 2.0], via Wikimedia Commons