The 2018 NFL season continues to deliver. And it's not because of the recent stretch of wins.
I will often write about the "current wave" of a given season, where underdogs or favorites might be in the middle of a hot streak. We are always careful to not ride these waves for too long, as they will eventually subside. As a result, when we find a particular trend becoming too reliable, we exercise caution. Like we did last week following a 6-1 record in confidence picks.
We then hit on five-of-our-seven confidence picks in Week 5.
Again, the record is not what's important, right now. The wins and losses will happen, but the read of the games is what cannot change. Right now, the story being told continues to cost those who will not listen.
We know better.
We look for 'traps.' And, if we aren't combing the ground for them, we still acknowledge that we cannot run briskly over the land.
This is particularly important to note in Week 5.
With how well underdogs have been performing against-the-spread, I entered my research phase with the slight expectation that we would need to lean on favorites in the coming days. Everything balances out, and this is no exception.
As I noted the spreads for some key games, another trend began to appear. It's one we love, because, as I just stated, it is designed to catch those who are not careful.
Week 5 features the highest number of 'traps' we have seen, to date. And, if we recall how many times my introductions have stated something similar in the past, we know that it is rather late in the year for this to be the first push for a major wipeout. But, that's exactly the point. I was wrong to assume this trend would slow down when, in fact, it is just gaining steam.
This season has already been moving nicely to capture those who aren't paying attention, but it is about to take a more drastic sweep of the land.
Below are predictions for each game against the spread. Spreads have been taken from various websites and are subject to change. The spread in parenthesis denotes the selected team. An asterisk denotes a confidence pick.
*Confidence Picks – 2018 Season: 18-10-1 (Last Week: 5-2)
(2017 Season: 53-48-4) (2016 Season: 53-67-3) (2015 Season: 69-45-2) (2014 Season: 61-46-2) (4-Year Total: 236-206-11)
All Picks Against Spread – 2018 Season: 34-25-4 (Last Week: 7-6-2)
(2017 Season: 137-119-11) (2016 Season: 123-136-8) (2015 Season: 143-117-7) (2014 Season: 149-114-4) (4-Year Total: 552-486-30)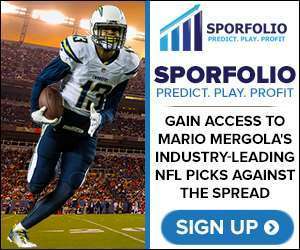 Minnesota Vikings at Philadelphia Eagles
I was listening to a podcast recently that featured a guest who specialized in investing. His commentary could have easily been attributed to football picks, and I found myself smiling at the striking resemblance. After all, my columns frequently use jargon that could otherwise be confused as investment lingo, where I'm prone to 'buy' or 'sell' a certain 'asset' or team. Ultimately, the two are intertwined, because one of the core beliefs of investing is that one should look to find bargains. In doing so, he or she is buying after the market has decided to sell.
If the Minnesota Vikings were a stock, how many people would still be holding? Certainly, the Vikings' investors were willing to suffer through the embarrassing loss of Week 3 in which the Buffalo Bills – in their only win, to date – marched into Minnesota and laid waste to the Vikings. It was considered 'a blip on the radar.' There was investor panic, but not enough to cause a sell-off.
And then Thursday Night Football arrived. And the Vikings traveled to Los Angeles to take on the league's top offense – in points-per-game. And the results were terrifying.
Minnesota didn't only lose, but lost via its strength – a top-notch defense – getting completely neutered by an offense that refused to be stopped.
Now, the investors are bailing.
Which means we should be buying.
In addition to getting a formerly 13-3 team at as an underdog, we also have historical context that makes the Vikings more appealing to savvy investors. Minnesota's Kirk Cousins just spent the first six seasons of his career playing in the same division as the Philadelphia Eagles – his team's opponent on Sunday. In seven career starts against the Eagles, Cousins is averaging more than 300 passing-yards-per-game with 16 touchdowns and only five interceptions – he never had a game in which he threw more interceptions than touchdowns. And his numbers are even more impressive when playing in Philadelphia, where he averaged 332 yards-per-game with 12 touchdowns and three interceptions.
Minnesota did not commit to Kirk Cousins so that the team could fall too far behind the NFC North leaders this early in the season, and it will lean on its quarterback to deliver a win. It happens as the Vikings pull off the field goal victory, beating the spread.
Confidence Pick: Minnesota Vikings (+3.5)
Arizona Cardinals at San Francisco 49ers
On a week in which 'traps' appeared to be laid everywhere, I had to pause before writing about the Arizona Cardinals and San Francisco 49ers. Because I had to ask myself, "Am I staring at a 'trap' or something I don't quite understand?"
The San Francisco 49ers are favored against an Arizona Cardinals team that took the Seahawks to-the-wire and is the last remaining winless team in the National Football League.
Let me rephrase my last sentence.
The San Francisco 49ers – who are now led by C.J. Beathard – are favored in a game against a professional football team.
One more time.
The San Francisco 49ers – who have a quarterback with six career starts, no games in which he threw for more than 300 yards, and more career interceptions than touchdowns – are favored.
I often write about 'traps.' I don't believe this is one.
I believe this is a mistake.
For some reason that has yet to reveal itself to my trained eye, the 49ers are going to remain the favorites on Sunday and it is not a mistake. Because, despite my insistence that San Francisco has no reason to be giving points, people are willing to give the points, too.
The pro-49ers sentiment has to be considered more 'anti-Cardinals' than anything else, but this is exactly where the beauty lies. Arizona may be 0-4, but each of the last two games were losses by no more than three points – and both included rookie quarterback Josh Rosen under center at one point or another. The offense of the first two weeks must now be erased from consideration, as the quarterback change is firmly in-place. Therefore, if we judge Arizona from the time Rosen took over, we find them much more appealing.
If we aim to compare the two quarterbacks on a head-to-head level, we need to pull in all seven of Beathard's games – as he didn't start one, but still threw 36 passes. In those games, he eclipsed a passer rating of 83 just once. In Rosen's lone start, his passer rating was 88.5 and he threw one touchdown and no interceptions.
The Cardinals get their first victory against a surprisingly overvalued 49ers team, where Arizona wins by a touchdown and beats the spread.
Prediction: Arizona Cardinals (+4.5)
Click here to sign up for Sporfolio to see the rest of Mario Mergola's NFL picks against the point spread. Mergola finished with the highest total of correct NFL picks against the spread for 2015 and 2016 – tracked by NFLPickwatch, and finished 2015 with an accuracy of 60.53% for his confidence picks. His 4-year record for all NFL games against the spread is 552-486-30!
Photo Credit: By Keith Allison from Hanover, MD, USA (Stefon Diggs) [CC BY-SA 2.0 ], via Wikimedia Commons