We're playing the long game.
Week 3 was outstanding. Not only did we go 11-5 against-the-spread, but hit every confidence pick except one – and that was already behind us by Friday morning. It was beautiful. It was comforting.
It was misleading.
At the end of the day, I am fully aware that my win-loss record is the factor that most correlates to the growth or dissipation of my readership. It's the nature of the business. I am, however, grateful for those who have seen the worst that this column could offer and still stayed-the-course – and were rewarded with another winning season, last year. Those readers will always have my heart.
With all this being said, an 11-5 week is nothing more than a nice cushion. It is not a new trend that could be established, nor is it sustainable – if anyone were to pick games correctly at a rate of 68 percent for years, it would be headline news throughout the industry.
It also carried a bit of luck. We know that we can't control the outcomes of games, nor can we be exactly perfect even when the situation is. Sometimes, despite the numbers and matchups and factors that go into a pick, a random defender will decide that, instead of sealing the win by securing an interception and going to the ground, it is more fun to return it for a touchdown. And then we lose. Even though, in every context besides the final score, we didn't.
We had the opposite outcome in Week 3. Quite literally, a defender did return a meaningless interception for a touchdown – Chicago against Arizona – but the play was negated because of a penalty. We had some luck. And it was nice.
Remember that, for every time I argue about a bad break not truly determining our losses, we also can't grow over-confident from our successes.
Which is where we find ourselves entering Week 4.
The 11-5 week is exhilarating, and we can use this momentum for good, despite my cautions otherwise. Because, at the end of the day, when we look back at what transpired in Week 3, we know that we expected much of it to happen. That – and only that – is what we should take away from the winning week.
Forget the record. But remember what we knew should happen.
Below are predictions for each game against the spread. Spreads have been taken from various websites and are subject to change. The spread in parenthesis denotes the selected team. An asterisk denotes a confidence pick.
*Confidence Picks – 2018 Season: 13-8-1 (Last Week: 6-1)
(2017 Season: 53-48-4) (2016 Season: 53-67-3) (2015 Season: 69-45-2) (2014 Season: 61-46-2) (4-Year Total: 236-206-11)
All Picks Against Spread – 2018 Season: 27-19-2 (Last Week: 11-5)
(2017 Season: 137-119-11) (2016 Season: 123-136-8) (2015 Season: 143-117-7) (2014 Season: 149-114-4) (4-Year Total: 552-486-30)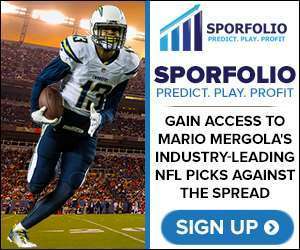 New York Jets at Jacksonville Jaguars
There's a problem in New York. It isn't quarterback Sam Darnold.
That's the problem.
The New York Jets are a fragile bunch. Like many teams laden with young talent, they carry an aura of success as a forgone conclusion when they are winning. But, when pushed, they don't push back. Because they can't.
The Cleveland Browns pushed back. For only the second time in nearly 40 games, the Browns decided that winning was a priority and challenged the Jets to stop them from achieving said goal. New York didn't. It crumbled. And it exposed itself.
New York opted to start a rookie quarterback on Opening Day because the Jets' front office must have felt said quarterback was ready to play at a competitive level. And, on Opening Night, we saw that Sam Darnold was not overmatched. Mistake-prone? Absolutely. But unprepared? Not a chance.
What has happened since then is the typical process of a misaligned interests. The Jets, as an organization, want to develop their quarterback. The head coach, to save his career, wants to win games. Those two paths don't usually merge successfully.
Until they do. And therein lies the problem.
Sam Darnold was so promising that it allowed the Jets to trade away Teddy Bridgewater. If head coach Todd Bowels had only been operating to save his job and he let Bridgewater go, he had to have believed the Darnold did not represent a major drop-off in the potential for his team to win games. And yet, the team's approach begs to differ.
If the Jets are going to lose games in 2018 – any game – it has to be solely due to the growing pains of Sam Darnold. It can't be because the defense couldn't figure out how to stop Baker Mayfield or because Robby Anderson continues to fumble. The Jets have to lose because their quarterback couldn't seal the deal. The only problem is that he might seal the deal. Because he did in Week 1. And he made strides toward doing so again in Week 2.
And, after a brutal loss in which New York took the most conservative route possibly, Sam Darnold and the Jets will need to push the envelope in order to threaten the Jaguars' stellar defense. In doing so, the Jets can then turn to the running game of which they are so fond – since Jacksonville ranks 21st in rush yards allowed and 17th in rushing yards-per-attempt. The problem, of course, is that New York can't solely rely on the ground attack, as we saw its pitfalls in Week 3.
The saving grace for New York against-the-spread is the aforementioned comment about teams "pushing" the Jets. Jacksonville ranks 20th in the league in yards gained, 25th in points, and the only time it topped 305 total yards was a 'revenge' game against New England that was clearly circled on the calendar. The Jets may not light up the scoreboard, but neither will the Jaguars.
Jacksonville's defense is tough enough to limit any prolonged threats by the Jets, but New York never falls out of contention on Sunday. The Jaguars win by a field goal, but the Jets beat the spread.
Prediction: New York Jets (+9)
Buffalo Bills at Green Bay Packers
No one is going to get burned by the Buffalo Bills again. Not anytime soon, anyway.
Last week, Buffalo pulled off one of the largest 'upsets' in the regular season, and the manner in which it unfolded was as noteworthy as the final score, itself. It was akin to the 16-seed of the University of Maryland-Baltimore County knocking off the top-seeded Virginia earlier in 2018. No, the actual odds were not as daunting, but the wire-to-wire domination was. Like UMBC in the madness of March, Buffalo didn't just slip by the Vikings via a last-second field goal. The UMBC Retrievers and Buffalo Bills set the tone of the game and followed it through to completion.
But what happened to the Retrievers in their next game? They lost. Not spectacularly, but in an everything-falls-apart manner in which the team shot 29.8 percent from the field. In other words, the 16-seeded Retrievers played like a 16-seed.
The Buffalo Bills were nearly 17-point underdogs to the Vikings in Week 3 because they are so horrifically bad that a 17-point cushion is needed to protect those who make the odds from seeing an incredibly lopsided payout if Minnesota performed as it should have. That the Bills actually won outright does little to change this. And, as a result, Buffalo, despite a 27-6 manhandling of the Vikings, opened up their next game as double-digit underdogs again.
The UMBC Retrievers suddenly fell apart in the game that followed their improbable victory as a combination of both their own internal problems and the extra attention given by their opponents, the Kansas State Wildcats. The Wildcats had just seen Virginia caught napping, and they would not do the same.
Green Bay enters Week 4 as Kansas State entered the second round of the 2018 NCAA Tournament, only the Packers do so following their own tough loss. Not surprisingly to anyone who read last week's column, the Packers were unable to match the Redskins' offense, and it proved a much more difficult task for Green Bay to recover when needed.
Now, the Packers have both their own rebound and the cautionary tale of the Vikings' loss to Buffalo running through their gameplan. Timing is critical in the National Football League, and Green Bay has fortune smiling upon it when it hosts a Bills team on Sunday that no longer has the element of surprise.
Green Bay wins by 20 points and covers the spread.
Confidence Pick: Green Bay Packers (-9.5)
Click here to sign up for Sporfolio to see the rest of Mario Mergola's NFL picks against the point spread. Mergola finished with the highest total of correct NFL picks against the spread for 2015 and 2016 – tracked by NFLPickwatch, and finished 2015 with an accuracy of 60.53% for his confidence picks. His 4-year record for all NFL games against the spread is 552-486-30!
Photo Credit: By original: Mike Morbeckderivative: Diddykong1130 (Aaron Rodgers) [CC BY-SA 2.0], via Wikimedia Commons