The Washington Nationals had a day yesterday.  They had 8 home runs before the 4th inning and at one point they hit 4 in a row, popped out then hit another making it 5 home runs in 6 batters.  Scherzer picked up his 12th win as he struck out 9 in 6 innings of work.  I'm not to sure why he got pulled when he did as he had a massive lead and only 109 pitches but he got the win which is all that matters.
Lucas Duda is packing up his bags as the Mets have traded him to the Tampa Rays.  This is a great pickup for the Rays as they are in the middle of the playoff race in the AL East.  Duda leaves the Mets ranking 7th in home runs in franchise history and 13th in OPS.  The Rays are now in a solid position to make a run at this thing, watch out New York and Boston.
We have a full slate of games today all starting after 7 so you'll have time to take anyone you want.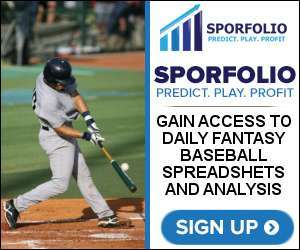 Low-Scoring Plays
San Francisco Giants @ L.A. Dodgers – Alex Wood has finally picked up a loss this year as he is now 11-1.  Luckily for him he is pitching at home against one worst teams in the MLB.  In 92 at-bats against Wood, the Giants are batting .261 with only 1 home run.  Buster Posey and Hunter Pence have had success against Wood as they are batting over .400 and .300 respectively. However pitching at home, Wood should have a big day and bounce back after his loss.
Targets: Wood, Turner, Bellinger
Houston Astros @ Detroit Tigers- Dallas Keuchel is 9-0 on the year with an ERA of 1.76. The Tigers should have a record than they do, but they are going to be sellers this dead line, maybe with the Astros.  Keuchel should shine in this game, as he has held the Tigers to 4 home runs in 104 plate appearances.    Not many home runs are hit at the Tigers Stadium as they are 4th to bottom in home runs hit this year. So Keuchel should have a big day against the Tigers.
Targets:  Keuchel, Correa, Altuve
Kansas City Royals @ Boston Red Sox – The Royals are hot headed into Fenway, which is a huge series for both teams.  Vargas gets the call for the Royals against the  Sox who are playing miserably right now.  Betts, Bogaerts, Benintendi, and Bradley Jr. have all been pretty silent.  The old guys in Pedroia and Ramirez have been getting the job done which isn't happening often.  Look for Vargas to have a huge game in this one.  Boston is struggling too much right now.  If they keep it up this season could be finished and Farrell should be out of a job.  Yes they are still in first place, but that is only because of pitching.  The offense is non existant so Vargas should shine here.
Targets: Vargas, Moustakas, Cain
High-Scoring Plays
Tampa Rays @ New York Yankees – The Rays just added Duda which is a major pickup for them if he plays to his potential.  The problem is he is hurt a lot and can go cold at any point in this second half.  However I think if they play him as a DH they will be in great shape.  Morrison, Duda and Longoria who rejuvenated his career this year will be a strong 3 headed monster headed into the post season.  Duda probably won't be in the line up tomorrow, but if he is I would take him.  Even if he isn't in the line up I would still stack Rays batters as Tanaka is pitching for the Yankees.  In a hitters ball park this should be a great day for the Rays.
Targets: Longoria, Morrison
Colorado Rockies @ Washington Nationals – The Nationals put the beat down on the Brewers yesterday.  The Nationals should continue this hot streak for another game or two here.  Playing at home this game should be packed as the Rockies are a solid team that will draw a crowd.  Harper is on an 18 game hitting streak look for it to go to 19 today.  If he puts together a nice run here with a ton of home runs he could pull ahead in the MVP race.  I love the Nationals in the game stack Harper, Murphy, and Zimmerman if possible.
Targets: Harper, Murphy Zimmerman
New York Mets @ Seattle Mariners – The Mets have started selling off their pieces, as Duda is out of there.  Today should be a rough day for the Mets going across country and pitching Montero.  Montero is a bullpen arm at best.  He used to be one of the highest ranked prospects in the game but he just doesn't have it anymore.  He is 1-7 on the year and should struggle on the road.  Cruz has been in a slump this is the perfect time for him to get out of this slump.  Gamble is a young star who has been hitting well for the Mariners.  He isn't crushing the long ball but he is a player you see his swing and it's fundamentally perfect.  He reminds me of a Johnny Damon when he had his long hair with Boston.  Regardless, taking the Mariners will be a great play.
Targets: Cruz, Cano, Gamble
My Lineup
SP-Quintana-CHC
SP-Ray-ARI
C-Ramos-TB
1B-Morrison-TB
2B-Cano-SEA
3B-Rendon-WAS
SS-Beckham-TB
OF-Cruz-SEA
OF-Nunez-BOS -If in lineup, arrives in Boston today might not be starting
OF-Peralta-ARI
Sign up for Sporfolio to gain access to NFL picks and DFS, NHL DFS, and MLB DFS spreadsheets (picks from the Pitcher Breakdown Spreadsheet – all over/unders – are now at 57.3% accuracy since June 30).
Featured Image Credit: By Johnmaxmena2 (Own work) [CC BY-SA 4.0], via Wikimedia Commons