Not too many stories coming out of the MLB last night.  Keuchel is headed back to the DL which will be a tough break for the Astros.  If he wasn't injured this season he could be 13-0 right now.  The Yankees proved how good they were this week by taking the series from the Red Sox.  Gary Sanchez had 2 home runs last night which is his second multi-home run game of the month. The Yankees are a legit contender and are one starting pitcher away from making some real noise.
We have a full slate of games with one afternoon and a couple of late games.  I'm always a fan of taking some players in the late games so you can sneak up the standings when everyone else's teams are finished.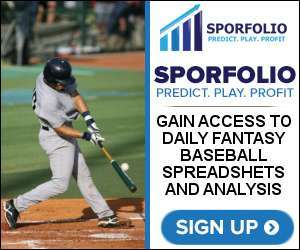 Low-Scoring Plays
Minnesota Twins @ San Francisco Giants – I love Ervin Santana in this game as he takes on the Giants.  The Giants scored 4 late last night to stun the Brewers.  The is about enough offense for the Giants for the month.  Santana averages 20.5 points per game and should be a lock for your lineup.  The Giants are almost dead last in every offensive category and the dynasty they once had their should be split apart this deadline.
Targets: Santana, Sano
Detroit Tigers @ Boston Red Sox – The Red Sox haven't been hitting the ball as the Yankees have shut them down.  The Red Sox weren't able to score that much off of Tanaka who is one of the worst pitchers in the MLB.  The Red Sox woes will continue in this series, however, they should keep the Tigers low scoring as well.  Brian Johnson is back in the rotation as Rodriguez went down.  Brian Johnson threw a complete game shutout his last outing in Boston before he was sent down to the minors for some reason.  Look for Johnson to have another strong outing as he makes his return to Fenway.
Targets: Johnson, Bradley Jr.
Oakland Athletics @ Tampa Rays – Andrew Triggs takes the mound for Athletics who is a pitcher that I usually love taking. Triggs has slipped in his last couple of outings but I like him in this matchup.  The Rays are a middle-of-the-pack offense.  Nothing great but not too bad.  Triggs averages 14 points per game, and has a WHIP of 1.32 which is right where you want a pitcher. Triggs is cheap and won't be highly owned. For a night where there isn't a ton of star pitchers you will want the best of the best hitters.  Taking Triggs will allow you to take the top players in the field.  Johnson and Triggs duo will be risky but you'll have stars up and down the rest of your lineup.
Targets: Triggs, Davis
High-Scoring Plays
New York Mets @ Atlanta Braves – Harvey is back on the mound for the Mets which means another loss for the Mets.  I love the Braves in this game they have been streaky will put up 13 one night but only 4 the next.  The Braves should put up a big number in this one.  The Mets haven't been hitting the ball either so I like them to break out in this one.  I'll take the Braves because they are home but it should be the high-scoring game of the day.
Targets: Kemp
Baltimore Orioles @ New York Yankees – The Yankees rocked Porcello and Price these past two days should they should have no problem with Bundy.  The young batters are hot, Judge is due for a home run as he didn't hit one this last series, and Sanchez is showing streaks of power which is a good sign.  Gregorius is the quietest one in the Yankee lineup but he is hitting .324 on a hitting streak of 10 games. He should be a lock in your lineup today and for the next days to come.  The Orioles have also been quiet themselves.  Look for them to score in this game as well however I'll take the home team here as well.
Targets: Judge, Gregorius
Undervalued Plays
Centeno – C – HOU – If Centeno is in the lineup he is a must-play against the Angels.  He is only $2200 and has scored 35 fantasy points in his two games.  A cheap catcher that can produce is always the way to go.
Sogard – 2B – OAK – Sogard is hitting above .400 with 3 home runs from the leadoff spot.  He is a short stop but you are able to play him at 2B.  The second baseman that produce are all very expensive so playing a short stop there isn't the worst play.
Kemp – OF – ATL – Kemp isn't the cheapest but he will be a great play.  He is just above $4000 and should have a big day against the Mets.  Kemp should be a lock in your lineup.
Sign up for Sporfolio to gain access to NFL picks and DFS, NHL DFS, and MLB DFS spreadsheets (picks from the Pitcher Breakdown Spreadsheet – all over/unders – are now at 54.4% accuracy since May 21).

Photo Credit: Flickr user slgckgc. C.C. 2.0