The Kershaw-Strasburg game was exactly what we expected.  Kershaw came out on top and picked up the win moving to 8-2 on the season.  The Rockies are looking strong this year however I think the Dodgers and Nationals will be in the NLCS this year.
The Red Sox got dominated by the Yankees last night as C.C. Sabathia looked great.  Carter had another home run last night, and he should have had two.  However a fan went to catch a ball and alley-ooped it into Mookie's glove.  David Price is pitching tonight so I wouldn't take Carter but look for him to start to get hot now.
We have a smaller slate but still a good amount of games today to make a solid lineup.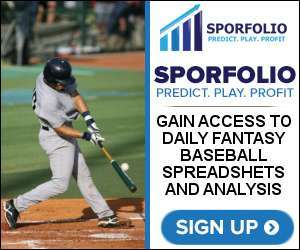 Low-Scoring Plays
Boston Red Sox @ New York Yankees – The Yankees hung 8 on the Red Sox last night and dominated the game.  The Red Sox were shut out which is understandable with Moreland, Sandoval, and Benintendi having the night off.  Tonight David Price pitches and he looked great in his last outing.  I like him to be able to keep the Yankees low scoring in this one as he will be the difference maker in the Red Sox season.  Pineda is pitching for the Yankees who has been playing great for them this year.  Look for Pineda to strike out a ton in this game and take the series from Boston.
Targets: Pineda, Sanchez
Houston Astros @ Kansas City Royals – The Astros lost again last night which has to be unfamiliar for them losing two games in a row.  I love them to come back tonight and beat the Royals.  The Astros will be able to score in this one however I think the Royals will be shut out.  Lance McCullers takes the mound for the Astros who is having a strong year at 6-1.  Look for the Astros to win this one big, and definitely take McCullers.
Targets: Mcullers, Altuve
High-Scoring Plays
Colorado Rockies @ Chicago Cubs – The Cubs are heating up and a team that I like.  The Cubs' stars are hitting well below their average.  They won the World Series last year so their stars are legit – they aren't flukes.  Schwarber had a strong night last night, so look for him to get hot here.  The rest of the Cubs will follow up behind him and score big in this one.  Chatwood pitches for the Rockies who has an ERA above 4 and has a losing record.  Rizzo has batted .333 off of Chatwood and will be a great pick today.
Targets: Rizzo, Schwarber
Baltimore Orioles @ Washington Nationals – Neither pitcher is great in this one but the offenses are.  I like the Nationals to win this one at home as they haven't been scoring a ton of runs lately.  Harper is due to have a big game, he hasn't hit a home run in a while.  Murphy is having a great year still as he is 11th in the NL in batting average.  Look for him to have a strong game as well.  The Nationals are due to break out for a big one and it will happen here.
Targets: Murphy, Harper
Undervalued Plays
R.A. Dickey – SP – ATL – I usually bash Dickey; I think he is absolute trash.  However every now and again he has potential to pitch a great game.  That could happen today against the Phillies who are hit or miss.  They could score 10 runs or they could be shut out.  Today I actually like Dickey to have a strong game.
Didi Gregorius – SS – NYY – Gregorius is on a 9 game hitting streak and is playing well this year.  He will be a risk picking against Price, however he is hot.  He is hitting .319 with 5 home runs and 21 RBI's.  He is only $3800 and will be a better play than Bogaerts who is almost $1000 more.
Justin Upton – OF – DET – with 12 home runs and 34 RBI's Upton is having a strong year.  He is playing against LAA who isn't a great team so the Tigers could do some damage in this game. Upton is $5000 which isn't cheap however when your line up comes down to a couple 100 dollars I would take Upton over Thames or Harper.
Scott Schebler – OF – CIN –17 home runs with 31 RBI's for $3800, should be a lock for you lineup.  He averages 8.4 points per game and is 1 home run behind Judge for the league lead.  He went 3-3 last night with a home run.  Look for him to have another strong night tonight because the Cardinals aren't that strong of a team.
Sign up for Sporfolio to gain access to NFL picks and DFS, NHL DFS, and MLB DFS spreadsheets (picks from the Pitcher Breakdown Spreadsheet – all over/unders – are now at 54.5% accuracy since May 21).
Featured Image Credit: By Johnmaxmena2 (Own work) [CC BY-SA 4.0], via Wikimedia Commons