We have our first real brawl of the MLB season.  Pretty Boy Bryce Harper charged the mound after being hit by a pitch.  Apparently Harper was hit by the pitch because of a home run he hit in 2014. Harper charged the mound and may have had the worst helmet toss of all time.  Also Buster Posey picked up the worst teammate award as he did nothing to try and stop Harper from attacking his pitcher.
The other star of the MLB, Mike Trout, has elected to have surgery and is now out 6-8 weeks.  This is bad news for the Halos, they are already a ton of games behind the Astros and this should only put them farther down in the standings.  The Astros flexed on the MLB last night and proved why they are the best team this year.  The Astros were down 6 last night and put up 11 runs in the 8th to stun the Twins.  The Astros talent has matured and they are for real this year, watch out American League.
We have a full slate of games so let's dive in.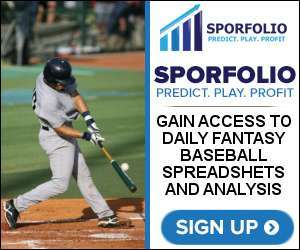 Low-Scoring Plays
Boston Red Sox @ Chicago White Sox – David Price picked up the no decision in his first game back.  Today Chris Sale takes the mound for Boston.  Sale failed to strike out double digits last outing.  I like him to have a huge game today as he goes back and plays his old team.  Boston has now lost 2 in a row and are trying to avoid the sweep.  Betts hit another home run last night and has became hot since being moved to the leadoff spot in the order.  Sale is a must play against his former team.
Targets: Sale, Betts
Detroit Tigers @ Kansas City Royals – Verlander takes the mound against one of the worst teams in the MLB.  The Royals have only hit .240 off of Verlander in their career.  In 467 at bats the Royals only have 11 home runs off of Verlander.  The Royals are struggling this year on the offensive side and should be dominated in this game. If you are strapped for cash in your line up I would take Verlander over Sale.
Targets: Verlander, Avila
Arizona Diamondbacks @ Pittsburgh Pirates – In this game I like the Diamondbacks to score some runs however I don't think the Pirates will do anything in this one.  Robbie Ray takes the mound for the Diamondbacks who is having a solid year at 4-3 with an ERA a little above 4.  Robbie Ray strikes out a ton of batters as he has 74 in 60 innings pitched.  Ray should be at least one of your pitchers on the day.  I would go with Sale and Ray or Verlander and Severino as my pitcher combinations.
Targets: Ray, Owings, Goldschmidt
High-Scoring Plays
Washington Nationals @ San Francisco Giants – The game that broke out in a brawl last night I like to be high scoring today.  Jeff Samardzija draws another fantastic team to go up against.  I like the Nationals to come out swinging to defend Harper.  With big time pitchers taking up most of your money, it will be hard to spend the money on Murphy, Zimmerman, and Turner.  Look for other players like Werth, and Harper's back up if he isn't in the lineup.  The Giants are a terrible offensive team so Gio Gonzalez wouldn't be an awful play for a pitcher.  However I like the Giants to be fired up last night and be able to score some runs in this one.
Targets: Werth, Murphy
Atlanta Braves @ L.A. Angles – Trout is out and someone for the Angels will have to step up.  I like Pujols to be that someone, he is 3 home runs away from 600 and he should get one today.  Colon takes the mound for the Braves who has been hammered on the road this year.  He isn't pitching well at home either however in the same amount of starts home and away, he has allowed 5 more home runs on the road.  Try and stack some Angles in this game as they will be cheaper than the National players.
Targets: Pujols, Maybin
Undervalued Plays
Gonzalez – SP – WAS – Gonzalez is an interesting play. On a day where there is a ton of high-priced pitchers, he would save you some money. He is pitching against the Giants who aren't a great team.  After last night I like the Giants to score some runs, however, they could also show up and put up 0 runs.  It will be a risky play but wouldn't be the worst.
Schoop – 2B – BAL – Schoop is a great 2nd baseman playing in a great lineup.  Players like Murphy and Pedroia are very expensive plays for a position that I don't like to spend money on.  Schoop is always making noise in Baltimore, either driving in the runs or scoring them.  He is a great play and should always be thought of when making a lineup.
Betts – OF – BOS – Mookie isn't cheap, however, his price has fallen to $4800 which is a price point I will take him at everyday of the week.  Betts is a MVP caliber player, he can hit home runs, he can steal bases he is the real deal.  He has been playing better now that he is in the lead off position.  It will be tough to fit an expensive outfielder into your lineup but if you can Betts is a must play.
Sign up for Sporfolio to gain access to NFL picks and DFS, NHL DFS, and MLB DFS spreadsheets (picks from the Pitcher Breakdown Spreadsheet went 5-0 yesterday and are now at 61.3% accuracy since May 21).
Featured Image Credit: Keith Allison/Flickr C.C. 2.0